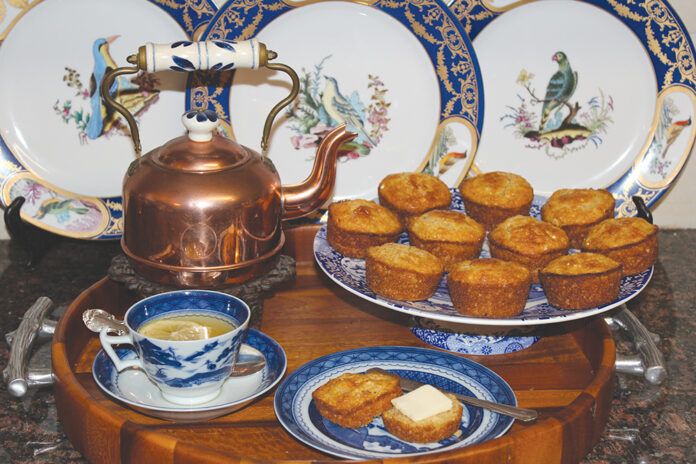 By Ann Cipperly
While meals can seem ho-hum or boring during the winter months, adding freshly baked bread to the menu can make a simple meal special. Whether it is a yeast bread or muffins, the aroma of bread baking in the oven drifts throughout the house, causing everyone to look forward to dinner.
Recently, when bread we ordered for a curbside pickup wasn't available, it seemed the perfect time to bake bread. During the summer months, I don't bake bread often since we get scrumptious sourdough and braided French garlic bread from Serenity Farms at the Opelika Farmers Market. Anna Freeman and Liana Freeman have perfected their bread baking skills.
For now, any freshly baked bread will be prepared in our kitchen. When our children were growing up, I often made Gold Braid Bread. The recipe was originally given to me by Carolyn Zeanah when she was a home economics teacher at Opelika High School. A few years ago, Gail Swarthout, who was also a home economics teacher, shared the recipe with her two butters, a strawberry and honey butter.
This bread is easier to make than you might think looking at the recipe. The directions are detailed to make it fairly fail proof. Just don't overbake it.
Yeast rolls can be easy to make as well, especially the refrigerator roll recipes. You can mix the batter up the day ahead and keep it in the refrigerator to pull out when you are ready to bake.
The Refrigerator Bran Muffins is another recipe I have made for many years. It is great to mix up and have in the refrigerator to bake for breakfast or dinner. When I first started writing about food over 40 years ago, Imogine Humphrey gave me this recipe, which was called Six Weeks Bran Muffins. The batter never lasted that long at our house, but I would not want to leave it past a week since it contains eggs and buttermilk.
Muffins are the easiest type of bread to make, and children enjoy helping to make them. A few quick stirs and the batter goes into the oven. Muffins will freeze well. Bake several batches to keep in the freezer to pull out and warm for breakfast, lunch or dinner. On cold morning, warm muffins with breakfast are much more appealing than cold cereals.
Cornbread is also an easy bread to bake. There are two recipes to try. One is a traditional recipe from Chef Graham Hage, and the other is from Barbara Renie's mother, the late Lucile Armstrong, that is different with yeast.
A few of the recipes are very easy using purchased or refrigerated rolls to quickly enhance for a tasty bread. Sherry Freeman's Cinnamon Roll Bread Pulls uses a purchased sourdough loaf. The bread is sliced almost to the crust, then spread with a yummy cinnamon filling and then drizzled with icing.
The other quick recipe from Terri Neighbors is a dinner roll embellished with Parmesan cheese and rosemary using tubes of refrigerated crescent rolls.
If you have been thinking about making sourdough bread while spending more time at home these days, check out Anita Thompson's recipe. The starter uses instant potato flakes and yeast.
Look over the recipes and try a couple of freshly baked bread, rolls or muffins his coming week. Whatever you are serving for supper, your family will think it is special.
Gold Braid Bread with Strawberry and Honey Butters
Gail Swarthout is a former home economics teacher at Opelika High School.
5-6 cups all-purpose flour
2 pkg. yeast
½ cup sugar
1 ½ cups very hot tap water
1 ½ tsp. salt
1 stick butter or margarine
2 eggs (room temperature)
Measure 2 cups flour into large mixer mixing bowl. Stir in yeast, sugar and salt. Stir well to blend. Add soft butter.
Add tap water to ingredients in bowl all at once and beat with electric mixer about 2 minutes at medium speed. Make sure yeast is dissolved.
Add eggs and 1 cup more flour. Beat at high speed about 1 minute or until the dough is thick and elastic.
At this point take regular beaters out and begin to use wooden spoon. If you have dough hooks on your mixer, turn speed down and continue with them.
Add remaining flour gradually beating well. Use just enough flour to make a soft dough which leaves sides of bowl.
If using dough hooks, knead about 5 minutes with them. If kneading by hand, turn out onto floured bowl and knead about 5 minutes or until dough is smooth and elastic.
Turn into a greased bowl, greased with cooking oil. Turn dough over to coat all sides. Cover with a towel and let rise until about double in bulk.
Punch dough down. Divide dough into 2 equal portions. For each, roll into a 6×18 inch rectangle on a floured board. Cut lengthwise into 3 equal strips.
Pinch lengthwise edges of each strip together to make an 18-inch rope. Braid the 3 ropes together. Begin in center and braid to each end. Place in a greased 9-inch round cake pan. Braid ends together to form a circle. Grease too slightly to keep dough from drying out. Let rise until double in bulk.
Bake at 375 degrees for 25 to 30 minutes or until golden brown. Bake on lower rack of oven. Remove from pan immediately.
Strawberry Butter
10 oz. pkg. frozen strawberries, thawed
½ lb. sweet butter, softened
1 cup confectioner's sugar
Have all ingredients at room temperature. Combine ingredients in blender or mixer; blend or beat until completely smooth. It takes a long time to become smooth-keep beating. Chill and spread on your favorite bread.
Honey Butter
½ cup butter, softened
½ cup honey
In a small mixer bowl, beat butter and honey until light and fluffy. Serve with Gold Braid Bread or your favorite.
Sourdough Bread Starter
Anita Thompson
1½ cups sugar, divided
6 Tbsp. instant potato flakes, divided
1 envelope dry yeast
2 cups warm water
Combine ¾ cup sugar, 3 Tbsp. potato flakes, yeast and 1 cup warm water in large bowl; mix well. Let stand, loosely covered, in warm place for several hours or overnight. Store in refrigerator in loosely covered quart jar for 3 to 5 days.
Remove from refrigerator. To feed, add ½ to ¾ cup sugar, 3 Tbsp. instant potato flakes and 1 cup water; mix well. Keep covered loosely. Let sit at room temperature for at least 8 hours.
Remove 1 cup starter for bread recipe. Refrigerate remaining starter for 3 to 5 days or until time for another "feeding."
Sourdough Bread
1 cup sourdough bread starter
½ cup sugar
½ cup corn oil
1 Tbsp. salt
1½ cups warm water
6 cups bread flour
Combine starter with sugar, corn oil, salt and warm water in large bowl; mix well. Add bread flour; mix well. Makes a stiff batter.
Roll batter in corn oil and put into a large, greased bowl. Cover with plastic wrap and leave on counter overnight to rise.
In the morning, punch down and divide into loaves. Let rise about 8 hours.
Bake on bottom rack at 325 degrees for 30 minutes. Cool 30 minutes and then remove loaves from pans.
May want to butter top when first removed from oven.
Cinnamon Roll Bread Pulls
Slice sourdough bread almost to bottom crust, spread with honey butter, sprinkle cinnamon sugar and drizzle with icing for an easy, delicious treat.
Sherry Freeman
1 unsliced round loaf sourdough bread
Honey Butter Filling:
1/2 cup butter, softened
1/4 cup powdered sugar
1/4 cup honey
1 tsp. vanilla
Cinnamon Sugar:
1 cup sugar
1 1/4 tsp. cinnamon
Icing:
1 cup powdered sugar
1-2 Tbsp. milk
Preheat oven to 350 degrees. To make filling, whip butter and 1/4 cup powdered sugar until smooth. Stir in honey and vanilla. Set aside.
Cut bread lengthwise into 1/2-inch slices without cutting through the bottom crust. Spread honey butter between slices.
Rotate bread 90 degrees and slice again into 1/2-inch pieces without cutting through bottom. Spread with honey butter in-between new cuts.
Combine 1 cup sugar and 1 and 1/4 tsp. cinnamon; sprinkle generously between all cuts.
Wrap in foil. Place on baking sheet and bake 25-30 minutes.
Combine powdered sugar and milk until desired consistency for icing.
Unwrap bread and place on platter. Drizzle icing over bread and serve.
Buttermilk Cornbread
Chef Grahm Hage
1 cup whole buttermilk
½ cup butter, melted
2 eggs
½ tsp. baking soda
1 cup cornmeal
1 cup flour
Salt and pepper
¼ cup oil or butter for skillet
Heat a cast iron skillet in a 400-degree oven for 10 minutes.
Combine all wet ingredients a mixing bowl and whisk. Add wet ingredients to dry ingredients in a large mixing bowl and gently stir.
Pull hot skillet from oven and add ¼ cup oil or butter, swirling to coat pan.
Pour cornbread batter into skillet and bake at 375 degrees for about 30 minutes or until a toothpick comes out clean.
Refrigerator Bran Muffins
An old favorite from years ago.
15 oz. box Raisin Bran cereal
3 cups sugar
5 cups all-purpose flour
5 tsp. soda
1 tsp. salt
4 eggs, beaten
1 cup oil
1 qt. buttermilk
Mix cereal with sugar, flour, soda, and salt in very large bowl. Add eggs, oil and buttermilk. Store in covered container. Keep in refrigerator and use as desired.
To bake, fill greased muffin pan 2/3 full. Bake at 400 degrees for 15 to 20 minutes..
Oatmeal Muffins
Easy to double.
1 egg, beaten
1/3 cup butter, softened
½ cup brown sugar
1 cup buttermilk (or 1 cup milk with 1 Tbsp. white vinegar)
1 cup quick-cooking oats
1 cup all-purpose flour
1 tsp. baking powder
1 tsp. soda
½ tsp. salt
Preheat oven to 400 degrees. Combine egg, butter, brown sugar and buttermilk. In another bowl, mix oatmeal, flour, baking powder, soda and salt. Add dry ingredients to buttermilk mixture; stir just until moistened.
Bake in greased muffin tins about 15 minutes, depending on size of pan.
Angel Cornbread
This was a favorite recipe of Barbara Renie's mother, the late Lucile Armstrong.
½ cup warm buttermilk
1 pkg. yeast (dissolved in warm buttermilk)
2 eggs, beaten
1½ cups buttermilk
1/3 cup oil
Combine in a large bowl and then add:
2 cups self-rising cornbread mix
½ cup self-rising flour
1 Tbsp. sugar
¼ tsp. soda
Mix and bake in greased muffin pan in preheated 425 oven for 12 to 15 minutes.
Note: Can be frozen and removed as needed. If freezing, do not completely cook. When removed from freezer, finish baking in preheated 450 oven until lightly brown.
Buttermilk Yeast Rolls
Mary Ann Swanson
1 pkg. dry yeast
½ cup warm water
½ cup shortening, melted
4 ½ cups flour
¼ cup sugar
1 Tbsp. and 1 tsp. baking powder
1 tsp. salt
½ tsp. baking soda
2 cups buttermilk
Dissolve yeast in warm water in a large bowl. After sitting for 5 minutes, stir in melted shortening. Combine dry ingredients. Then add dry ingredients and buttermilk to yeast mixture and mix well.
Place dough on well floured surface, gently kneed until easy to handle. Make a large ball and place in a greased bowl and cover with cloth. Place in a warm area until size doubles.
Punch down and pat out to about an inch thick. Cut with a biscuit cutter and place on greased cookie sheet to rise until size is doubled. Bake on 400 degrees for 8-10 minutes. Makes about 2 dozen.
Lillian's Refrigerator Rolls
Beverly Corley
1 quart milk or water
1 cup Crisco
1 cup sugar
1 pkg. yeast
¼ cup warm water
8 cups flour
1 Tbsp. salt
2 tsp. baking powder
1 tsp. soda
Scald milk; add Crisco and sugar. Cool to lukewarm. In a cup, mix yeast and ¼ cup warm water. Add yeast mixture to milk mixture and work in 8 cups flour. Let rise until double in bulk.
Punch down and add salt, baking powder and soda. Kneed 10-15 minutes, then put in a covered container. You may store dough in refrigerator for several days. If you plan to use immediately, let rise again until double in bulk; then punch down and make into desired shape. (I dip each roll in melted butter and fold over to make Parker House rolls.) Let rise 1 to 1 ½ hours in a warm place.
Cook at 350 degrees until lightly browned, about 12 minutes. May be frozen after they are slightly brown. Makes 10-12 dozen.
Parmesan Cheese Dinner Rolls
Terri Neighbors
These taste like fancy dinner rolls and are so easy to throw together.
2 tubes Pillsbury Crescent Rolls
1 cup freshly shredded Parmesan cheese or more to taste, plus 2-3 Tbsp. for topping
1 Tbsp. dried or 2 tsp. fresh rosemary
4 Tbsp. butter, divided
Kosher salt, omit if you use salted butter
Preheat oven to 350 degrees. Place skillet with 2 Tbsp. butter in the oven to melt.
Working with one tube at a time, roll out dough and press seams together to form a sheet. Sprinkle with 1/2 of the Parmesan and 1/2 of the rosemary. Feel free use more cheese if you want it extra cheesy. Roll up the dough lengthwise and slice into approximately 1" pieces.
Repeat with second tube of dough and remaining cheese and rosemary. Remove skillet from oven and brush butter around bottom and sides of the skillet.
Arrange dough slices in the skillet (they will fit snugly). Melt remaining 2 Tbsp. of butter in microwave and brush over the top of the rolls. Sprinkle with extra cheese, rosemary and a pinch of kosher salt, if desired.
Bake for 10 to12 minutes or until bread is golden brown. Cool slightly and serve right out of the skillet.
Ginele's Quick Dinner Muffins
1 cup butter
2 cups flour
1 tsp. salt
1 Tbsp. baking powder
10 oz. sour cream
¾ cup sharp cheddar, grated
2 to 3 cloves garlic, minced
Freshly ground pepper
Mix dry ingredients together; set aside. Melt butter; add sour cream and dry ingredients. Stir in cheese, garlic and pepper. Spoon into ungreased mini muffin tins. Bake 12 to 15 minutes at 425 degrees.
Dilly Bread
Carol Dillard
¼ cup warm water
1 pkg. yeast
1 cup cottage cheese
2 Tbsp. sugar
2 tsp dill seed
1 Tbsp onion flakes
¼ tsp. soda
1 tsp. salt
1 Tbsp. softened butter
1 egg beaten
2 ¼ cup all-purpose flour
Dissolve yeast in ¼ cup warm water.
Warm cottage cheese, sugar and butter until butter melts. Let this mixture cool, add egg and then add to yeast (this step is very important as if the mixture is too hot, it will kill the yeast). Add dill seed and onion flakes. Sift flour, salt and soda together and add to mixture. Knead until smooth or put into large mixing bowl and mix with dough hook until dough is elastic in texture.
Put dough into bowl. Grease top of dough; cover with towel and let rise 40 to 45 minutes. Punch down and place into greased pans*. Let rise until double in size. Bake approximately 30-40 minutes at 350 degrees. Brush with melted butter and sprinkle with Maldon Salt or another finishing salt.
*For a variety of shapes, I use loaf pans, regular and mini muffin tins or small round casserole dishes.