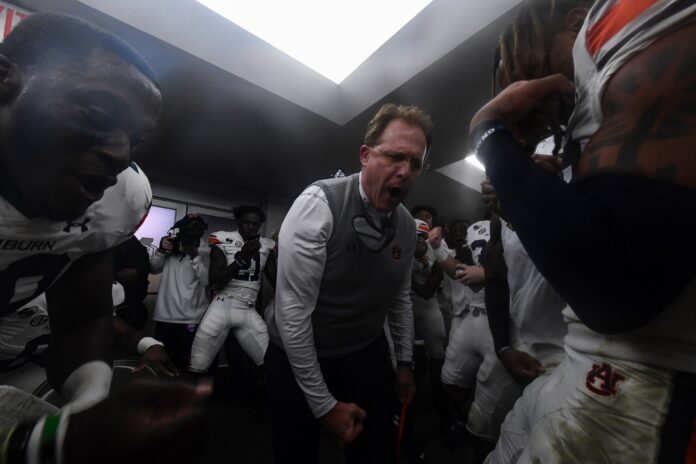 Auburn win not enough to save Malzahn
(Photo courtesy of Todd Van Emst/AU Athletics)
By Wil Crews
sportscrews@opelikaobserver.com
One day after Auburn beat Mississippi State 24-10, Auburn Head Coach Gus Malzahn was fired, ending his eight-year tenure on the Plains with a 68-35 record.
The win moved Auburn to 6-4 and concluded what has been a rather tumultuous season for the Tigers. The decision to relieve Malzahn concluded what has been an unceremonious decline for the head coach and the program over the past few seasons.
Malzahn's seat had long been hot and the move to part ways with him comes with mixed emotions—but little surprise—for anyone who knows the standards of Auburn's program.
Malzahn will be paid a $21 million buyout as part of the seven-year, $49 million contract he signed two seasons ago.
"After evaluating the state of the Auburn football program, we've decided that it was time to make a change in leadership," said Auburn Athletic Director Allen Greene in a statement. "We appreciate everything that Gus did for the program over the last eight seasons. We will begin a search immediately for a coach that can help the Auburn program consistently compete at the highest level."
Saturday's game was likely not the final factor in firing Malzahn. But the lackluster performance looked to be the culmination of the flat tire, transmission block and blown gasket that have, officially, run the Gus Bus off the road.
Yes, Auburn won the game, but the process by which it did so was painstakingly rigid and uninspired. We've seen Malzahn win an end-of-season game in big fashion before, but this game drained the remaining hope out of fans and boosters alike.
However, if we talk strictly about the football on Saturday, there were some positives. The typically run-susceptible Tigers defense had the perfect matchup, facing a Bulldog team that averaged just 23.8 rushing yards per game coming into the contest.
After Alabama and Texas A&M ran for a combined 456 rush yards in Auburn's previous two games, the Tiger defense responded by holding the Bulldogs to just 19 rush yards on 16 carries.
Admittedly, State Head Coach Mike Leach played right into Auburn's hands with his air-raid offense, but the Tiger secondary stepped up with two interceptions that helped subdue the Bulldog offense for the better part of four quarters.
The game had a similar feel to last week's against Texas A&M. Only this time, Auburn was sloppily in control for most of the contest. The Tigers defense acted as an unbreakable medieval fortress against the Bulldogs' aerial bombardment; the 51 passes attempted by State inconsequentially hit them like water on rock. The offense acted as a calvary—albeit a passive one—as they wrapped things up with a fourth quarter touchdown to restore Auburn's two-score lead.
Sure, State was effective at times. Bulldog quarterback Will Rogers completed 30 of his 51 passes. But the two Auburn interceptions—one by Roger McCreary in the second quarter and the other by Smoke Monday in the third—were the momentum-swinging plays that ultimately kept the State offense at bay.
Monday finished tied for second in tackles (8) with linebacker Zakoby McClain, and Owen Pappoe led the way with nine tackles and a sack. Redshirt freshman Colby Wooden added to his team-leading sack numbers, recording his fourth of the season. And sophomore Derick Hall got to the QB twice as the Auburn defense sacked Rogers a total of six times.
The offensive highlights on Saturday were few and far between.
Seth Williams caught his first touchdown in 49 days, Tank Bigsby was electric as he rushed for 192 yards on 26 carries, Anders Carlson connected on all three of his field goals and Bo Nix didn't turn the ball over. That's about all the good that can be said. The play calling was listless; Chad Morris' "inventive" use of tight ends continued to be a fabled mystery; and besides Bigsby, the entire offense looked no better than State's.
You can't blame the players when they win. So, despite the victory, Auburn looked poor enough to justify scapegoating Malzahn.
It was a frustrating end to the regular season and a disappointing end to the Malzahn era at Auburn that began with such promise in 2013. In his truest form, Malzahn was an Auburn man, and his players loved him. Give him credit for that. This team played through adversity, unprecedented circumstances and a 10-game, all-SEC schedule that they finished—something that can't be said for everyone. Give them credit for that.
Malzahn finishes with a national coach of the year award, two SEC championship appearances (2013, 2017), one national championship runner-up finish (2013), an 8-17 record against rivals Alabama, Georgia and LSU and as Auburn's fifth winningest coach of all time by win percentage.
Some may question the timing of the decision with early national signing day fast approaching on Wednesday. But if the administration had no plans for Malzahn in the future, it's best to be transparent about the transition with recruits.
We know Nix will return for his third year as the presumed starting quarterback. Bigsby will be a Heisman contending running back. What were considered youthful offensive and defensive lines this year will return to be experienced and formidable units next season.
Hopefully interim head coach Kevin Steele is retained to lead defense, but staff questions will only be answered when a new coach is hired. Malzahn said recently the team is not thinking about bowl games—and that's the last thing on anyone's mind now. Auburn may have lost a coach, but Malzahn will always be an important part of the Auburn Family.
"Coach Malzahn led the Auburn football program with honor and integrity," said Auburn School President Jay Gouge. "We appreciate his service to Auburn Athletics, Auburn University and, in particular, our student-athletes."
Gouge spoke for us all when he said, "We wish [Malzahn] and Kristi all the best."