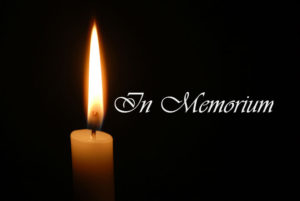 Dr. Richard
Thomas Lovell
Dr. Richard Thomas Lovell of Opelika passed away November 7, 2017. Visitation was Thursday, November 9, from 5-7 pm at Jeffcoat-Trant Funeral Home. The funeral was 2 pm Friday, November 10, at First United Methodist Church of Opelika in the sanctuary. Rev. Robin Wilson, Rev. Rick Lane, and Rev. Patrick Craig officiated. Burial was at Garden Hills Cemetery.
Dr. Lovell was born to the late Tom Nesbitt Lovell and Henry Etta Campbell Lovell on February 21, 1934 in Lockesburg, Arkansas. He received his Associate's Degree from Southern State University in Magnolia, Arkansas. He received his Bachelor of Science and Master of Science Degrees, both in Animal Nutrition, from Oklahoma State University. He received his Doctor of Philosophy Degree in Dairy Science from Louisiana State University. He served as Assistant Professor in the Food Science Department at LSU for two years prior to accepting an Associate Professor position in the Fisheries and Allied Aquaculture Department at Auburn University in 1969.
During his time at Auburn, he authored two textbooks on fish nutrition, published articles in numerous research journals, and was cited by numerous authors in their own works. He received many awards and honors during his career, including the National Science Foundation Career Award and Southern Arkansas University's Outstanding Alumni Award in 2000.
Dr. Lovell's pride and joy was serving as major professor for well over 100 graduate students at Auburn University. Many of these students were international, hailing from countries all over the world. Most of his students maintained contact with him over the years, sharing their experiences with him in their respective established careers. He visited over 30 foreign countries lecturing, consulting, and presenting seminars.
Dr. Lovell's most significant research was identifying the cause of broken back syndrome and off-flavor in channel catfish and formulating fish feed to prevent it. He formulated fish feed for many companies in Alabama, Arkansas, and Mississippi, which contributed to high-protein fish production that fed people here and in developing countries around the world. Many of these feeds are still in use today.
He received the designation of Distinguished University Professor at Auburn in 1993 and retired as Professor Emeritus in 1998.
He is preceded in death by his parents and one sister, Louise Jesse Lovell Graboi. He is survived by his wife of 54 years, Ganata Jo Nettles Lovell, and two sons, Thomas Alan Lovell and wife Beverly Greene Lovell of Albuquerque, NM, Richard Graves Lovell and wife Ashley Rossi Lovell of Auburn; granddaughters Emma Rose Lovell, Margaret Anne Lovell, Elizabeth Rossi Lovell, and Caroline Graves Lovell; and three sisters, Betty Ann McCollum of Springhill, TN, Charlotte Mae Gibson of Dierks, AR, and Lynda Irene Arban of Hattiesburg, MS.
Dr. Lovell was owner and operator of Oak Bowery Farms for 35 years. He was a purebred Angus cattle breeder and produced top quality bulls for cattlemen of Alabama. He received numerous awards including Alabama Outstanding Purebred Angus Breeder.
In lieu of flowers, the family requests donations be made to First United Methodist Church Building Fund, 702 Avenue A, Opelika AL 36803, or the charity of choice.