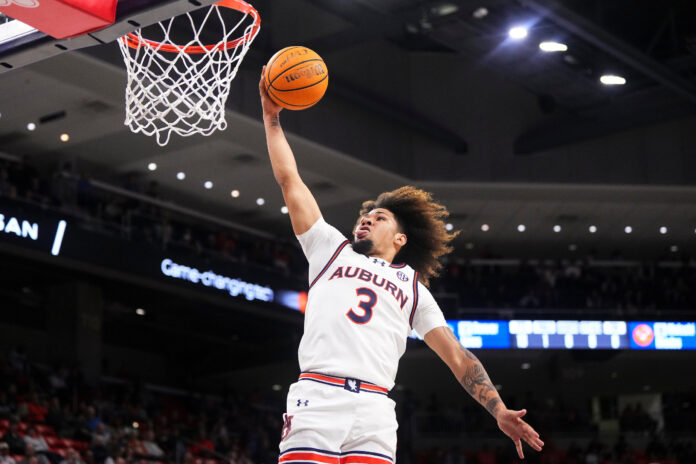 BY NOAH GRIFFITH
FOR THE OBSERVER
AUBURN— It didn't take long for several transfers to make themselves at home when Auburn University's men's basketball team invaded Neville Arena for the new season's exhibition game on Wednesday, Nov. 1.
Transfer guards Denver Jones, Chad Baker-Mazara and Chaney Johnson were Auburn's top three scorers in the Tigers' 102-66 exhibition win over Auburn University at Montgomery. All three juniors scored in double figures, but only two of them were in the starting five as Auburn flexed its depth even after losing three starters from last year's team.
Eight players played 19 or more minutes, and head coach Bruce Pearl's starting lineup consisted of four of them. Three returning contributors got the start: sophomore guard Tre Donaldson, senior forward Chris Moore and junior center Johni Broome, who left the game after three minutes with a shoulder injury, combined with two transfers: Jones and Chaney Johnson.
Taking the floor for the first time since March's Round of 32 NCAA Tournament loss, Auburn was without former multi-year starters Allen Flanigan, Wendell Green Jr. and Zep Jasper on the roster for the first time in three years. Not only that, but 5-star freshman phenom, Aden Holloway, did not suit up for the game, and Broome played just three minutes.
Both Holloway and Broome are expected to be okay going forward, but those absences forced Auburn to lean on the talent on its bench. Playing 19 or more minutes coming off the bench was senior guard K.D. Johnson, graduate forward Jaylin Williams, senior center Dylan Cardwell and Baker-Mazara.
With 58 bench points, Auburn was deep, but it was also efficient. Jones, who splashed 4-of-8 from 3-point range, led the team with 18 points, while 13 of 15 Tigers who touched the floor scored. Also in double figures in points was Baker-Mazara with 15, Chaney Johnson with 14 and Williams with 11.
Auburn scored more points than it did in a game all last season, and that was a result of shooting 49% from the field, getting to the free-throw line 43 times, surmounting 29 points off 23 turnovers and outrebounding AUM 43-33. Auburn got 17 steals, four apiece from K.D. Johnson and Card-well, while Donaldson ran around the court like the energizer bunny.
Donaldson deferred most of the scoring to the newcomers, but he finished the night with a team-high eight assists, three steals, two rebounds, four points and just one turnover in 22 minutes on the floor. He tallied a 17 in the plus-minus category and lobbed two huge alley oops: one each to Williams and Cardwell.
While Jones and company shot efficiently, Auburn created plenty of good looks with efficient ball movement and second-chance opportunities. The Tigers tallied 19 assists to AUM's nine, with Donaldson, Moore, Cardwell, Chaney Johnson and Jalen Harper all finishing with multiple assists.
The paint also belonged to Auburn, as the Tigers outscored AUM 50-28 in the paint while blocking seven shots and hauling in 17 offensive rebounds.
Although it was a dominant effort by Auburn, there's always room for improvement. Outside of Jones' four made 3-pointers, the team went 1-for-17 from beyond the arch with K.D. Johnson converting the only other deep ball. Also, Auburn also got off to a slow start and was trailing nearly eight minutes into the game.
That deficit was long forgotten, however, when Auburn's walk-on players raided the floor in the final five minutes and helped Auburn reach the envied triple-digit scoring mark. Senior Carter Sobera nailed a layup to put 100 on the board before a slam dunk by grad player Jalen Harper sent the crowd roaring into the chilly November night.
In the end, the exhibition was a 36-point blowout win for the unranked Tigers that allowed a new-look team to get comfortable taking the floor together.