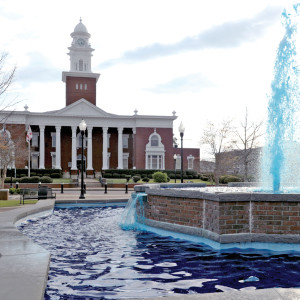 By Fred Woods
Opelika Observer
At last week's regular meeting, the Lee County Commission adopted a total FY 2018 budget of $43, 389,821, up 9.11 percent from last year. Nearly $2.5 million of the increase is for one-time capital projects or large equipment purchases. In addition, about $1.2 million in large equipment purchases will be offset under the Highway Department's Dump Truck Fleet Rotation Program.
The more important overall operating budget of $39,760,294, is 5.22 percent more than last year's operating budget. Funding for ongoing operations is based on projected current revenues, which are currently growing at a 5.22 percent rate, just about the five percent annual rate needed to sustain current services. To expand services without going in debt revenue growth rate would need to increase to the seven to eight percent range.
Commissioners had unanimously agreed on the budget at a work session two weeks ago but, at the last minute, Second District Commissioner Sheila Eckman decided she was unhappy with their failure to fund EAMC's Emergency Transport Service (ambulance service) requested increase of $60,000. The Emergency Transport Service is already supported by $289,476 from the Lee County budget as well as an equal amount from the cities of Auburn and Opelika each year. After a somewhat heated discussion, District 4 Commissioner Ham proposed adding $15,000 of the $15,572 carryover from FY 2017 to the ETS line item.
The amended budget passed by a 3-2 vote with Commissioner Johnny Lawrence abstaining because of his relationship with EAMC. Commissioners Long and Harris cast dissenting votes, expressing their disapproval of the last minute change, creating a 2-2 tie. Commission Chair Bill English broke the tie, voting in favor of the amended budget.
There were two public hearings, both held in connection with the county vacating public roads.
After the first the commission voted to vacate Lee Road 425 at the single lane portion over the privately-owned Heath Lake dam. Property owner Logan Waites was especially concerned that the county build a turn-around at the end of the road, because, otherwise, he said, motorists would use his driveway to turn around. County Highway Department Director Justin Hardee assured Waites the county would construct a turn-around.
After the second public hearing, Commissioners voted to vacate dead-end portions of Lee Roads 259, 260 and 277 in the Halawakee Creek area just west of Lake Harding after Cora Fullerton Reames was assured that the Fullerton family would continue to have access to their old family cemetery off Lee Road 259, inside the vacated roads.
Several citizens expressed their regrets that access to Halawakee Creek for recreational purposes might be more limited than in the past but agreed on the need to close the roads in an attempt to stop the illegal and undesirable activities currently going on there.
The Commission also authorized the chairman to execute federal aid agreements for two bridge replacements over Hodnett Creek in western Lee County. One is on Wire Road which automatically triggers concerns for AU football traffic but County Engineer Hardee assured commissioners that LR 137 activity would not begin until after the football season and year-end Christmas and New Year's holidays and would take no more than six months to complete.
The commission was also informed that Lee County Environmental Director Chris Bozeman had resigned due to health reasons.
Condolences were expressed as well as appreciation to Mr. Bozeman for his excellent performance as environmental director. Bozeman will be replaced by John MacDonald, formerly Bozeman's assistant and a nine-year county employee.
Chairman Bill English also expressed the county's appreciation to Maintenence Supervisor Jerry Lynch for his performance in delivering (and collecting) all the voting equipment — chairs, tables, voting machines, ballots, etc.. — to all county voting boxes despite an expected (and actual) atrocious voter turnout.
In other action the commission:
-approved maintenance bid extensions for the highway department,
-approved several beer and wine licenses,
-at Revenue Commissioner Oline Price's request, approved the aerial photography cooperative agreement between the county and ALDOT,
-gave approval to Mr. Hardee to hire two college student engineering technicians using funds allocated for a vacant positions,
-executed a quit-claim deed to Arvyle Marshall for former right-of-way property off LR 183 (Marshall had granted county right-of-way that the county never used. Now he wants it back),
-gave preliminary plat approval to the Magnolia Ridge subdivision off LR 401 in southern Lee County, from county regulations for a subdivision in northwest Lee County on LR 88, and
-announced that, due to the Columbus Day holiday, the next Lee County Commission meeting will be Oct. 10.