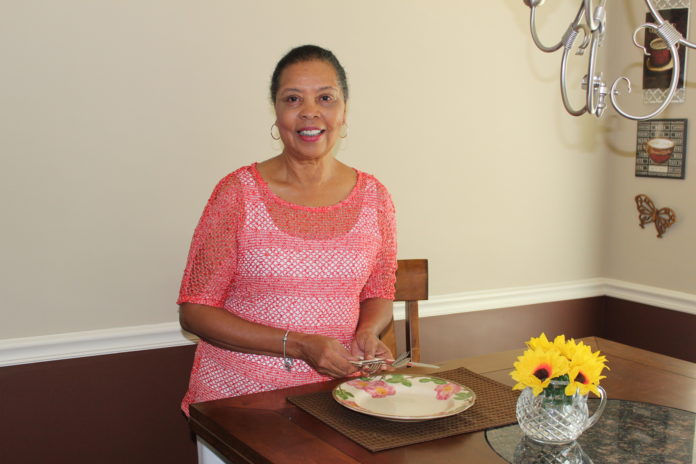 By Ann Cipperly
It was easy to find Brenda Harris' home with a "Yard of the Month" sign on her well manicured lawn. Brenda, a substitute teacher at Wake Forest and Northside School, moved to Opelika in 2012 after teaching school near Houston, TX. for 34 years and being involved in her church and with missions.
Brenda moved to Opelika to be near her mother, who is 91 years old, and wanted to have easy access to the Atlanta airport to fly to Richmond, Va., to visit her son, Captain Mark Harris, and his wife Nicole. Captain Harris received a Presidential Scholarship for academics to Texas A&M University. After graduation he was commissioned an officer in the Navy and received an MBA at UCLA before going to Virginia.
Brenda's mother is from North Carolina, while her father grew up in Tuskegee. Her parents met while her father was serving in the military. After they married, the family moved to Tuskegee where her father was a substitute teacher and administrative assistant in admissions at the VA Hospital.
Her father majored in industrial education at Tuskegee Institute College, now Tuskegee University. He built their first home and enjoyed building cabinets and bookshelves for family and friends.
Brenda's mother was a stay at home mom and enjoyed cooking. They lived next door to Brenda's paternal grandmother, who later moved in with them. Her mother learned how to cook many southern dishes from the grandmother.
Brenda remembers her grandmother teaching her mother how to cook grits, which she had not had before. She also learned to prepare Sweet Potato Pie, Fried Corn and Banana Pudding. Brenda didn't cook while she was growing up, but she watched them.
She participated in integration at Tuskegee Public High School and was in the first graduating class in 1966. After graduating, she attended Clark College, now Clark-Atlanta University. After problems arose in the foreign language department, cousins and friends encouraged her to transfer to Prairie View A & M University near Houston where she majored in French and Spanish with a minor in Education. After graduating, Brenda began her teaching career.
Brenda then received a Masters of Education degree in Mid-Management from Texas Southern University in Houston. Brenda is also certified to teach special needs students. Brenda married and continued teaching in Houston and the Cypress-Fairbanks community.
She worked the last four years tracking and mainstreaming special needs students in Cypress-Fairbanks Middle School.
When teaching sixth graders, she hosted a French Club. She would go to school early to prepare crepes and chocolate mousse in the home economics kitchen. The students enjoyed the dishes and were encouraged to continue studying French.
Brenda was a member of the Foundry United Methodist Church in Houston for 20 years. "I enjoyed traveling with Foreign Missions to Mexico and Puerto Rico," she says. "Our team added classrooms to existing churches building from foundation up.  Each participating church worked for two weeks doing their part and left for the next group to sign on.
"For local missions, we worked with programs, including Vacation Bible School and Bible study at inner city churches."
She also assisted with the church's annual "Tea Room," a fundraiser for foreign and local missions. The ladies in the church would create an elegant tea room setting in the fellowship hall with tables covered in linens and centered with fresh flowers. Chairs were also decorated.
Brenda helped prepare Tarragon Chicken Salad, which was served with crackers and fancy desserts. The ladies would serve tea and coffee with the chicken salad plate. They came to the tables with carts laden with tempting desserts. The Tea Room was open to the community and was a popular event in Houston.
When Brenda's father became ill, she began making frequent trips to Tuskegee and realized she needed to move back to the area to take care of her parents. She sold her home in a gated community in 20 days and decided to downsize when she moved to Opelika.
While her father has passed away, she continues to help her mother with doctor's visits and other needs.
After moving to Opelika, Brenda began to substitute at West Forest and Northsdie School.
On busy teaching days, she enjoys making quick and easy recipes and using many recipes home economic teachers and friends in Texas shared with her. She also prepares recipes from her mother and cousin Rosemary.
One of her friends in Houston assembled a cookbook, "The Dan Wagner Family Heritage Cookbook." She prepares the Meatballs and Easy Chicken Enchiladas, among others, from the treasured cookbook.
Brenda is a member of the Auburn Chapter Delta Sigma Theta Sorority, Inc.  "We are a community service organization," she says, "and I have made dear friends for life. My Houston chapter is truly missed, but being here and working with these ladies is great."
She feels Opelika is now home. "I love the people in Opelika and at the schools here.
"I wake up every morning thanking God for His blessings. I feel truly blessed. I have met wonderful people at Trinity United Methodist Church.
"Since retiring," Brenda adds, "I am enjoying this new chapter of my life."
Ann Cipperly can be contacted at recipes@cipperly.com.
Recipes:
Tarragon Chicken Salad
This recipe was served at the Foundry United Methodist Church's annual "Tea Room" fundraisers with elegant desserts.
4 cups cubed, cooked chicken (about 1 3/4 lbs.)
1 cup walnuts, toasted and chopped
1 cup celery, cut into 1/4 inch thick slices
2 Tbsp. finely chopped green onions
2 cups seedless red grapes, cut in half
3/4 cup mayonnaise
3 Tbsp. tarragon vinegar
2 Tbsp. finely chopped fresh tarragon
1/2 tsp. salt
1/2 tsp. black pepper
Mix all ingredients together well and then refrigerate until ready to serve.
Mom's Sweet Potato Pie
2 large sweet potatoes, cooked
1 stick butter
1 cup sugar
2 eggs
1/2 cup milk
1 Tbsp. flour
1 Tbsp. vanilla
1 tsp. baking powder
Pinch of nutmeg
Pinch of allspice
2 Pillsbury piecrusts
In a mixer, combine filling ingredients, beating until smooth. Pour into to piecrusts. Bake at 350 degrees about 30 minutes or until filling is set and crust is browning.
Mom's Southern Fried Corn
Fry salt fatback and drain excess oil. Add fresh corn cut from the cob, 1 Tbsp. flour, sugar to taste and salt and pepper to taste. Cook on medium flame about 45 minutes, adding 1/2 cup water or enough for the consistency to your liking.
Eggplant Casserole
Carolyn Morse
1 large eggplant
1/2 stick margarine
2 cups soft breadcrumbs
3 eggs, well beaten
1/2 tsp. salt
1/8 tsp. pepper
3/4 cup milk
1 Tbsp. minced onion
1 cup grated cheese
Peel and cube eggplant. Cook in water until tender; drain. Mash eggplant.
Add all ingredients in order listed. Pour into buttered baking dish. Bake at 325 degrees about 30-35 minutes or until browned and bubbly. Casserole may be frozen and baked at a later time.
Baked Meatballs
Evelyn Rice
1 cup breadcrumbs
1/2 cup milk
½ cup parsley, chopped
2 Tbsp. oregano, dried
1 Tbsp. salt
2 tsp. basil, dried
Pinch of nutmeg
3/4 cup Parmesan cheese, grated
1/2 cup beef broth
3 eggs, beaten
1 Tbsp. garlic, minced
1 Tbsp. pepper
1 tsp. red pepper flakes
2 lb. ground beef
1 cup beef broth for baking
Stir together all ingredients except ground meat and 1 cup beef broth. Add ground meat and shape into meat mixture into balls about 2-inch in diameter.
Coat a baking sheet with cooking spray, and space meatballs on the pan so that they are not touching. Cover bottom of pan with 1 cup beef broth. Bake at 350 for 25 minutes. Serve the meatballs with pasta sauce or for cocktail meatballs.
Easy Chicken Enchiladas
JoAnn Purcell
2 cups chicken, cooked, chopped
2 cups sour cream
1 (10¼-oz.) can Cream of Chicken soup, undiluted
2 cups Longhorn cheese, grated
2 cups Monterey Jack cheese, grated
2 Tbsp. onion, chopped
1/8 tsp. salt
1/4 tsp. pepper
1 (4-oz.) can green chilies, drained and chopped
Ten 10-inch flour tortillas
Vegetable oil
1 cup Longhorn cheese, grated for topping
Combine the chicken, sour cream, soup, Monterey Jack cheese, Longhorn cheese, green chilies, onion, salt and pepper; mix well and set aside.
Fry tortillas, one at a time, in 2 Tbsp. oil in a medium skillet 5 seconds on each side or just until tortillas are softened: add additional oil if necessary. Drain on paper towels.
Place a heaping 1/2 cup chicken mixture on each tortilla; roll up each tortilla, and place seam side down in a 13vx9x2 baking dish. Cover and bake at 350 for 20 minutes. Sprinkle 1 cup longhorn cheese over tortillas, and bake, uncovered, an additional 5 minutes. Serve immediately.
Banana Pudding
Leslie Kimmons
2 small pkg. vanilla instant pudding mix
3 cups milk
8 oz. sour cream
12 oz. whipped topping
1 box vanilla wafers
4-6 bananas
Mix pudding mix and milk until thick. Fold in sour cream and whipped topping. Layer the pudding mixture with vanilla wafers and banana slices. Low fat sour cream, whipped topping and skim milk can be used.
Creamy Banana Pudding
Cindy Johnson Elzner
1 (14-oz.) can Eagle Brand Sweetened Condensed Milk
1/2 cup cold water
1 small pkg. instant vanilla pudding mix (4-serving size)
2 cups whipping cream, whipped
3-5 medium bananas
1 box vanilla wafers
Cool Whip
In a large bowl combine Eagle Brand and water; add pudding mix and beat with an electric mixer until well blended. Chill 5 minutes. Fold whipped cream into pudding mixture. Layer vanilla wafers, bananas and pudding mixture in glass trifle dish. Top with Cool Whip.
Rosemary's Salmon Casserole
1 large can salmon
1/2 cup chopped celery
1/2 cup chopped green pepper
1/2 cup chopped onions, optional
1/2 tsp. sage
Salt to taste
1 cup dry noodles
1 can Cream of Celery Soup
1 pkg. frozen broccoli, partly thawed
In a bowl, mix salmon, chopped vegetables, seasonings, dry noodles and soup (follow directions on can). Mix together; add broccoli and combine well. Pour mixture into greased casserole dish.
Bake at 375 degrees for 1 hour. Can sprinkle grated Swiss or mozzarella cheese over top the last 15 minutes of baking time, if desired. Good served with cornbread.
Ginger-Orange Carrots
Lucille Ozan
1 lb. carrots, cut in quarters lengthwise
1/4 cup frozen orange juice concentrate, thawed
1/4 cup melted butter
1 Tbsp. honey or syrup
1/2 tsp. ginger
1/2 tsp. salt
Steam carrots until tender. Blend remaining ingredients and pour over carrots. Cover and cook 3 minutes.
Broccoli Cornbread
Donna Jones Barbaral
10-oz pkg. frozen broccoli
2 boxes Jiffy Cornbread Mix
1 1/2 sticks butter or margarine
4 eggs
8-oz. container cottage cheese
1 medium onion, chopped
Thaw, chop and drain broccoli. Mix cornbread mix and melted butter.
Add slightly beaten eggs; stir in cottage cheese, broccoli and onion.
Pour into a greased 9×13 baking pan or dish. Bake for 40 to 60 minutes or until golden brown.
Rosemary's Taco Soup
1 lb. ground round or chuck or vegetarian crumbles
1 can black beans, drained
1 can pinto beans, drained
1 can kidney beans, drained
1 can shoe peg corn, drained
1 can diced tomatoes, drained
1 can Rotel, do not drain
1 pkg. taco seasonings mix
1 pkg. ranch dressing mix
1 cup water
Tortilla chips
Avocado slices
Brown ground beef; set aside. Add drained cans, Rotel, water and seasonings. Cook for 45 minutes on low heat. Serve with tortilla chips and avocado slices.
Broccoli and Rice Casserole
John Hargrove
1/2 cup celery, chopped
1/2 cup onion, chopped
1 Tbsp. butter or margarine
10-oz pkg. chopped, frozen broccoli
1 cup uncooked rice
1 can cream of chicken soup
1 can cream of mushroom soup
8-oz. jar plain or Jalapeno Cheese Whiz
Salt
Pepper
Paprika
Sauté celery and onions in butter. Cook broccoli and rice according to package directions. Combine celery, onion, soups and cheese. Salt and pepper to taste. Stir broccoli into mixture and pour into a greased 3-quart casserole dish. Sprinkle paprika on top and bake at 350 degrees for 30 minutes.
Fruit Salad
Glendale Beatty
1 can Eagle Brand Sweetened Condensed Milk
1 can strawberry pie filling
8-oz. container whipped topping
1 can pineapple, drained
1 small pkg. marshmallows
1 pkg. walnuts or pecans, chopped
Mix ingredients in the order listed and chill for 3 hours before serving.
Low Fat Cheesy Broccoli Potato Soup
1 can low-fat cream of chicken soup
28 oz. fat-free chicken broth
1 cup skim milk
6 oz. light processed cheese
1/2 box four cheese mashed potatoes
1 1/2 cups chopped broccoli
Mix soup and broth and bring to a boil. Add broccoli and cook for 5 minutes. Add milk and potatoes and stir well. Heat until well blended. Add cheese and warm until melted.