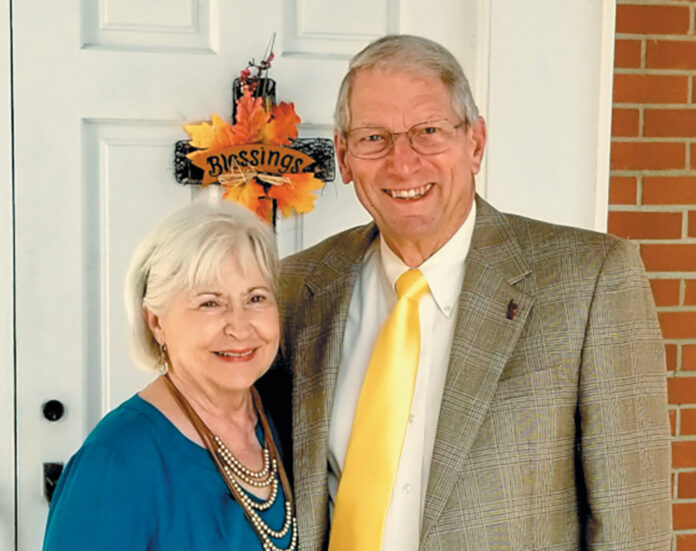 By Ann Cipperly
On Sunday, Oct. 3, Pepperell Baptist Church celebrated its 95th anniversary with a homecoming service and lunch with 103 members and friends attending. Rev. Mike Newman is the current pastor, and the guest speaker for the occasion was Dr. Bill King. Music was under the direction of Rev. Bryan Hawkins. His wife, Amy, and their church pianist, Kelley Turner, were the accompanists for the special music.
Following the service, a covered dish lunch was served in the fellowship hall. The church has many good cooks who prepared their favorite dishes. Mary Barnes decorated the tables, covered in yellow cloths, with festive autumn arrangements.
Over the years, the church has published two cookbooks, volumes one and two of The Pepperell Family Favorites. Proceeds from the first volume went toward "retiring the debt of our church building." The cookbook committee included Kay Cook, Janet Meredith, Sue Peppers, Dot Pugh, Susan Skinner, Brenda Webster and Lynda Wood.
The second volume went toward future mission trip projects. No dates were given in the cookbooks when they were published, and copies are no longer available. A variety of recipes from both these cookbooks are included with the recipes. Some of those members have passed away, but their recipes are still being prepared and enjoyed as they are remembered.
Mary Barnes Newman assembled the following history of Pepperell Baptist Church.
When cotton was king and textiles were flourishing, Pepperell Manufacturing Company came to Opelika in 1926 and built its mill on First Avenue. Not only was a mill established, but housing for mill employees and administrators was put in place, which is now known as Pepperell Mill Village.
The owners and managers of Pepperell Manufacturing Company knew that the success of this venture would require a strong spiritual base provided by corporate worship and fellowship through a local congregation of Christians. With such planning and foresight, Pepperell Baptist Church was founded the same year the mill came into existence.
The church had very humble beginnings after the mill began operations in March 1926. Services were held in vacant houses being led by available pastors. As interest grew, the congregates realized the need for a more formal building in which to worship.
To meet the need, Pepperell Manufacturing Company built a "Union Church" in the center of the village. On Sunday, Oct. 10, 1926, Pepperell Baptist Church was organized with 13 charter members. Rev. Joe Collum was called to serve as the first pastor.
From October 1926 to February 1945, the Baptists and Methodists shared use of the Union Church for their services each Sunday by alternating weeks. In February 1945, Pepperell Baptist church vacated joint use of the building and began meeting in the Pepperell School building. A building fund was established to construct a new church edifice, which was completed in October in 1949 with the first service being held on the 20th of the month.
Since that time, Pepperell Baptist Church has experienced steady growth in numbers as well as an expansion of its campus. The Gilmer Annex, which served as an educational building, was constructed between 1951 and 1956 solely by members.
The Annex was expanded in 1961, and today it provides space for educational needs, as well as space for social gatherings. A new auditorium was approved for construction in April 1981 and completed in November 1982. What started with 13 charter members is now full service Christian fellowship with adequate space for anyone desiring to attend.
One of the most effective ministries initiated by Pepperell Baptist Church is Master Builders, which was founded by the late Chyron Wood 35 years ago. Master Builders is known for its helping hands by taking summer mission trips to renovate churches around the southeast, participating in Disaster Relief efforts, helping local families with disabilities.
King Cotton is no more, and the textile mills are gone, but the seed that was planted by these entities, and during the era, has brought a great harvest through the years and continues to reproduce itself. The doors that God opens no man can shut.
The first pastor was Rev. Joe Collum. The present pastor is Rev. Mike Newman. In between there have been over 26 men used mightily by God. To God be the glory! Great things He has done!
A.D. Chicken
Mary Barnes Newman
This is one of our favorites.
Chicken tenders for breasts
1 pkg. dry onion soup mix
1 bell pepper, chopped
Sliced tomatoes
Small bottle zesty Italian dressing (use about three-fourths of bottle)
Place uncooked chicken in a 9 x 13 Pyrex or other baking dish. Sprinkle dry soup mix over chicken. Then, sprinkle chopped bell pepper over soup mix and cover with sliced tomatoes.
Pour zesty Italian dressing over top. Cover and cook 1 hour and 30 minutes at 325 degrees.
Grandmother's Carrot Cake
Beth Pinyerd
My grandmother, Lily Mae Jones, was known to be such a good cook. She cooked cakes for the entire community. Her carrot cake was an autumn favorite.
Carrot Cake:
2 cups sugar
1 1/2 cups corn oil
4 eggs
2 cups plain flour (all-purpose)
2 tsp. soda
1 tsp. salt
2 tsp. cinnamon
3 cups raw carrots
1/2 cup chopped pecans
Cream sugar and oil; add eggs and cream well. Sift dry ingredients and add to mixture. Fold in carrots and nuts.
Place batter in three greased cake pans. Bake at 350 degrees for 30 minutes or cake tests done by inserting a toothpick near the center.
Icing:
1 lb. box confectioners' sugar
8 oz. pkg. cream cheese
1/2 stick oleo (margarine or butter)
2 tsp. vanilla
1 tsp. sweet milk, if needed
Beat until smooth. Spread icing between layers and over cake.
Macaroni and Cheese
Beth Pinyerd
My grandmother taught all her granddaughters how to make this recipe.
Cook macaroni as directed on package and drain.
Grate about 2 cups cheese.
Grease a 2 quart baking dish with butter. Put a layer of macaroni, layer of cheese, dot with butter and add salt and pepper.
Repeat layers until dish is full. Last layer should be macaroni.
Beat 3 eggs. Add 2 cups milk. pour over macaroni and cheese.
Dot with butter. Bake at 350 degrees until bubbles.
Sweet and Sour Meatball Appetizers
Cindy Keith
Meatballs:
2 lb. ground chuck
2 slices bread
1 1/2 pkg. Lipton dry onion soup mix
Sauce:
1 cup ketchup
8 Tbsp. vinegar
1 cup apricot nectar
8 Tbsp. brown sugar
4 tsp. mustard
4 tsp. horseradish
2 tsp. Worcestershire sauce
Meatballs: Combine ingredients and make small balls. Brown in butter. Set aside.
Sauce: Combine ingredients well over low heat until all mixed together. Do not boil. Put into electric skillet or fondue pot: add meatballs. Serve with toothpicks.
Cornbread Pie
Lynda Wood
1 lb. ground beef
1 large onion, chopped
¼ cup green pepper, chopped
½ stick margarine
1 can tomato soup
2 cups water
1 tsp. salt
½ tsp. pepper
1 Tbsp. chili powder
1 cup corn (fresh or canned)
Sauté onion and green pepper in butter. Remove from pan and brown ground beef. Add onion and green pepper to browned beef; add soup, water, corn and seasonings. Mix well and simmer for 20 minutes. Pour into buttered oblong casserole dish, 3/4 full, and cover with topping. Bake for 20 minutes at 400 degrees.
Topping:
3/4 cup corn meal
1 Tbsp. flour
½ tsp. salt
1 Tbsp. sugar
1 ½ tsp. baking powder
1 egg, beaten
½ cup milk
1 Tbsp. butter
Sift dry ingredients together. Add egg, milk and butter. Pour over meat mixture.
Catfish a la Sharon
Sharon Duffie
2 to 3 dressed catfish (per person)
¼ cup white corn meal
¼ cup plain flour
¼ cup Lawry's seasoned salt
1 cup buttermilk
2 Tbsp. cayenne pepper
1 qt. peanut oil
Combine salt, pepper and buttermilk in mixing bowl. In second bowl, combine corn meal and flour. Dredge fish in milk mix, then dust in dry mix to make batter.
Heat peanut oil to frying temperature in skillet. Pan-fry each fish until well done and tender. Serve with potatoes and greens.
Squash Croquettes
Wendi Foster Childs
3 cups cooked squash
Salt to taste
2 Tbsp. chopped onion
3 Tbsp. melted margarine
2 cups cornbread crumbs
3 eggs (2 might be enough)
Bread or cracker crumbs
Drain and mash squash; add cornbread crumbs, onion, melted margarine and eggs. Stir well. Shape this mixture in croquettes and roll each in bread or cracker crumbs.
Fry in heavy frying pan. Best when fried in deep fat. Cook until brown on all sides; drain on paper towels.
Jam Cake
Bertha Thomaston
2 cups sugar
1 cup butter or margarine, room temperature
5 eggs, 1 beaten separately
3 ½ cups self-rising flour
1 tsp. soda
1 tsp. cinnamon
1 tsp. cloves
1 tsp. nutmeg
1 tsp. allspice
1 cup buttermilk
2 cups raisins, rolled in a little of the flour
2 cups blackberry jam (seedless)
1 cup nuts (pecans, more if desired)
1 cup coconut
Combine butter and sugar; add eggs and beat. Add soda and spices to flour. Add a little flour to the raisins. Add flour mixture alternately with buttermilk to sugar mixture. Mix well. Add remaining ingredients. Pour into greased layer pans. Bake at 325 to 350 degrees about 25 minutes or until tests done by inserting a toothpick near the center.
Caramel Filling:
1 cup white sugar
1 cup brown sugar
1 cup water or milk
Combine ingredients in a saucepan. Cook until syrupy. Mix some nuts, raisins or coconut in filling, if desired. Spread in layers and on top.
Buttermilk Custard Pie
Judy Clark
1 ½ cups sugar
3 Tbsp. flour
2 eggs
½ cup melted butter
1 tsp. vanilla
1 tsp. lemon juice
1 cup buttermilk
Mix all and pour into unbaked pastry shells. Bake at 425 degrees for 10 minutes, then 350 degrees for 35 minutes.
Crumb-Topped Baked French Toast
Mission Team Cooks
2 eggs, well beaten
½ cup milk
½ tsp. salt
½ tsp. vanilla
6 slices "Texas Toast" or other thick-sliced bread
1 cup corn flake crumbs
¼ cup butter, melted
Cinnamon Syrup:
1 1/3 cups sugar
1/3 cup water
2/3 cup white corn syrup
1 tsp. ground cinnamon
1 (5 oz.) can evaporated milk
1 Tbsp. butter
½ tsp. each almond and burnt sugar flavoring
Combine eggs, milk, salt and vanilla; mix well. Dip bread slices into eggs mixture; coat both sides with crumbs. Place on well-greased cookie sheet. Drizzle melted butter over crumb coated bread. Bake at 450 degrees for 10 minutes.
Syrup: Combine sugar, water, corn syrup and cinnamon in saucepan. Bring to boil; cook 2 minutes. Remove from heat; add milk, flavorings and butter. Serve warm with toast. Makes 4 servings. Serve with Canadian bacon, bacon or sausage as desired.
Apple-Raisin Stuffed Chops
Linda Gunter
6 thick pork chops
1/4 cup milk
1 cup soft breadcrumbs
1 cup finely chopped peeled apple
¼ cup raisins
1 Tbsp. melted butter
2 Tbsp. shortening or oil
1/8 tsp. salt
¼ tsp. sage
1 tsp. salt
1/8 tsp. pepper
Cut pocket in chops along the bone. Pour milk over breadcrumbs. Stir in apples, raisins, salt, the sage and melted butter. Stuff each chop with about ¼ cup of filling.
Brown chops in shortening or oil. Pour oil off when browned and season with pepper and salt. Cover tightly and simmer for 45 minutes to an hour. Serves 6.
Hungarian Short Ribs
Margaret Waldrop
4 lb. beef short ribs
2 Tbsp. cooking oil
2 medium onions, sliced
1 (15 oz.) can tomato sauce
1 cup water
¼ cup vinegar
1 tsp. salt
1 tsp. mustard
1 tsp. Worcestershire sauce
6 oz. noodles
1 cup water
In Dutch oven brown meat in hot oil. Add onions; blend together tomato sauce, 1 cup water, brown sugar, vinegar, salt, mustard and Worcestershire sauce and pour over meat. Cover and simmer for 2 ½ hours. Skim off fat.
Stir in noodles and other cup of water. Cover and cook on low heat for 20 minutes. Stir often. Makes 6 to 8 servings.
Meat-Za Pie
Lynda Wood
1 lb. ground beef
1/2 cup fine dry breadcrumbs
¼ tsp. garlic salt
1 small can evaporated milk
1/3 cup ketchup
1 small can mushrooms, sliced
2 to 3 slices cheese
1 Tbsp. Parmesan cheese
1/2 tsp. ground oregano
Mix beef, crumbs, garlic salt and milk in an 8-inch or 9-inch pie plate. Shape into a crust with a fork. Put ketchup into the center area of meat crust. Layer mushrooms or 1/3 cup chopped green pepper if you prefer on the ketchup. Break cheese into strips and crisscross over the mushrooms. Sprinkle with Parmesan cheese and oregano.
Bake in 400 degree oven for 20 minutes. Serve with a salad and a green vegetable. Quick and delicious supper.
Sweet Potato Honey Balls
Susan Skinner
2 ½ cups cooked sweet, mashed potatoes
¾ tsp. salt
5 Tbsp. margarine, melted and divided
½ cup miniature marshmallows
1/2 cup honey
1 cup chopped nuts
Combine potatoes, salt and 2 tablespoons margarine. Stir in marshmallows. Chill. Shape potato mixture into balls using ¼ cup for each. Combine 2 tablespoons melted margarine and honey in a heavy skillet. Add balls, one at a time, quickly coating each with glaze.
Roll balls in pecans and place in greased shallow casserole. Drizzle with remaining margarine. Bake at 350 degrees for 15 to 20 minutes.
Chocolate Eclair Cake
Kim Peppers Hill
1 box graham crackers
2 (3 oz.) boxes French vanilla instant pudding
1 large container Cool Whip
3 cup milk
1 can ready-made chocolate frosting
Mix pudding and milk. Add Cool Whip and mix. Layer graham cracker in bottom of 13 x 9-inch pan. Add layer of pudding mixture on top of graham crackers. Alternate thin layers of graham crackers and pudding mixture, ending with layer of graham crackers.
Ice top layer with chocolate frosting. Refrigerate for 24 hours before serving. Cut into squares.
Lord Baltimore Cake and Filling
Ethel Freeman
Filling:
2 1/2 cups sugar
1 cup milk
2 tsp. butter
1 lb. seedless raisins
1 lb. English walnuts (do not cook nuts)
1 lb. pecans
Layers:
2 cups sugar
1 cup butter, room temperature
4 cups flour
1 cup milk
4 eggs
Filling: Add sugar, milk and butter. Cook until thick, then take from heat. When cool stir in nuts
Layers: Mix sugar and butter together. Combine milk and eggs, and mix in alternately with flour, beginning and ending with flour. Pour into three greased 9-inch cake pans. Bake at 350 degrees for 35 to 40 minutes or until golden brown and tests done by inserting a toothpick near the center.
Fill cooled cake with filling and spread on top.
Old Fashioned Egg Custard
Elzona Mezick
¾ cup butter or margarine
2 eggs
3 Tbsp. all-purpose flour
3/4 cup evaporated milk
¼ cup water
1 Tbsp. vanilla extract
1 unbaked pie shell
2/3 cup sugar
Cream butter. Gradually add sugar to butter mixture, beating well. Add flour; stir in milk, water and vanilla. Pour into pie shell. Bake at 400 degrees for 20 minutes or until done.
Mississipp1 Mud Cake
Janice Berardi
2 cups sugar
1/3 cup cocoa
3 sticks margarine, room temperature
4 eggs
1 tsp. vanilla
1 ½ cups flour
1 cup coconut
½ cup chopped nuts
1 (7 oz.) jar marshmallow creme
Frosting:
1 box powdered sugar
1 tsp. vanilla
1/3 cup cocoa
1 stick margarine, room temperature
½ cup canned milk (can use regular milk)
Cream sugar, cocoa and margarine. Add eggs and vanilla and mix well. Add flour, coconut and nuts. Bake in a 9 greased 9 x 13-inch pan for about 40 minutes at 350 degrees or until tests done.
When done, immediately spread marshmallow creme over hot cake, gently. Combine frosting ingredients and spread over cooled cake.
Pop-Up Pizza
Ann Newton
1 ½ lb. ground beef
1 cup chopped onion
1 cup chopped green pepper
1 clove garlic, chopped
14 tsp. oregano
½ cup water
15 oz. tomato sauce
8 oz. mozzarella cheese
Pop-Up Batter:
1 cup milk
1 Tbsp. oil
2 eggs
1 cup all-purpose flour
½ tsp. salt
½ cup grated Parmesan cheese
In large skillet, brown ground beef; drain. Add onion, pepper, tomato sauce, garlic, oregano and water; simmer 10 minutes.
Pour beef mixture into 9 x 13-inch pan. Cover completely with mozzarella cheese.
Batter: Mix all ingredients.
Pour over cheese. Bake at 375 degrees for 35 to 40 minutes.