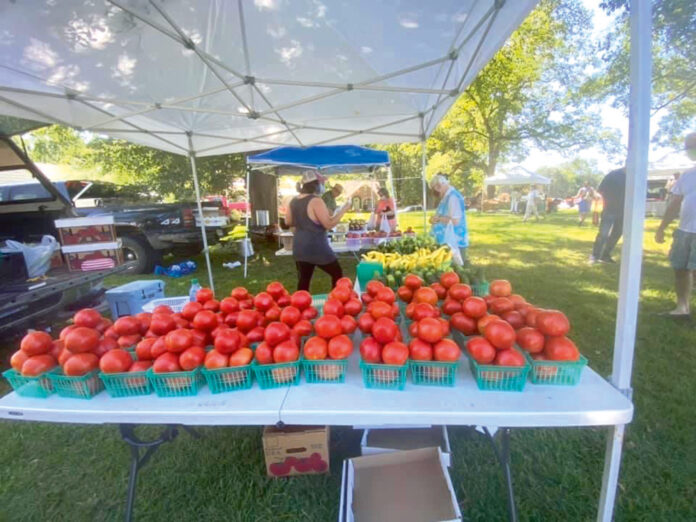 By Ann Cipperly
Garden fresh vegetables and fruits along with homemade baked goods, jams, honey and other items are available Tuesday afternoons at the Ogrows Open Air Farmers Market in back of the Southside Center for the Arts on Glenn Street in Opelika. The market will be held Tuesdays from 3 p.m. until 6 p.m., beginning May 17 and going through Aug. 22.
A bounty of just-picked produce from farmers in East Alabama will be displayed under white tents. Locally grown vegetables and fruits offer more nutrients and fresher taste than those shipped from other parts of the country. Buying from local farms is also beneficial to the community, as it supports our local farmers.
Along with a variety of produce, Serenity Farms and Bakery offers an outstanding array of homemade breads and assorted confections.  Anna and Liana Freeman will be at the market every other Tuesday. They bake all day at their farm to provide freshly baked sourdough bread, braided French bread, whole wheat banana bread, cinnamon rolls, blueberry and lemon bread, assorted cookies, peach pies and many other homemade desserts. They accept debit and credit cards.
The Freemans have been part of the market for several years. In the beginning, Anna and Liana's older sister, Mary, helped with baking, as well as their mother Judy, who now helps with the garden. Anna and Liana are the master bakers.
Mary Finley of Camp Hill has been bringing her special cakes to the market for a few years. She has an assortment of yummy cakes available whole or by the slice.
Other vendors include Hale Farms, Chilton County Peaches; Circle M Farms, jellies and pickles; Blackwood Farms; Mack Wilson, watermelons; Jimmy Dykes, fresh corn; Pulliam Farms; Nourish Farms, microgreens/mushrooms; The Chill Spot, ice cream; Harman Family Farm, hydroponic tomatoes; Slay Farms, hydroponic tomatoes; Avery Rajan, gluten-free and paleo baked goods; Nature's Love Products, skin care; Papa's Honey and Boiled Peanuts; and Pecan Point Farm, yogurt and pecans, among others.
The annual farmers market in Opelika has changed locations over the years. First located near the depot, it moved a few years later to Railroad Avenue and then to Courthouse Square in 2011. It moved again in 2016 across from the Southside Center for the Arts, and now it has settled next to the Ogrows community garden in the rear of the center.
The market was operated by Opelika Main Street for 10 years. In 2012, Ogrows began with Sean Forbes, a professor in education psychology at Auburn University, as the founder. He was inspired to start the program when his son was attending kindergarten at Southview School. When he asked his son about his day, Sean realized he was only outdoors for a small portion of the day. The professor developed the idea to get children out of a traditional classroom and create an outdoor learning space.
Ogrows has been under the umbrella of Envision Opelika since 2016.
Ogrows is an organization that engages students and citizens in gardening to address community service and food security. The organization is building capacity as a hub of local food systems by employing students, selling produce and donating produce to the Food Bank of East Alabama.
A greenhouse built with a hydroponics system in the greenhouse grows vegetables and ornamental plants, including perennials and annuals. Auburn University students helped with the project.
Sean's wife, Susan, served as the market manager for many years and is now a community liaison for Ogrows. Andrew Reynolds, a graduate student with Auburn University, will serve as the contact person for this year's seasonal farmers market. He is also the agricultural and educational director of the Ogrows community garden.
Farmers markets and curbside stands have always been popular with southerners before an increased interest in eating fresh and local foods began several years ago. In the farm-to-table movement, chefs have sought farmers for serving in-season fresh food from farms, which offers full, natural flavor.
Eating fresh and local was a way of life long before companies began genetically altering products to yield a specific color, size and shape, and then shipping them across the country to be eaten weeks after being picked.
Mark your calendars to attend the market on Tuesday afternoons and bring home farm-fresh, nutritious produce, homemade breads, desserts, pecans, jams and other items, while supporting our local farmers.