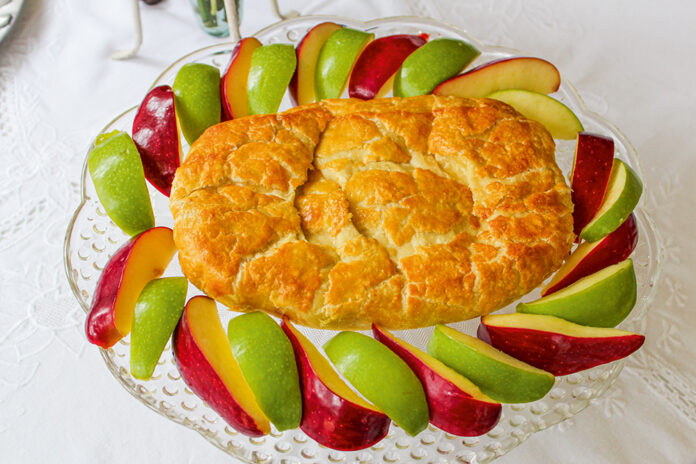 By Ann Cipperly
With the arrival of spring and lower Covid numbers, activities are beginning to pick up again, especially for children in afterschool sports. Gather the family around the table for Sunday night supper to enjoy time together, discuss the upcoming week's schedule and savor a good meal.
Sunday dinners and suppers are a long time southern tradition, and one that should be passed on in the family. If it hasn't been a tradition in your family, now is a good time to start. Part of the meal or the entire meal can be prepared ahead. There is just something special about being home Sunday night with the house filled with enticing aromas of good food.
When our children were growing up, weekdays were often hectic rushing from work to get our sons at different ball parks for baseball practice and games. Our daughter was busy with Girl Scouts and other activities. I can remember leaving in the middle of an elegant, seated tea in Auburn that I was writing about to rush to the Girl Scouts' hut in Opelika to pick up our daughter. Dinner was going to be leftovers or something quick and easy.
Sundays were at a slower pace with Sunday school and church. When my parents were living, we always visited them on Sunday afternoons. Although I had prepared a hearty lunch after church, Sunday nights were a time to be together at the table as well. As a family, we were blessed to be able to spend most of our meals at the table even if it was rushed on weeknights.
During those hectic days, I finally learned it was not a good idea to invite guests for dinner during the week. I would get in a "can do" mood, but then it turned out to be a long day at work or the kids had something to do that they forgot to mention. Dinner was going to be served late or I would be in the kitchen trying to hide a mountain of pots and pans just before the doorbell rang.
In order to keep from spending so much time in the kitchen for Sunday meals, plan to double some recipes to have one batch to freeze. Pasta dishes are budget-friendly, easy to double and freeze well. Tim's Mom's Chicken Spaghetti makes a lot. If you have a small family, you could freeze half or serve leftovers for a delicious dinner the following night. With most pasta dishes, you will only need a salad and bread to complete the menu.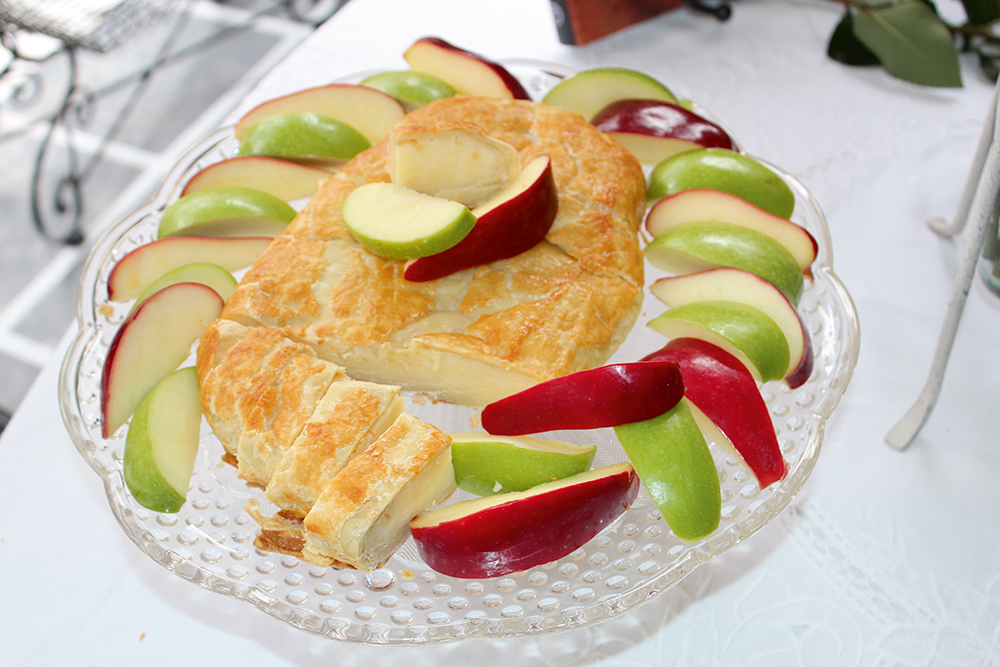 With packages of lettuces available, a salad can be quickly prepared. Layered salads are great since they are prepared the day ahead and are ready to serve.
While you are preparing Sunday supper, set out a plate of cheese and fruit for an appetizer. This may cut down on the number of questions about when supper is going to be ready. The Baked Havarti in Pastry is something special to serve, and it goes together quickly. For years, I baked brie cheese and sometimes covered it in pastry. The Havarti cheese is not as rich and has a good flavor. Serve it with apple slices.
On weekends, let the kids help make desserts. The Easy Apple Dessert is tasty, and you can keep the ingredients on hand. While I prefer using fresh apples in desserts, this is an easy dish to make when you don't have fresh apples. Kids can help make this.
Another favorite of our kids was Barbara Curry's Karman's Cheesecake. We would make the cheesecake in a 9 by 13 inch pan and serve as bars. Many of you will remember that Barbara owned and operated Curry's for many years. It was a great shop for ladies' clothes and accessories.
Look over the recipes and plan menus for a wonderful Sunday supper with your family, as you create memories to cherish forever after the children are grown.
Baked Havarti in Pastry
1 block Havarti cheese
1 to 2 Tbsp. Dijon mustard
1 sheet frozen puff pastry, thawed
1 egg beaten with 2 tsp. water
Red and green apples
Spread top of cheese with mustard. Roll puff pastry out, blending seams. Place cheese mustard side down on pastry; fold in sides and pinch seams together. Place seam side down on baking sheet. Brush with egg mixture. Chill for 30 minutes; brush with egg again.
Bake at 375 degrees for 15 minutes; remove from oven and brush with egg. Bake another 15 minutes or until golden brown.
When slightly cooled, slice into wedges. Serve with apples, if desired.
Tim's Mom's Chicken Spaghetti
Sara Jane Tatum
This is a family favorite.
1 lb. spaghetti
2 cups tomato juice
1 can tomatoes
1 qt. chicken broth
Olive oil
1 large onion, diced
4 stalks celery, diced
1 cup mushrooms, chopped
Salt and red pepper to taste
1 Tbsp. Worcestershire sauce
5 lb. chicken, cooked and cut in chunks
1½ lb. medium sharp cheese, grated
Cook spaghetti in tomato juice, can of tomatoes and chicken broth. Watch carefully so it doesn't stick and do not drain. Sauté vegetables in olive oil. Add vegetables to spaghetti. Add all seasonings.
Alternate layers of chicken, spaghetti and cheese in a buttered casserole dish. Heat in 350 degree oven, covered, until hot and bubbly about 20 to 30 minutes. Serves 12 to 15. Can be frozen.
Chicken and Yellow Rice with Smoked Sausage
Before Karen Parker and her family moved to Auburn in the 1980s, she worked in the test kitchens at Southern Living. While the sausage adds flavor, the recipe is also good without the sausage. Can use a rotisserie chicken and purchased chicken broth.
2 to 3 lb. whole chicken or 4 chicken breasts
3 ½ cups chicken broth
1 medium onion, chopped
2 cloves garlic, minced
1 medium green pepper, chopped
14 ½ oz. can whole tomatoes, chopped and not drained (can use can of diced tomatoes)
1 bay leaf, optional
10 oz. pkg. yellow rice
¼ to ½ lb. smoked sausage, cut into ½-inch slices
8 oz. can small green peas, drained and heated
2 oz. jar sliced pimento
Cook chicken in water over low heat until tender. Remove chicken and strain broth, reserving 3 ½ cups. Remove chicken from bone and chop. Set aside.
Combine broth with the next eight ingredients in a large pan and simmer 20 to 30 minutes until rice is cooked. Stir in chicken. If you are using a bay leaf, be sure to remove it before serving.
Arrange rice, sausage and chicken mixture on serving platter and spoon green peas and pimento over top. Serves 6.
Layered Greek Salad
Deborah Broughton
2 cups cucumber (peeled, seeded and cut into ½ inch pieces)
2 cups slivered bell peppers (green, red or yellow)
1 large onion, diced
4 large tomatoes, seeded and diced
1 can jumbo black olives, sliced
4 oz. feta cheese, crumbled
Dressing:
1/4 cup red wine vinegar
1/4 cup green onion, chopped
½ tsp. basil
½ tsp. oregano
1 tsp. garlic salt
1/4 tsp. pepper
½ cup mild olive oil
Layer each vegetable in a clear glass salad bowl.
Mix all dressing ingredients in a jar and pour over the salad.
Let salad set for at least one hour before serving.
Layered Baby Spinach and Romaine Salad
Janine Simmons
1 pkg. fresh baby spinach (depending on size may not need the entire pkg.)
4 hard-boiled eggs, sliced
½ lb. bacon, cooked and crumbled
½ red onion, chopped
1 pkg. frozen green peas, thawed
8 oz. can sliced water chestnuts, optional
1/3 head Romaine lettuce
Dressing:
1 ½ to 2 cups mayonnaise
½ pkg. ranch dressing mix
½ cup shredded Parmesan cheese
Layer salad ingredients in a large bowl in order given. Combine mayonnaise and ranch dressing mix. Spread dressing over salad; sprinkle Parmesan cheese over top. Store in refrigerator until ready to serve.
Crock-pot "Company" Pot Roast
Sara Jane Tatum
1 sirloin tip roast
32 oz. beef broth
Bag of baby carrots
3 baking potatoes, peeled and chopped
1 large sweet onion, peeled and chopped
Fresh mushrooms or can of mushrooms
2 cans cream of mushroom soup
Garlic salt
Lowery Seasoning Salt
Black pepper
Place sirloin tip roast (this cut works best) in crock-pot. Pour beef broth over roast; season with salts and pepper. Put carrots, potatoes, onion and mushrooms on top of roast. Sprinkle with more of the salts and pepper. Pour two cans of mushroom soup over the entire mixture. Cover and cook on low for 6 to 8 hours.
Serve the roast with the vegetables and gravy. Delicious!
Chicken Paprika
Charlotte Grimes gave me this recipe many years ago. She was a gracious lady.
1 whole chicken, cut up or chicken breasts or thighs
3 Tbsp. butter or margarine
½ cup chopped onion
Paprika
1½ tsp. salt
1 bay leaf, optional
1 cup sour cream (can use reduced fat)
½ cup water
Melt butter in large skillet; cook onions until their lose crispness. Push to one side of the pan. Add cut up chicken; sprinkle heavily with paprika. Cook slowly about 5 minutes (does not need to brown.) Turn; add more paprika until well covered. Add bay leaf, salt and water.
Cook very slowly for 45 minutes or until tender; adding more water if necessary to prevent sticking. Spoon sour cream over chicken and cook slowly 8 to 10 minutes Remove bay leaf. Stir cream into paprika sauce. Arrange chicken on bed of cooked rice or noodles and pour sauce over.
Southern Chicken Pie
1 boiled chicken, cooked chicken breasts or rotisserie chicken, cut into cubes
5 boiled eggs, sliced, optional
Salt and pepper to taste
1½ cups chicken broth
1 can cream of chicken soup
Optional additions: sauteed fresh mushrooms and/or a combination of green peas and chopped carrots
Place chicken in a greased 13 by 9-inch pan and topped with boiled eggs. Salt and pepper to taste.
Mix soup and broth; pour over chicken and eggs.
Topping:
1 cup self-rising flour (or combine 1 cup all-purpose flour with 1 tsp. salt and 2 tsp. baking powder)
1 cup buttermilk or milk (can add 1 Tbsp. white vinegar to milk for a buttermilk tang)
1 stick butter, melted
Mix dry ingredients with milk and melted butter. Pour over chicken. Bake at 375 degrees for about 30 to 35 minutes until top is lightly brown.
Let sit a few minutes before serving. Serve with cranberry sauce and green vegetable.
Chicken and Bacon Pasta with Spinach and Tomatoes in Garlic
Kathy Beams
2 Tbsp. olive oil
1 lb. chicken breast or tenders
1 tsp. paprika
1 tsp. Italian seasoning (thyme, oregano, basil – combined)
5 medium tomatoes, chopped into cubes
1 cup cooked spinach
5 garlic cloves, minced
1/4 tsp. or to taste crushed red pepper flakes
6 cooked bacon strips, crumbled
1 l/3 cups half and half
1 1/3 cups Parmesan cheese, shredded
10 oz. penne pasta, cooked according to directions on pkg.
½ cup Parmesan cheese, grated, for serving
In a large skillet, on high heat, heat olive oil until hot. Cook chicken on one side on high heat for 1 minute. Sprinkle uncooked sides of chicken with paprika and Italian seasoning. Flip chicken; cook for 1 minute on high heat. Reduce heat to medium; flip chicken again. Cook, covered, for several minutes until it is no longer pink; set aside.
In the same pan, add tomatoes, spinach, garlic, red pepper, 1/3 of the chicken (sliced into small strips) and half the bacon. Mix together.
Add half and half and bring to boil; add grated Parmesan cheese, then immediately reduce to simmer. Stir until cheese melts and sauce is creamy, about 1 or 2 minutes. Remove from heat. Season with additional red pepper flakes and salt, if desired.
Add cooked pasta that has been rinsed to sauce. Add remaining half of bacon. Slice remaining 2/3 of chicken into thin strips. To serve, top pasta with chicken strips and grated Parmesan cheese. Makes 4 servings.
Karmen's Cheesecake
Barbara Curry, who owned and operated Curry's for years, shared this recipe many years ago, and it was a favorite of my children when they were growing up. Sometimes we would make this recipe in a 9 by 13 inch pan instead of a spring form pan for cheesecake bars. They were very popular. Fresh strawberries or blueberries are good served with the cheesecake.
Preheat oven to 350 degrees.
2 cups crushed graham crackers
1/4 cup sugar
½ cup melted butter
Combine and press into the bottom and sides of a spring form pan.
Two 8 oz. pkg. cream cheese
2 eggs
½ cup sugar
1 tsp. vanilla
Beat ingredients together; pour into pan. Bake for 20 minutes. Cool 1 hour.
1 pint (2 cups) sour cream
1/3 cup sugar
½ tsp. vanilla
Mix together; spoon over cheesecake. Bake for an additional 5 minutes at 425 degrees.
Refrigerate for at least 8 hours. Better the second day.
Easy Apple Dessert
Easy dessert for children to help make.
1/4 cup butter or margarine
1½ cups graham cracker crumbs
14 oz. can sweetened condensed milk
1 cup sour cream
1 can apple pie filling
½ cup walnuts
½ tsp. cinnamon
Preheat oven to 350 degrees. In a 1½ quart shallow baking dish, melt butter in oven; sprinkle graham cracker crumbs; stir and press into bottom of dish.
Combine sweetened condensed milk and sour cream; spread over crumbs. Spread apple pie filling over sour cream filling; top with walnuts and cinnamon.
Bake for 25 minutes or until set. Serve warm or cold. Store in refrigerator.
Swedish Meatballs in Sour Cream Sauce
One of Mom Cipperly's recipes. Serve with egg noodles.
2 cups breadcrumbs
½ cup milk
1 ½ lb. ground beef
1 onion, chopped
2 Tbsp. butter plus extra for sautéing
2 ½ tsp. salt
2 tsp. nutmeg
2 tsp. paprika
1 tsp. dried mixed herbs, optional
1 tsp. dry mustard
¼ tsp. pepper
3 beaten eggs
Crushed garlic
4 Tbsp. flour
2 tsp. tomato paste
1 can beef broth
1 cup sour cream
Noodles
Soak breadcrumbs in milk. Squeeze dry and add to ground beef. Sauté onion in two tablespoons butter and add to ground beef. Add salt, nutmeg, paprika, herbs, mustard, pepper and beaten eggs. Mix well.
Form small balls and brown in skillet with additional butter. Add some crushed garlic. Remove meatballs. Blend flour and tomato paste into the drippings. Add beef broth to flour mixture and stir over low heat until sauce is thickened.
Add meatballs to sauce. Fold in the sour cream before serving. Serve with buttered noodles.