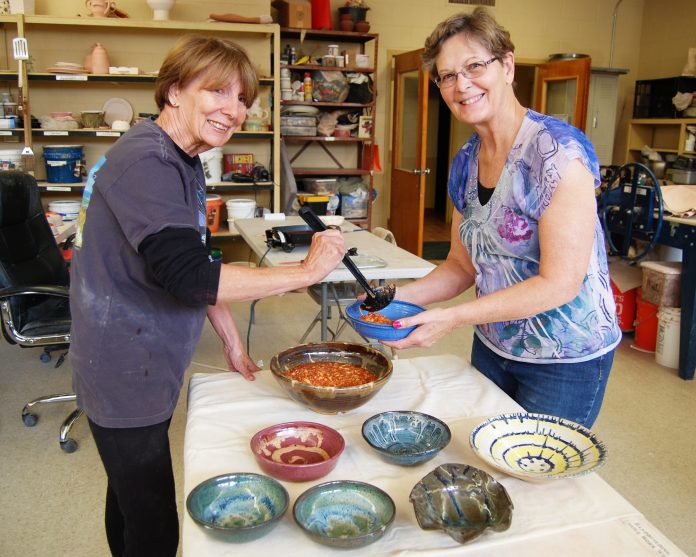 By Ann Cipperly
Every night in Lee County, people of all ages, including children, go to bed hungry with little hope of food in the future. To help fill this need, the Empty Bowls Event has been established by the Rocky Brook Potters and Auburn Dean Road Ceramics Studio to sell handcrafted bowls to fill with soup, with all of the proceeds benefiting the Food Bank of East Alabama. "No child deserves an empty bowl" is the theme of this year's event scheduled Saturday, Feb. 10 from 10 a.m. until 2 p.m. at the Opelika Recreation Center.
In addition to selling bowls and serving soup, raffle tickets for a variety of items and cookbooks, featuring local chefs, will be available, with all the proceeds going to the Food Bank.
Among the raffle items are: Fairy Garden, East Indian dinner for 6 persons at Chez Pillai, gourmet dinner for 6 persons at the Clubhouse on Prather's Lake, gourmet dinner for 6 persons at Toad Hill (location of Norma Rae wedding scene), stained glass hanging lamp, cooking lessons with Chef Jim Sikes, handcrafted jewelry, Smith T shirts, assorted vases, soup bowl cozies, hand-woven placemats, blue and white candlesticks, gift certificate from Yum Yums, gift certificate from O Town Ice Cream, handcrafted pottery from the Potters of Rocky Brook and Led Zeppelin memorabilia package.
The raffle tickets will be sold at the Empty Bowls Event Saturday. Five tickets will be sold for $5.  You will then be able to drop your individual tickets in boxes that go with each raffle prize.  That way you can try for the prizes that you like the best. You can drop all your tickets in one box or put them in separate boxes.
"The Chef's Choice Cookbook" features recipes from many local chefs and others in the community who enjoy cooking. The cookbook is available at the Opelika Recreation Department, The Gallery in downtown Opelika, and Mama Mocha's in Auburn.
The local Empty Bowls event was founded by Sherie Spain, director of the pottery department at the Opelika Recreation Center. She read about the Empty Bowls project that started in 1990 as a class project in Michigan. The class made ceramic bowls to sell and served soup for a food drive. The idea caught on, and other Empty Bowls events began being held across the country.
Sherie contacted the Food Bank with the idea, and they liked it. "I thought it would be good to get both pottery communities working together," says Sherie. "The Rocky Brook Potters at the Opelika Recreation Center and the Auburn Dean Road Ceramics Studio at the Jane Dempsey Community Arts Center alternate hosting the event every other year."
With the 5th event in Opelika, Sherie and her group of 35 potters have set a goal of selling 2,000 bowls to raise $20,000. Sherie's husband, James, has also made bowls as well as Kitty Greene, who assembled the cookbook and has served as publicity chairman.
Bowls can be purchased at the Opelika center for $10 to $35. Mama Mocha's in Auburn and O Town Ice Cream in Opelika also have bowls to sell.
When you purchase a bowl, you will receive a ticket to take to the event on Feb. 10. Just take the ticket to the event and receive a disposable bowl, donated by Wright's Market, for soup. Tickets are also available the day of the event.
Everyone who buys a ticket receives a bowl they keep as a reminder of the less fortunate in the community and to remember, "no child deserves an empty bowl."
Others in the community have helped with the event, include Julia and Steve Thomas who donated $600 to go toward the expense of having the cookbook printed, while Rexnord donated a thousand dollar grant to pay for the clay in making bowls. The Mason Beard Foundation also provided a grant of $1,000.
Niffer's, Panera Bread and Jim Bob's donate soup or bread. Many cooks in the community will prepare soup for the event and some have shared their recipes. James Spain usually makes 20 gallons of soup. He has prepared chicken soup using five pounds of chicken donated by Jim Bob's.
On the day of the event, Master Gardeners volunteer to help greet and serve soup. Those attending are invited to the pottery room to watch demonstrations of bowls being made. Live musical entertainment will also be provided.
"The Empty Bowls event gives us the opportunity to select a lovely, hand-made bowl that serves a soup meal," says Martha Henk, executive director of the East Alabama Food Bank, "but this small bowl represents much more than simply my own meal. By acquiring food through local donations and the national food bank network, every dollar given to the Food Bank enables us to distribute the equivalent of seven meals to people in need.
"In so many ways," adds Martha, "America is the land of plenty, but for nearly 1 in 5 Alabama residents, hunger is a reality. Often people believe that the problems associated with hunger are confined to small pockets of society, particular areas of the country, or certain neighborhoods, but the reality is much different.
"In the Food Bank's seven county service area, the average food-insecurity rate is 21.2% (a total of 70,210 people—20,080 of those are children). Lee County's food-insecurity rate is 18.3% (this equates to 27,050 people).
"We know that alone, none of us can defeat hunger," Martha says. "Every day thousands of pounds of food are shipped to helping agencies and churches, hundreds of meals are prepared for elderly, the homeless, women and children in crisis and those in rehab for addictions or mental illness; and kids receive extra food for the weekend—all because someone gives money, time or goods to help."
The Food Bank and network of partnering agencies serve an average of 30,240 people each month.
Mark your calendar for this year's Empty Bowl event this Saturday, beginning at 10 a.m. at the Opelika Recreation Center on Denson Drive in Opelika.
Following is a sample of soup recipes that will be served at the Empty Bowl event.
Ann Cipperly can be contacted at recipes@cipperly.com.
Recipes:
Steamed Dumplings
Kitty See
Grandma Kittsley's Recipe
1 cup flour
1 ½ tsp. baking powder
½ tsp. salt
1 egg beaten
2 Tbsp. melted Crisco (I use vegetable oil)
1/3 cup milk
Combine dry ingredients in one bowl; then wet ingredients in 2nd bowl; then mix them together.
Drop from a teaspoon into hot soup (at least 3 cups of liquid). Dip spoon into hot soup between each dumpling so that batter won't stick to spoon.
Cover and steam over low heat at least 15 minutes. Do not take cover off during this period or dumplings will not be fluffy.
I use a standard chicken soup recipe: chicken, onions, celery, carrots, peas, garlic, salt, pepper, parsley, bay leaf, chicken broth, etc. My mom cut up a chicken and used whole pieces, but last time, I used boneless chicken thighs cut into small chunks, which I quite liked.
Slow Cooker Mexican Chicken Soup
Rocky Brook Potters
(Ree Drummond – The Pioneer Woman)
3 boneless, skinless whole chicken breasts
1 tsp. chili powder
1 tsp. ground cumin
Kosher salt and freshly ground black pepper
28-oz. can whole or diced tomatoes, with juice
3 cups low-sodium chicken broth (more if you like the soup more liquid)
15-oz. can black beans, drained and rinsed
10-oz. can diced tomatoes with green chilies, such as Rotel
4 oz. tomato paste
1 medium onion, chopped
1 red bell pepper, seeded and chopped
1 yellow bell pepper, seeded and chopped
1 canned chipotle pepper in adobo (you may add 2 to 3, if you like)
1/2 lime, juiced
Toppings: avocado, sour cream, grated cheese, crushed tortilla chips and fresh cilantro leaves
Put chicken in a slow cooker. Sprinkle on the chili powder, cumin and some salt and pepper. Add tomatoes, chicken broth, black beans, tomatoes with chilies, tomato paste, onion, chipotle pepper and red and yellow peppers. Stir, place the lid on the slow cooker and cook for 5 hours on high or 8 hours on low.
Stir in lime juice. Remove chicken to a plate and use 2 forks to break it into chunks (or shred it finely). Return chicken to the pot, taste and add more seasoning, if necessary.
Serve piping hot in a bowl with avocado, sour cream, grated cheese, crushed tortilla chips and cilantro leaves on top!
Matzo Ball Soup
Ginger Stern
2 boneless skinless chicken breasts
1 pkg. matzo ball mix (two eggs and 2 Tbsp. cooking oil)
1-quart chicken broth (I use Swanson's broth)
1 pkg. Lipton's Extra Noodle soup mix
Cook chicken breast in boiling water and shred to small pieces with a fork. Reserve the shredded meat. While chicken is cooking prepare the matzo balls per instructions on the box and refrigerate 15 minutes in refrigerator.
In a large soup pot, add 1-quart chicken broth and prepare the package of noodle soup mix as instructed (add 3 cups of water). Add shredded chicken to the soup pot and bring to a simmer.
After matzo mix has rested, form the matzo into small golf ball size balls and float into the soup pot. (Hint for keeping the matzo from sticking to your hands, keep them wet. I run my hands under flowing water in the sink to stay damp.)
Cover and let simmer for 20 minutes or until matzo balls float. I usually serve 2 matzo balls per portion.
Vegetable Beef Soup
Tammala Colquitt
¾ lb. extra lean ground beef
1 cup diced onion
1 cup diced celery
3 cups water
1 large diced potato
1 cup chopped or sliced carrots
1 cup frozen corn kernels
2 cups frozen green beans
28 oz. can diced tomatoes
1 tsp. salt
¼ tsp. black pepper
¼ tsp. dried basil leaves
2 tsp. Kitchen Bouquet sauce
Lightly spray large pot with cooking spray. Add ground beef, onions, and celery and cook over medium to medium-high heat until ground beef is browned and vegetables begin to soften. Drain excess fat from mixture.
Add remainder of ingredients and season to taste. After stirring well, heat over high heat until soup begins to boil. Reduce heat to simmer and cover the pot. Simmer for 30-45 minutes. Serve with cornbread muffins, grilled cheese sandwiches, or crackers.
Capps Smoked Sausage and Vegetable Soup
Debbie Hartman
1 lb. Capps Smoked Link Sausage, sliced
2 cans diced tomatoes
3 carrots, sliced
3 ribs celery, sliced
1 large bag frozen mixed vegetables
1 small bag frozen okra
3 diced potatoes (or noodles)
Combine sausage and canned tomatoes. Boil together 30 -45 minutes. Remove fat. You can chill mixture overnight.
Add carrots and celery and cook until tender. Add mixed vegetables, okra, and potatoes (or noodles). Cook 20 to 30 minutes until done.
Spicy Beer Chili
Ron Speedy
2 lb. ground beef
1 large white onion, diced
Three 16-oz cans Bush's Chili Beans
2 cans tomato sauce
2 Pueblo chilies, diced (seeds removed)
1 can beer
1 pkg. McCormick Chili Seasoning
Brown ground beef. Add onion and chilies; sauté with beef. Add tomato sauce and seasoning packet. Add chili beans. Add beer. Cover pot and simmer on low for 1½ hours, stirring occasionally.
Soup Kitchen Black- Eyed Pea and Collard Green Soup
Kathy Skinner
2 lb. bacon ends
9 onions, diced
18 bell peppers, green or mixed, diced
5 Jalapeno peppers, chopped
2 large Cowhorn peppers, chopped
4 Tbsp. smoked paprika
3 gallons diced tomatoes
2 gallons corn, drained
3 gallons black eyed peas
16-oz. container Tone's beef base (from Sam's)
5 heads roasted garlic
4 Tbsp. dried oregano
4 Tbsp. dried basil
4 Tbsp. dried thyme
2 lb. shredded collard greens
Salt, pepper to taste
Fry bacon, rendering fat and reserving bacon pieces. Transfer fat to a 15-gallon heavy bottom cook pot. Over low flame, add onions, peppers, and paprika; sauté until onions are clear and paprika is toasted.
Add tomatoes, corn, black-eyed peas and beef base.
If needed, add water to bring to desired consistency, making enough liquid to add collards later. Bring to a simmer, stirring to prevent sticking.
Add garlic, oregano, basil and thyme (fresh herbs may be substituted). Continue to simmer until flavors are well blended. Check seasonings and add salt and pepper to taste. Add collard greens and cook until just tender. Add bacon pieces and serve.
Roasted Eggplant and Tomato Soup Recipe
Dee Smith
(From Simply Recipes)
12 plum tomatoes (about 3 lb.), cored, and cut in half lengthwise
2 large carrots, cut into 3/4-inch pieces
10 garlic cloves, peeled
4 Tbsp. olive oil, divided
Kosher salt and ground black pepper
1 large eggplant (about 1 1/2 lb.), cut into 3/4-inch chunks
1 can (15.5 oz.) garbanzo beans, drained and rinsed
2 tsp. curry powder
1/2 cup chopped fresh cilantro, for serving
Preheat oven to 425. Place racks on top third and bottom third of oven. Place tomatoes, carrots, and garlic in a large bowl and sprinkle with 2 Tbsp. olive oil, 1 tsp. salt and 1/4 tsp. black pepper. Toss to coat vegetables evenly. Then spread them out in an even layer in a rimmed baking sheet, with tomatoes cut side down on the baking sheet.
Now place chopped eggplant and garbanzo beans in the same bowl and sprinkle with remaining 2 Tbsp. olive oil, curry powder, a teaspoon of salt, and 1/4 tsp. black pepper. Toss to coat eggplant pieces and garbanzo beans well. Spread them out in a single layer on a second rimmed baking sheet.
Place baking sheet with tomatoes and carrots on the top rack, and the eggplant and garbanzo beans on the lower rack in oven. Roast at 425 until cooked through and lightly browned, about 45 minutes. About halfway through cooking turn vegetables over, so they brown on the other side.
Remove vegetables from oven when done. Use tongs or a fork to peel off tomatoes skins (they should come off easily) and discard. Place roasted tomatoes, carrots, garlic, and all of the juices from the roasting pan in a blender or food processor and blend until smooth.
Pour tomato carrot purée into a large pot. Stir in roasted eggplant and garbanzo bean mixture. Add 3 to 4 cups water to thin. Simmer at medium heat. Season with salt and pepper. Sprinkle with fresh cilantro and serve.
Cambodian Chicken and Rice Soup with Shrimp
Richarde Talbot
(Ratha Chau – Food & Wine Chefs' Recipes Made Easy)
3-lb. rotisserie chicken
1 Tbsp. vegetable oil
2 Tbsp. minced fresh ginger
2 garlic cloves, minced
4 cups chicken stock or low-sodium broth
1 cup water
3 Tbsp. Asian fish sauce
1 tsp. honey
1 cup cooked jasmine rice
8 shelled and deveined medium shrimp, halved lengthwise (about 1/4 lb.)
2 Tbsp. fresh lime juice
1/4 cup chopped cilantro
2 Tbsp. chopped basil
1 Thai chili, thinly sliced
Lime wedges, for serving
Cut the chicken into legs, thighs, breasts and wings. Cut each breast crosswise through the bones into 3 pieces. Remove the thigh bones and cut each thigh in half.
In a large saucepan, heat oil. Add ginger and garlic and cook over moderate heat until softened, about 3 minutes.
Add stock, water, fish sauce, honey and rice; bring to a boil. Add chicken pieces and simmer for 5 minutes.
Stir in shrimp and cook just until opaque, about 1 minute. Stir in lime juice, cilantro, basil and chili. Serve right away, topping with green onions and bean sprout, if desired and passing lime wedges at the table.
Spicy Freekeh Soup with Meatballs
Kitty Greene
(From Jerusalem: A Cookbook by Yotam Ottolenghi & Sami Tamimi)
Meatballs:
14 oz. ground beef, lamb or a combination of both
1 small onion, finely diced
2 Tbsp. flat leaf parsley, finely chopped
½ tsp. ground allspice
¼ tsp. ground cinnamon
3 Tbsp. all-purpose flour
2 Tbsp. olive oil
Salt, freshly ground black pepper
Soup:
2 Tbsp. olive oil
1 large onion, chopped
3 cloves garlic, crushed
2 carrots, peeled, cut
2 celery stalks, cut into 3/8-inch cubes
3 large tomatoes, chopped
2 ½ Tbsp. tomato paste
1 Tbsp. Baharat spice mix*
1 Tbsp. ground coriander
1 cinnamon stick
1 Tbsp. superfine sugar
1 cup cracked freekeh*
2 cups beef stock
2 cups chicken stock
3 ¼ cups hot water
1/3 oz. cilantro, chopped
1 lemon, cut into 6 wedges
Start with meatballs. In a large bowl, mix together meat, onion, parsley, allspice, cinnamon, ½ tsp. salt and ¼ tsp. pepper. Using your hands, mix well, then form the mixture into ping-pong-size balls and roll in the flour. You will get about 15.
Heat olive oil in a large Dutch oven and fry meatballs over medium heat for a few minutes, until golden brown on all sides. Remove meatballs and set aside.
Wipe out pan with paper towels and add olive oil for the soup. Over medium heat, fry onion and garlic for 5 minutes. Stir in carrots and celery and cook for 2 minutes.
Add tomatoes, tomato paste, spices, sugar, 2 tsp. salt and ½ tsp. pepper; cook for 1 minute. Stir in the freekeh and cook for 2 to 3 minutes.
Add stocks, hot water and meatballs. Bring to a boil, lower heat, and simmer gently for 35 – 45 minutes, stirring occasionally, until the freekeh is plump and tender.
The soup should be quite thick. Reduce or add a little water as needed. Finally, taste and adjust the seasoning.
Ladle hot soup into serving bowls and sprinkle cilantro over top. Serve the lemon wedges on the side.
*Baharat spice and freekeh are available on Amazon and possibly World Market. Freekeh or green wheat is a highly popular grain in the Mid-East, which has an earthly flavor and slightly course texture, which goes particularly well with sweet spices.