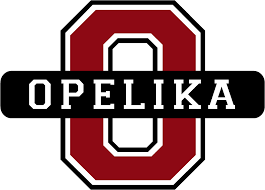 By D. Mark Mitchell
Opelika City Schools officially completed the 2018-19 school year with the completion of graduation ceremonies at Bulldog Stadium last Friday night.
Congratulations to OHS senior Jaylin Cummings! The senior signed a basketball scholarship with Central Alabama-North in Monroeville last week.
Opelika basketball coach John Wadsworth said he was very proud and happy for Jaylen.
"This is an incredible person with an incredible story. He tore his knee prior to the season," Wadsworth said. "Instead of having surgery, he opted to play with a leg brace! Jaylen will go a long way in life. I am blessed to have coached him."
SPRING FOOTBALL
OHS Coach Erik Speakman said he was appearing was pleased with the 10 days of spring practice during an interview an on my sports talk show "On the Mark" last week. The Bulldogs scrimmaged Valley, capping off the 10-day period.
Speakman mentioned that rising senior Brody Davis won the starting quarterback job over (junior) Malik Finley and (sophomore) Jackson Baites. Finley will play other positions when not taking snaps.
James Dawson moved to center, played well and appears to be adjusting to playing center. The second year coach mentioned his big defensive front.
"We are very big up front on defense. This is the biggest group in a while," Speakman said. "The Stinson brothers, Jalen and Jarrell, continue to dominate and improve. Placekicker Marshall Meyers punted during the spring and the game, hoping to spare returning punter Jalen Stinson."
If Meyers continues to improve, that's one less position for Jalen Stinson.
Speakman gave his team two weeks off after school ended, hoping to rejuvenate the kids with some time off. Opelika will open the 2019 season at Bulldog Stadium against Callaway (LaGrange) Aug. 22 at 7 p.m. This is one of six Opelika home games in 2019.
GIRLS SOCCER
The OHS girls soccer team, 12-7-1, won the area title for the sixth consecutive year, advancing to the playoffs seven years in a row and finishing among the top-8 teams in class 6A. The Lady Bulldogs scored 89 goals, led by Amiya Brown's 36 goals and 10 assists. Erica Mathews (14 goals and 13 assist), Estefany Alba (13 goals and six assists) and Megan Noon scored eight goals and added eight assists, respectively.
Congratulations to Coach Jaclyn Button.
DIXIE YOUTH ALL-STARS
Opelika Dixie Youth President Kurt Branch and Past President Benn Bugg, announced the 2019 All-Star teams.
PEE-WEE ALL-STARS
Jack Branch, Layton Caldwell, Brady Capps, Brock Danford, Erick Fernandez, Rhyon Hardnett, Hunter Harreslson, Dax McCracken, Weston Rice, Grant Speigner, Turner Underwood and Smith Young.
Manager Mac McCracken, Coaches Lupe Fernandez, Lou Harrelson and Blake Rice. The District Tournament will be held June 21 in Smiths Station.
MINOR ALLSTARS
Jack Branch, Will Brandon, Logan Childree, Carson Holcey-Billngsley, Carter Neese, Camden Pilate, Tyson Prince, Landon Rudd, John Sanders, Tre Stone, Troy Tidwell and Fuller Young. Manager Kurt Branch, Coaches Adam Pilate and Tommy Prince. The District Tournament will be held June 14 in Valley.
MAJOR ALL-STARS
TJ Arnold, Noah Childree, Camden Dunson, Chris Floyd, Carter Green, Evan Henderson, Jackson Lee, Warner McDonald, Jordan Rowell, Xavier Thomas. Bryce Turnham and Gabriel White. Manager-Mathew Turnham. Coaches-Robbie Henderson and James Thrift. The District Tournamen will be held June 14 in Auburn. Each tournament is double elimination, with the winner advancing to the the state tournament.
Congratulations Opelika Dixie All-Stars!
ON THE MARK-RADIO STATION CHANGE
Beginning July 1, my Local Sports radio show, "On the Mark" will move to WZMG 910AM (Lee County) and 1310AM, (West Point-Valley-Lanett). On the Mark will add an additional hour, airing 6 to 9 a.m. simulcasting on both stations. The format will change too – FOX SPORTS, 24/7. WZMG 910/1310 "The Game" will begin July 1.
WTLM 1520 will return to gospel music with longtime radio personality Richard LaGrand hosting his morning show at his regularly scheduled hours. IheartRadio Opelika-Auburn hopes you will enjoy the new changes.
The OHS Mainstreet gym renovations were scheduled to begin this week. Among the upgrades, a new hardwood floor, new sound system, two competition goals-rims and backboards, four practice goals-rims and backboards, new scorers table, one new scoreboard, sideline chairs and additional seats in some areas.
The hardwood floor cost $147,123, the sound system nearly $28,000 and OCS paid David Payne Design group $10,500 for the project.
No cost was provided for the goals, backboards, rims or any additional seating.
The renovations to Mainstreet will give OHS basketball teams a nice gym with plenty of space for family, friends and supporters can attend and park in the front parking lot and enter through the front door. The gym should be completed in July.
D.Mark Mitchell is sports director for iHeart Media, Alabama Dixie Boys State director and vice president of the A-O Sports Council.