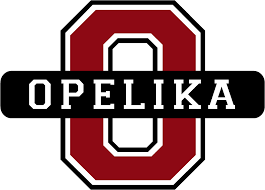 By D. Mark Mitchell
Opelika High School's baseball season ended last Thursday at Bulldog Park, falling 5-3 and 6-4 in a doubleheader sweep against Russell County.
Under first-year Coach Zach Blatt, the Bulldogs finished the season with nine wins and 24 losses including a 1-3 area mark. They did not qualify for the 6A State Baseball playoffs.
In game one, Russell County scored five runs in the second inning, beating Opelika 5-3 to earn the area title. Opelika scattered five hits, one each from Jared Willis, Brooks Bryan, Jackson Craft, Julian Due and Brody Davis. Andrew Parr started on the mound, with Jace Rhodes providing relief in the sixth inning and pitched the final two innings.
In game two, the Bulldogs started early, scoring two runs in the first and third inning. The Warriors answered with two runs in the second, fourth and fifth innings on their way to a 6-4 win.
Colton Dunson and Kory McCoy led the Bulldogs with two hits each apiece. Christian, Willis, BJ Thomas and Zach Pierce added hits. The Bulldogs will concentrate on improving offense and defense during the off season.
SOFTBALL
Opelika's softball team improved their record to 12-13 after finishing 3-2 in the "O-DAWG INVITATIONAL" at West Ridge Park last weekend.
The Lady Bulldogs defeated Valley 9-3 on senior night last week. Seniors Chelsea Clark, Chloe Clark, Kakai Gagliano and Kaylan Gunn each recorded a hit during the game. Gagliano earned the win, striking out 13 Ram batters.
SOCCER
The Opelika girls soccer team slipped by Benjamin Russell 2-1 last week at the Charles Bailey Sportsplex. Amiya Brown scored a goal and won the game with her second goal in double overtime. Emily Lux played a great game as keeper, according to head coach Button. The OHS Girls earned their seventh-straight area championship with the win.
The Opelika boys lost 5-1 to the Wildcats. Caleb Rujana scored the lone goal for the Bulldogs. Opelika's boys played well prior to the area game, tying Northview 1-1. Jemarcus Kirk scored the goal for Opelika.
TENNIS
The Opelika tennis teams had a tough time with Pell City, winning one match. Beardon was the only winner for the Bulldogs. Oxford swept the boys 9-0 while beating the girls 7-2. Gagiano and Long won single matches.
On Wednesday, the boys and girls soccer teams will host Columbus at the W. James Samford Soccer Complex and the softball team will play at Beulah on Wednesday and participate in the Beauregard Invite on Friday and Saturday.
D. Mark Mitchell is sports director for iHeart Media, Alabama Dixie Boys State Director and vice president of the A-O Sports Council.