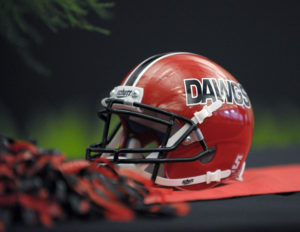 By D. Mark Mitchell
The Opelika Lady Bulldogs basketball team ended their season with a 60-39 loss to Ramsey in the state tournament semifinals last week.
Ramsey was too much for the Bulldogs, limiting Opelika to 22 second-half points.
Alexis Browning continued her solid play, scoring a game-high 13 points, while teammate Abrea Green added 10 points.
Ramsey head coach Ronnie Jackson praised Opelika's efforts after the game.
"Shout out to Opelika, they have a good team that never quits," Jackson said in the post-game press conference.
Opelika finished the season with a 22-10 record and several accomplishments, including regular season area champions, area tournament champions, regional champions and first trip ever to the Final 4 in Birmingham.
Coach Devin Booth continues to put a winning product on the court.
Congrats to the Lady Bulldogs.
BASEBALL
The Opelika baseball team improved to 6-4 after playing four games last weekend.
Head Coach Nick Richardson continues to schedule challenging opponents.
The Bulldogs beat Charles Henderson 18-7 and Fort Payne 12-1 and lost to Robertsdale 3-1 and Stanhope 2-1.
Opelika recorded 18 hits against Charles Henderson. Andrew Parr belted a homer along with two hits to lead the Bulldogs. Taekeel Demunn and Latrell Gullate each added three hits.
The Bulldogs beat Fort Payne behind three hits each from Jared Bartlett and Jarred Willis. Jace Rhodes earned the win pitching five scoreless innings, striking out five.
SOCCER
The Opelika soccer teams hosted the 'Bulldog Bash' last weekend at the W. James Samford Soccer Complex.
The Bulldogs beat Valley 11-1 and Carroll 3-2 . Opelika tied Gadsden 1-1.
Opelika finished third in the tournament.
Jafeht Marion scored multiple goals during the tournament with help from Marshall Meyers.
The team is 4-3-2 overall.
The Lady Bulldog soccer team beat Carroll 4-1 in the tournament opener, lost to Southside 4-1 and tied Shaw 1-1.
SPRING SPORTS
SCHEDULE
Opelika baseball hosted Smiths Station last night (the results were not available at press time).
Opelika travels to Auburn tonight for a 6 p.m. first pitch. and will travel to Tuscaloosa this weekend to play several games.
The Opelika girls and boys soccer teams will host area opponent Benjamin Russell Thursday at the Samford Soccer Complex.
BOYS AND GIRLS
TENNIS
The Opelika boys tennis team lost 9-0 to Saint James.
Both teams travel to Dothan Friday for matches with Dothan and Northview.
For more information on Opelika Athletics, follow me on Twitter @VOICEOFTHEDAWGS and by listening to the "On the Mark " radio show weekdays from 7-9 a.m. on WTLM 1520, 97.7 FM or kickerfm.com.
FOOTBALL NEWS
Opelika Coach Erik Speakman has named Adam Massey as defensive coordinator and named Jonathan Chandler as offensive coordinator.
TWO OHS BASKETBALL PLAYERS CHOSEN FOR ALA/GA ALL-STAR GAMES
Opelika basketball players, Jorden Heard and Alexis Browning were chosen to be members of the Alabama All-Star Team. They will join other players across the state to form Team Alabama.
The Alabama and Georgia All-Star Teams will play March 16. The girls will start at 7:15 p.m. and boys at 8:30 p.m. in the Columbus Municipal Auditorium.
Congrats to Jorden and Alexis.
REGISTER FOR DIXIE BOYS BASEBALL (13-15 YEAR OLDS)
Registration is underway for Opelika Dixie Boys at the Opelika Sportsplex.
Cost is $45 which includes jersey and cap. All players will be placed on a team.
Registration ends April 1.
For more information, email Mitchell at foxonthemark@yahoo.com.
D. Mark Mitchell is sports director for iHeart Media, Alabama Dixie Boys State director and vice president of the A-O Sports Council.