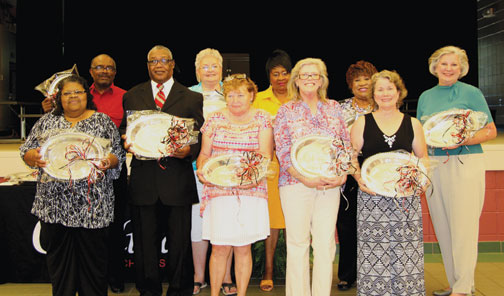 By Donna
Williamson
Opelika Observer
The Opelika City Board of Education honored its retirees at a tea last Tuesday afternoon at Jeter Primary School. Dr. Mark Neighbors, superintendent, thanked the retirees for their years of dedication and service.
At the school board meeting which followed, Neighbors recognized Joe N. Pinkard, who is retiring from the board after 26 years. "I can't say enough about your quiet leadership," Neighbors said. "Thank you for your service to our school system and thank you for your service to our country."
Newly appointed board member Antione Harvis will be officially welcomed at the June meeting.
Neighbors recognized Thomas Sherfield, attendance officer, for receiving the Sue B. Adams leadership award.
Neighbors read a resolution honoring the boys' track and field team for winning the 2016 AHSAA 6A Boys' State Championship. Individual state winners were recognized, along with the teams. Jimmy Johnson is the track and field team coach.
Certificates or plaques were given to winners of the Superintendent's Art Show, State Superintendent's Visual Arts Awards, Congressional District Art Competition, All-State Band, State Trumbauer Theatre Competition, and Daughters of the American Revolution (DAR) writing competition on the state, Southeast Division, and national levels.
Kevin Lazenby and Andrew Bizilia were recognized as the AHSAA Class 6A Tennis Doubles State Champions.
Neighbors congratulated Kevin Lazenby for being selected as a National Merit Scholarship winner.
Summer Upton, advisor of the OHS literary magazine Perspectives, presented copies of the magazine to Neighbors and board members.
Nancy Olaveson, child nutrition director, provided information on the Summer Feeding Program, which will be held at Carver Primary School on June 6-July 29. Summer Feeding is sponsored through the USDA. This program is available to all students age 18 or younger. "We are very excited about the program," Olaveson said. "Summer Feeding lasts for eight weeks and is from 11 a.m. – 12:30 Monday-Friday, with the exception of July 4. We are planning for 200 to 300 students the first day." Olaveson stressed that because of USDA regulations all meals must be eaten on site.
In other business the board:
-approved the athletic handbook for Opelika Middle School and Opelika High School
-approved the science textbooks recommended by the science textbook committee
-approved personnel changes, which include new hires, resignations and transfers
-re-elected O.D. Alsobrook, III as board chairman and elected Dr. Kevin Royal as vice-chairman.