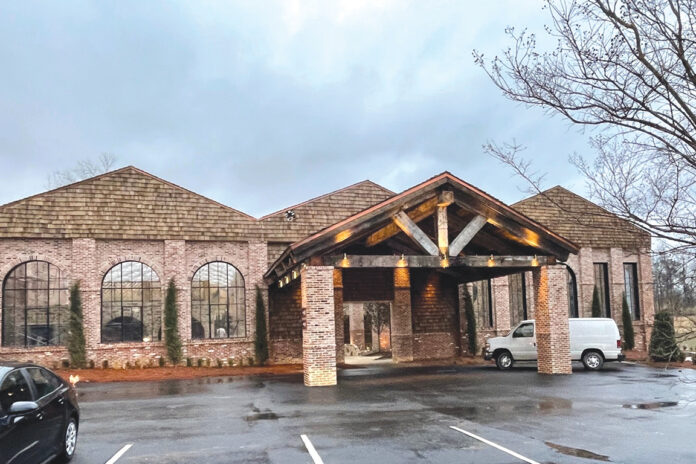 By STACEY PATTON WALLACE
As I've mentioned many times before in this column, I love living here in Lee County. Although I lived in Georgia for 26 of my 60 years, in my heart, I have always been an Alabamian. I love that as a Southerner, I was taught: 1. to say "Yes or No, Ma'am/Sir," "Please" and "Thank you"; 2. to hold doors open for people, particularly those who are older than I am; and 3. to stop my car when I meet a funeral procession. I'm happy to say that I have witnessed this even on busy roads such as Highway 280 and Frederick Road.
Over the past seven years, I have fallen in love with all parts of our county. I don't want to leave it except when the good Lord calls me home.
For instance, so many things make me love Opelika: 1. my church, Central Baptist, and my wonderful church family; 2. a charming downtown with plentiful, free parking; 3. numerous and diverse restaurants; 4. Tiger Town; and 5. Christmas in a Railroad Town.
I could go on and on, but I only have so much space allotted for this column. A town as special as Opelika deserves a restaurant which is just as special. I'm very happy to say that we have it at… The Grille at Botanic on 1702 Frederick Road.
When Mike and I arrived at The Grille at Botanic, we were amused to see a chicken walking around outside this elegant restaurant. Boy, do I love the South.
I mentioned this poultry sighting to some other patrons who were waiting for their table. A man from West Virginia, who was visiting family, said, "The chicken is a nod to The Cock of the Walk, the previous restaurant." There you go.
The Grille at Botanic is locally owned by King Braswell and Stacy Brown. The restaurant, which opened on Sept. 6, 2022, is absolutely beautiful and has a warm, elegant atmosphere.
I admired the herringbone pattern of the ceiling (which I learned from watching HGTV), the brick floor in the entryway and the soft music playing in the background.
Mike and I were seated in the Orchid Room, which was decorated with that exotic flower. The fireplace made the room feel very cozy.
The restaurant also has the Evergreen Room, which was also beautiful. Kennedy Braswell, the front of house manager, said that one of the walls in that room has 1,200 live plants in it. Also, another wall was made of reclaimed bamboo from Tuskegee.
The Grille at Botanic also offers "outdoor dining reservations on the covered porch. Diners may visit the deck overlooking Duke's Pond, home to ducks and geese. Outdoor reservations are not guaranteed and are dependent on the weather."
Besides providing Opelika with a beautiful place to dine, The Grille at Botanic has two other businesses on site, which I look forward to visiting next time: The Market and the Garden Shoppe. At The Market, customers may relax at a bistro table with coffee and a pastry. Also, you may shop for a custom basket for a loved one or yourself. Baskets are composed of "handcrafted items from skilled vendors across the South" and a variety of goodies.
At the Garden Shoppe, you may purchase pottery, home décor, items to help your plants thrive, and new and antique finds. In addition, "Botanic is a proud partner with artists and makers across the Southeast. You may meet the artists and see their work." The Grille at Botanic is truly a treasure in Opelika.
The Grill at Botanic had, without a doubt, the best service that Mike and I have ever seen. Levi, our server, was a complete delight, being so helpful, attentive and patient; he was absolutely one of the best servers that has waited on us.
Also, the young man who refilled our water glasses, as well as the manager and Kennedy, whom I've already mentioned, checked on us to see if we wanted anything. We were treated like celebrities instead of retired middle school teachers. It was as though their main purpose was to make sure that we felt special and had a fabulous time; we certainly did, on both counts.
Even our menu was personalized. At the top, it said, "Thank you so much to the Wallace party for joining us for dinner. We hope you have a wonderful evening filled with delicious food, good company and great laughs. We hope you return for many more." Count on it.
The fresh, homemade bread was incredible and was shaped like a flower. We also enjoyed the three homemade butters: rosemary thyme, roasted garlic and lavender honey, which we generously slathered on the bread.
For our appetizer, Mike and I ordered the house-made pimento cheese, which included Wickles Pickles, bacon jam and crostini. It was so delicious, I had to ask our server Levi to remove it. Embarrassing, but true.
For our entrée, Mike and I both ordered the chicken fried chicken, which included garlic mashed potatoes, white gravy and sautéed snap beans. We substituted asparagus for the beans.
Don't you love restaurants that allow substitutions? Oh, my two times. Everything was perfectly prepared and outstanding.
I was really impressed that The Grille's "fresh produce is harvested from local suppliers." I do love eating homegrown foods and supporting local businesses.
Besides our amazing house-made pimento cheese, The Grille at Botanic offers diners other tempting appetizers, some of which include the charcuterie board, spicy deviled eggs, fried Brussels sprouts, crab & corn fritters and pork belly burnt ends. The restaurant also offers a large variety of entrees, some of which include Patiana's pasta, shrimp & grits, blackened salmon, bone-in pork chops and grilled catfish filets.
The Grille at Botanic also serves delectable desserts: buttermilk pie, bread pudding, chocolate cake, white chocolate cheesecake and soft serve ice cream. Trust me; run and do not walk to this restaurant.
The Grille at Botanic is open Sunday for brunch from 10 a.m. to 3 p.m., and Tuesday through Saturday from 5 to 9 p.m. The restaurant is closed on Monday.
The Grille at Botanic makes the grade with an A+ from this retired English teacher. Remember, "Pooh-sized" people NEVER lie about food. Enjoy!
Stacey Patton Wallace, who retired from teaching language arts for 30 years, is a professional diner. Her column, "Making the Grade," will appear every other week in The Observer. Stacey may be reached at retiredlangartsteacher2020@gmail.com.