By Stacey Patton Wallace
In last week's column, I said that, for the first time, I would be making my Grandma Patton's wonderful tomato sauce to put on the black-eyed peas. Well, the tomato sauce tasted pretty good, but it looked a little different than Grandma's.
"You needed to cook and stir it for about 30 more minutes," Mama said.
However, I had already gotten up to stir the sauce about 235 times, which really disrupted my watching of the New Year's Day football games, another holiday tradition.
Now the meal was delicious. It included: pork tenderloin (Mike is the king of the Crockpot.), sweet potatoes, turnip greens, black-eyed peas with the tomato sauce and cornbread. However, that was a lot of trouble, and we finished the meal rather quickly. On New Year's Day 2023, the Good Lord willing, we may be dining at Cracker Barrel, where the sweet staff cook the meal AND clean it up for you. Mama said maybe by next year, I'll forget how hard it was, change my mind and cook the meal again. We'll see.
For dessert, Mike, Mama and I enjoyed a new tradition we have started: Gigi's Cupcakes. We indulge in this delectable dessert for our birthdays, and we celebrated my belated one that day; believe me, it was worth the wait. If you haven't been to Gigi's Cupcakes in Opelika, I strongly suggest you go; you will not be disappointed.
Recently, Mike and I made an easy dining decision. We met our friends Jack, William and Thomas for my belated birthday supper. We chose to dine at MK's Asian Kitchen at 2490 Enterprise Dr. in Tiger Town.
  When we were seated, Thomas decided to serenade me with "Happy Birthday." While Thomas has a fine voice and is a very talented musician, I pleaded with him to stop; he did not. Thankfully, the staff didn't come out and bang on boxes or drums to accompany him.
Instead, our sweet waitress, whose name I failed to get after the song ended, took our orders; the young woman was very helpful and patient. I am really sorry that I failed to ask for her name.
For an appetizer, Mike and I chose the crab rangoon; they were warm, crispy and very tasty. Mike also ordered hot and sour soup, while I chose the egg drop soup. Both were delicious and very comforting on a cold night.
For our entrees, Mike selected the cashew chicken with fried rice, and I chose the sesame chicken & shrimp with fried rice. Jack ordered two egg rolls. Both he and Thomas ordered the orange beef and fried rice. Last, William ordered the corn nuggets as an appetizer and the teriyaki chicken and fried rice for his entrée. Everything was quite delicious, as evidenced by the silence that descended at our table when the food was served.
Besides our wonderful appetizers, MK's Asian Kitchen also offers diners: beef and vegetable spring rolls, steamed or fried dumplings, Chinese donuts, chicken fingers, Bar-B-Q spareribs, fried wontons, chicken wings and lemon pepper wings.
MK's offers a large selection of poultry, pork, beef, lamb and shrimp dishes. The restaurant also has a long list of house specialties, some of which include: sizzling black pepper (chicken or beef), ginger duck meat, Szechuan shrimp & scallops, seafood delight and salt and pepper shrimp. Believe me, you'll find something delicious on their menu. Jack, William and Thomas, this review was for you. Love y'all.
MK's Asian Kitchen is closed on Tuesday. The restaurant is open Monday, Wednesday and Thursday from 11 a.m. until 9:30 p.m.; on Friday and Saturday from 11 a.m. until 10 p.m.; on Sunday from 11 a.m. until 9 p.m.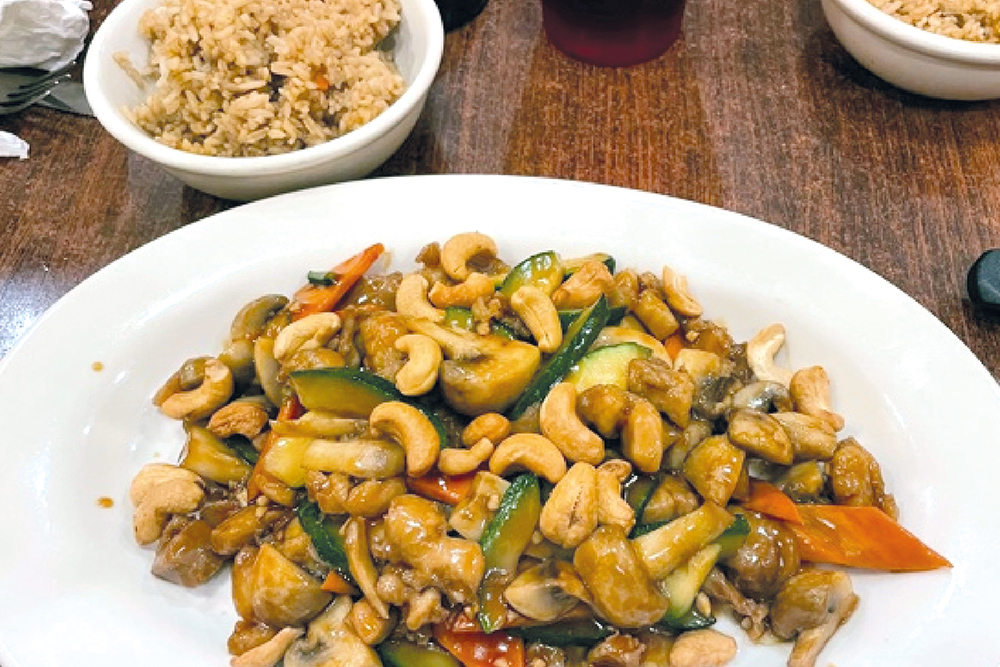 MK's Asian Kitchen makes the grade with an A+ from this retired English teacher. Remember, "Pooh-sized" people NEVER lie about food. Enjoy!
Stacey Patton Wallace, who retired from teaching language arts for 30 years, is a professional diner. Her column, "Making the Grade," will appear each week in the Observer. Stacey may be reached at retiredlangartsteacher2020@gmail.com