By Stacey Patton Wallace
I just can't seem to get enough of downtown Opelika. I think it should be the prototype for downtowns everywhere. According to Siri, the very annoying assistant on my new Iphone, the current population of Opelika is 30,908. While I was gathering that piece of information, as well as others, for this particular review, I became very angry with my technical assistant and said, "I hate you, Siri." In a snippy voice, that disembodied, digital assistant said, "That's not nice."
She even typed it out. Meanwhile, my sweet husband Mike was in his La-Z-Boy recliner, howling with laughter. Husbands who are tech savvy frequently do that to their technologically challenged wives. However, I'm a Christian, and I shouldn't hate anything. Also, I used to tell my students when they said they hated something or someone, "Don't hate; it causes zits."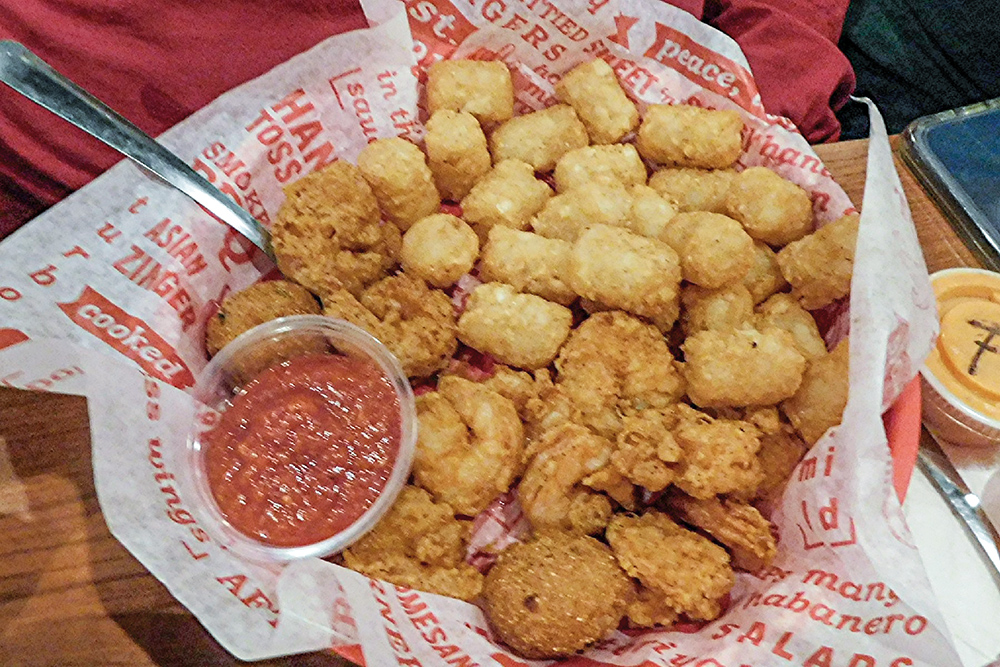 But I digress. Recently, Mike and I met our friends Jack and William at Jefferson's at 905 S. Railroad Ave. in beautiful downtown Opelika. Jefferson's owners, Jeff and Stephanie Moulton, bought the restaurant in 2014. It's a friendly restaurant with a real hometown feel. Plus, I love the striped awning outside the building.
Also, Jefferson's staff is fabulous. Back in the summer, a sweet waitress helped me by putting up a poster advertising my church's (Central Baptist of Opelika) Vacation Bible School. In fact, April, a member of our church family, is Stephanie Moulton's sister. I was also allowed to use the restroom, so I ordered a diet soft drink. However, when I tried to pay for it, the aforementioned sweet waitress wouldn't let me. Isn't living in the South great? They get bonus points for being so kind to me and for being supportive of our community.
Jessica, our waitress for the evening, was so friendly, patient and helpful. I was debating a side, and she said, "If you don't like it, I'll bring you something else." Now, that's extra special customer service, especially these days. Jessica gets an A+ from this retired English teacher.
For an appetizer, Mike and I ordered the ultimate cheese fries, which had bacon bits and came with ranch dressing. It was excellent. All of that gooey cheese was too. good. to. describe. We didn't lick the bottom of the plate only because our parents taught us better.
For his entrée, Mike ordered the boneless wings with honey barbecue sauce and curly fries. Even though I'm the fried chicken freak, I was in the mood for a cheeseburger and onion rings.
Jack ordered the fried shrimp basket with tater tots and a side salad. Last, William picked the Cajun chicken salad. Everything was delicious. A DEFINITE do over.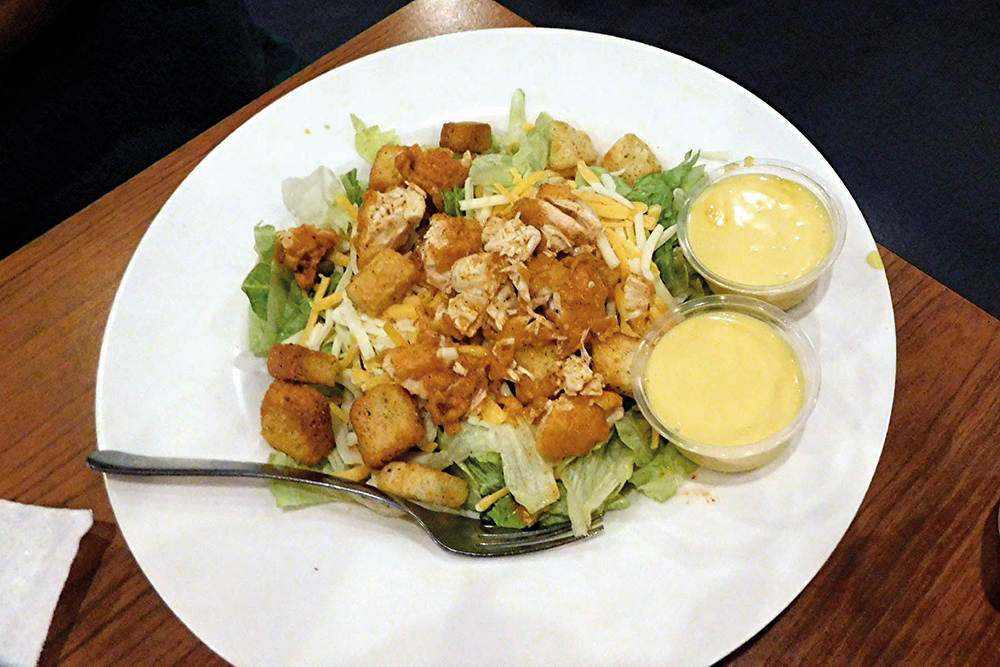 Besides our delectable appetizer, Jefferson's also offers diners: chips-n-ranch, chips-n-salsa, fried mushrooms, nacho supreme, buffalo chicken nachos, corn nuggets, cheese stix, onion rings and fried pickles.
In addition, Jefferson's has salads, some of which include: Caesar, chef, grilled chicken, BBQ and chicken finger. Also, diners may enjoy a great selection of burgers and sandwiches, some of which include: chili burger, the Jefferson burger, buffalo chicken, fried oyster poboy and turkey club. Wraps, baskets and platters are also available. Believe me, you'll find plenty to enjoy.
Jefferson's is open on Sunday from 11 a.m. to 4 p.m.; on Monday through Thursday from 11 a.m. to 9 p.m.; on Friday and Saturday from 11 a.m. to 10 p.m.
Jefferson's makes the grade with an A+ from this retired English teacher. Remember, "Pooh-sized" people NEVER lie about food. Enjoy!
Stacey Patton Wallace, who retired from teaching language arts for 30 years, is a professional diner. Her column, "Making the Grade," will appear each week in the Observer. Stacey may be reached at retiredlangartsteacher2020@gmail.com