By STACEY PATTON WALLACE
As I've mentioned quite a few times in this column, I love eating, but I really dislike cooking.
Also, my husband Mike isn't fond of cleaning up the mess I make when I do cook.
In addition, as I've previously said, bad things sometimes happen when I cook. Again, in LaGrange, on separate occasions, I set fire to my stove eye and made "blackened" fried green tomatoes.
In Auburn, I have burned my fingers because I didn't realize that iron skillets stay hot for a long time and shouldn't be grabbed with a bare hand. Therefore, Mike is always standing by with his trusty fire extinguisher if I do more than boil water.
While we worked as full-time teachers, Mike and I cooked once or twice a week and ate out the rest of the time because we were exhausted. Now, in retirement, we have more time and less money, so we cook at home four or five times a week. However, our cooking repertoire is somewhat limited, and we are getting bored with eating the same old dishes week after week.
Therefore, believe it or not, I stepped out of my comfort zone and signed up for October's "In the Kitchen with Chef Jim." I figured that since I know very little about cooking, I should learn from the best, and Chef Jim Sikes certainly qualifies.
Chef Jim has been studying food since he was a teenager. He's read and worked through classic food literature and cookbooks.
"As a chef, I can prepare lots of dishes in a traditional and classical manner," he said. "Then I can do it in an easier and more practical way for people to use. If they are willing, I can teach them. A chef is a teacher. That's how a staff learns. Every chef can make a kitchen by coming in or by leaving. I worked at the first."
Chef Jim also owned Jimmy's, a Creole restaurant in Opelika, which featured New Orleans cuisine plus a Southern meat and two for lunch. Gumbo and bread pudding were also very popular and quite good. I'm really sorry that I didn't get to eat at Jimmy's because friends have told me that the food was terrific.
Chef Jim started teaching cooking classes to a doctor from Opelika, at his request. He and his wife Aimée lived in the Northside District for 35 years. Chef Jim has taught at their current home in Opelika for six years.
In addition, Chef Jim taught cooking and wine classes at Osher Lifelong Learning Institute at Auburn University for four years. The classes were quite popular; there was a waiting list.
Besides teaching, Chef Jim also writes. He has written a weekly column for the O-A News for fifteen years. In addition, he has also done a little recipe development for a chef in a national competition.
When I arrived at Chef Jim's kitchen for his cooking class, I met four other students: Sylvia, Jesse, John and Mary Ann. I was a novice, and these folks were regulars. However, they, along with Chef Jim and Miss Aimée, his gracious sous chef, immediately made me feel welcome.
For October, the cooking theme for "In the Kitchen with Chef Jim" was "Yummy in Your Tummy." And believe me, this class's cuisine was well named.
That afternoon, we learned how to prepare five dishes: Chicken with Vinegar, Baked Orzo and Cheese, Beef Short Ribs with Onions, Zurich-Style Pork and Mashed Potatoes. All of the dishes were too. delicious. for. words. I was happy to learn to make a new, tasty chicken dish since I'm such a chicken freak. Also, the Beef Short Ribs with Onions were literally fall-off-the-bone tender.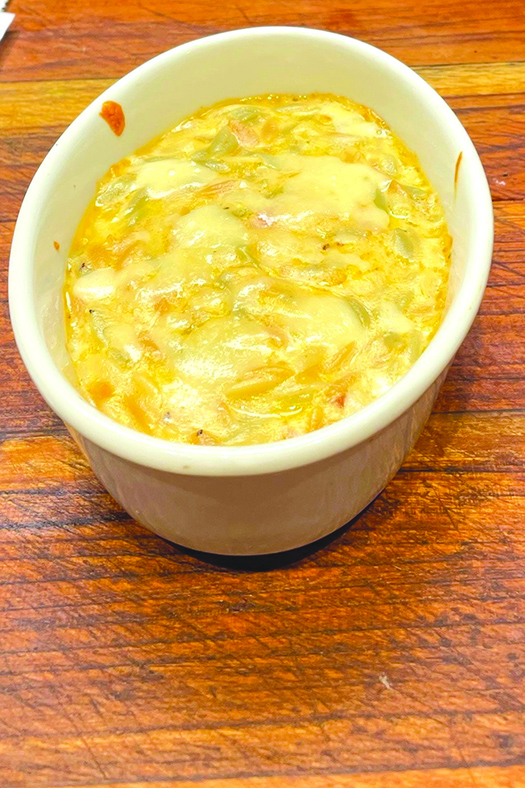 The Zurich-Style Pork and Mashed Potatoes made my mouth very happy. Also, as a diabetic, I was excited to find out that Orzo is a delicious pasta that isn't as high in carbohydrates as some other pastas, and it was really delectable.
Besides enjoying wonderful food, I was happy to find out that even I can cook these dishes. Also, Chef Jim gave us cooking tips that will be very helpful in the kitchen. It was a really fun, informative and delicious way to spend an afternoon.
Also, toward the end of the class, Chef Jim and Miss Aimée's sweet cat Arabella, who goes by "Belle," came to see us, and we enjoyed her visit very much. She's as beautiful as she is friendly.
Whether you're a fledgling cook like me or a more advanced one, sign up with Chef Jim to learn more about the culinary arts. I look forward to another class. Who knows? Mike may be able to loosen his grip on his fire extinguisher.
Chef Jim has a Facebook page, "In the Kitchen with Chef Jim," which is an easy way to contact him; he publishes the month's class times there. He also has a personal Facebook page.
Chef Jim has four to five group classes of 35 to 40 people each month. It's the same class on different days at 1:30 or 6 p.m. Individual classes are available, and there is one for couples. There is another for a group of six involving a dinner. Sometimes, there's a Young Chefs' class for children ages 8 to 12. Also, there are individual classes for teens and a parent. I was certainly glad that Chef Jim even invites retired teachers to his classes.
"In the Kitchen with Chef Jim" makes the grade with an A+ from this retired English teacher. Remember, "Pooh-sized" people NEVER lie about food. Enjoy! Chef Jim, thanks so much. You are an outstanding chef and instructor.
Stacey Patton Wallace, who retired from teaching language arts for 30 years, is a professional diner. Her column, "Making the Grade," will appear each week in The Observer. Stacey may be reached at retiredlangartsteacher2020@gmail.com.