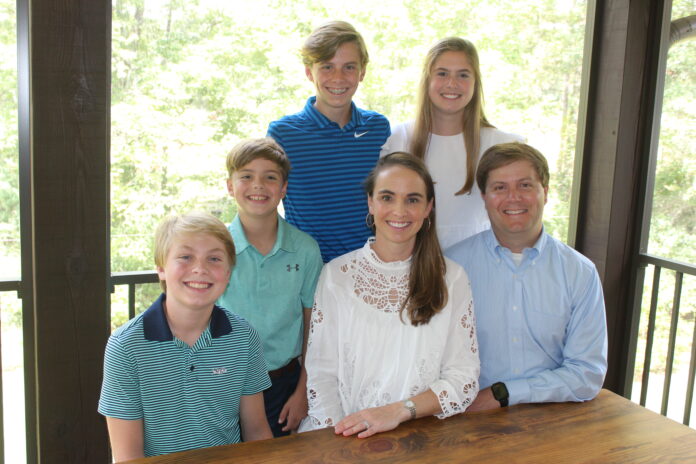 BY ANN CIPPERLY
An assortment of heritage pumpkins on the porch provides an attractive fall arrangement at the home of Jessica and Adam Nicholson in Opelika's Camelot subdivision. Jessica loves cooking and enjoys being in the kitchen preparing meals for her large family, as well as friends, using recipes collected from her mother, grandmothers and mother-in-law.
"Gathering around the table has always been important to me," Jessica said. "We try to make it happen no matter how busy our schedules are. Sharing a meal and conversation is what helps keep us grounded and connected. I want my family to be nourished and enjoy what they're eating."
Jessica and Adam have four children. Mamie is a freshman at Auburn University following in family footsteps, and John Stuart is a freshman at Trinity Christian School. Jessica homeschools the two younger children, Jude, a seventh grader, and Chip, who is in third grade. Both homeschoolers are involved in sports and are part of Classical Conservations, which meets at Lakeview Baptist Church. Jude and Chip also take piano classes, while John Stuart is running cross country as part of Trinity's Varsity Team.
"I am so blessed, and it is a privilege to have them at home, and I enjoy homeschooling them," Jessica said. "We enjoy our time together. It is a sweet time."
She is also a tutor and teaches a homeschool P.E. class once a week.
Opelika and Auburn have been home for Jessica and Adam since they came here 21 years ago to attend Auburn University, where they met. They began attending Trinity Presbyterian Church in Opelika and became close to families at the church. After they married, they decided to settle in Opelika to raise their family.
While Jessica grew up in Mountain Brook in Birmingham, her family has ties to this area. Her grandparents, Joyce and Sonny Solomon, were living in Auburn when her grandfather was attending pharmacy school, and Jessica's mother was born during this time. They lived there until she was 2 years old, then moved to Eutaw.
Her grandfather recently celebrated his 90th birthday. Her grandmother is a wonderful home chef and has honed her talent in the culinary arts.
Jessica's grandparents recently moved from Eutaw back to Auburn to be closer to family. Other family members who have also moved to Auburn include Jessica's parents, Leesa and Rich Street, and her aunt and uncle, Anna and Greg Solomon.
Both Jessica and Adam are from close-knit families. Adam's parents, Julie and Tom Nicholson, moved to Stillwater at Lake Martin.
Adam, an engineer with Alabama Power in the Valley, enjoys woodworking in his spare time. During COVID-19, Adam, with his father's help, constructed a screened-in balcony at the back of their house. He tore down a wall with a fireplace to extend the living room. The balcony has a cathedral ceiling with trestle beams. The family has been enjoying the space that overlooks the groomed backyard framed with trees.
Adam also built a beautiful three-trestle table with reclaimed heart pine Jesscia's grandfather had saved on his farm. The nine-foot-long table has "live edges." The family gathers around the table for most of their meals, and the boys also do homeschool work at the table.
In the fall, the screened-in balcony is a great place to watch football games when they are not enjoying the outdoors. The backyard has a playground, and Adam built a Ninja Warrior course with a zipline, climbing wall and ropes to swing on. Under the balcony, the patio provides a space to hang out.
With an active family, Jessica generally tries to plan well-rounded meals and healthy foods. Usually, what she prepares is going to be quick and easy, as they are on the go.
"I love cooking in the fall and enjoy making comfort food and warm soups with lots of flavor," she said.
One of her favorites, she said, is beef and barley soup. For a warm fall breakfast, she serves maple raisin steel-cut oatmeal that has been simmering overnight. In the morning, it is ready to serve and provides a hearty, filling breakfast.
"A lot of times we repeat recipes," she said. "On Tuesdays, we have tacos that keep everyone happy. Then I try to do a crockpot recipe once a week to keep it easy. We are gone most of the day on Thursdays, so that is a good day for a crockpot recipe. Mrs. Mickle's Roast is an easy favorite."
If she has not had time to go to the grocery store, Jessica will prepare a breakfast meal for dinner, and the children enjoy it. The buttermilk pancakes recipe is a Saturday morning treat. Combining buttermilk and sour cream enhances the flavor and is not too sweet. The pancakes are moist but crispy on the outside.
Brisket is one of her favorite cuts of meat that she serves for special occasions. Jessica's mother gave her the recipe, which came from her art teacher. Jessica has served it with her grandmother's recipe for grits casserole for a luncheon and on another occasion with the corn casserole for Mamie and her friends.
Jessica recommends watching YouTube to see how to trim brisket and slice it at an angle. The flavorful meat will fall apart and melt in your mouth.
Adam's mother makes an apple cake with brown butter frosting that is popular with the children. The boys request it for their birthday cake.
Another dessert, Theodosia Solomon's Muscadine Hull Pie, is an old family favorite that was Jessica's great-grandmother's recipe. She lived to be a 100-years-old and lived in Eutaw where the Solomon family had settled.
Jessica and her family enjoy going to Auburn football games and Opelika High School football games. They ride bikes around town and will sometimes ride to O Town Ice Cream for a fun outing.
"We love where we live being near church, school and downtown and I am proud of my town," Jesica said. "We go to cross country meets for Trinity with John Stuart, and try to find time for more days at the lake and ride the boat while it is still warm enough.
"Whether we are doing something simple on a busy weeknight, eating something fun as we cheer on the Auburn Tigers or gathering for a restful Sunday lunch, my cup overflows with gratitude when I have the people I love around our beautiful family table."
Norma Hagler's Beef Brisket Recipe
5 lbs. brisket
1 onion, sliced into rings
3-4 stalks celery
1 pkg. dry onion soup
3/4 cup chili sauce
1/2 cup water
12 oz. can beer
Bake at 275 degrees about 1 hour per pound.
Brown brisket if desired (I don't put it in the oven pan.)
Put ingredients (except for beer) on and around meat. Cover tightly with foil.
45 minutes before the end of the baking time, add the beer and recover.
When done, take it out and cool it. Refrigerate it at least overnight. Remove fat and celery (keep the onions) from gravy and discard it. Slice very thin. You can freeze it at this point or just reheat it to serve in remaining gravy.

Grits Casserole
For a tasty variation, try serving cooked shrimp are delicious to put over each serving of cooked grits. Sauteed onions with red, yellow, green bell pepper, parsley and any other favorite seasoning may be combined with shrimp to give flavor and color.
3 ½ cups water or more
1 1/2 cups half & half or milk
1 tsp. salt
1 cup quick cooking grits
1/2 cup plus 1 Tbsp. butter
1/3 cup thinly sliced green onions
4 oz. Velveeta cheese, cubed
¼ tsp. garlic powder
2 1/2 cups cheddar cheese, grated, divided
10 oz. can Rotel diced tomatoes and green chilies
In a saucepan bring water, half and half to a boil then add salt and grits. Reduce heat, bring to a simmer, cover and continue to stir constantly to keep from sticking. Cook 25 minutes or longer, then add 1/2 cup butter and continue cooking about 10 minutes or more until texture is thick and creamy.
Remove grits from heat, add Velveeta Cheese, 1 1/2 cups grated cheddar and stir until cheeses melt, then add Rotel tomatoes. Using a skillet sauté green onions in the 1 Tbsp. butter for 1 minute, then add to grits.
Pour grits into a greased 8 x 11 x 2 inch casserole. Bake the casserole at 350 degrees for about 35 to 40 minutes. Sprinkle remaining cheese over the casserole for the last 5 minutes of cooking time.

Two Cheese Spinach and Romaine Salad
Dressing:
1/2 cup vegetable oil
1/2 cup chopped red onion
1/4 cup sugar
1/4 cup vinegar
1 tsp. poppy seeds
1 tsp. mustard
1/4 tsp. salt
Put these ingredients in a tight fitting jar with a lid and shake. Refrigerate overnight.
Salad:
5 cups fresh spinach and romaine lettuce
1/2 lb. sliced fresh mushrooms
8 oz. carton cottage cheese
4 oz. shredded Swiss cheese
2 bacon strips cooked and crumbled
Just before serving, toss spinach and lettuce with mushrooms and cheeses; pour dressing over and toss again. Sprinkle with bacon. Enjoy. Serves 12.

Apple Cake with Browned Butter Frosting
Cake:
1 cup butter, room temperature
1 cup brown sugar
1 cup granulated sugar
3 eggs
2 tsp. vanilla
2 tsp. baking soda
1 tsp. salt
2 tsp. ground cinnamon
2 1/.2 cups all-purpose flour
3 cups chopped Granny Smith apples, (about 3 medium)
Frosting:
1/2 cup butter, room temperature
3 cups powdered sugar
1 tsp. vanilla
2-3 Tbsp. milk
Preheat oven to 350 degrees.
Generously grease a fluted Bundt pan (12 cup pan).
In bowl of stand mixer beat together butter and sugars until light and fluffy, 2 to 3 minutes.
Add eggs and vanilla and mix until smooth.
Add baking soda, salt and cinnamon and beat until incorporated.
Turn mixer to low and add in flour. Mix until just combined.
Stir in chopped apples.
Fill prepared pan with cake batter and bake for 55 to 65 minutes until a toothpick comes out clean.
Allow cake to cool in pan for 10 minutes and then remove cake from pan onto a wire rack to continue cooling. Can omit frosting for a less sweet dessert.
Frosting:
In a small saucepan melt butter and cook over medium heat until butter is a golden color, stirring consistently. As soon as butter is golden, remove from heat and beat in powdered sugar, vanilla and 1 tablespoon of milk using a hand mixer.
Add more milk until the consistency you desire is reached. If you prefer more of a glaze than a frosting, you will need to add a few more tablespoons of milk than the recipe calls for. Frost top of cake. Slice and serve.

Overnight Maple Raisin Steel-Cut Oatmeal
3 cups water
3 cups milk (I used unsweet vanilla almond milk)
1 ½ cups steel-cut oats (must be steel-cut; normal oats won't work the same)
3/4 cup raisins
1/2 cup maple syrup
1 tsp. vanilla extract
1 tsp. ground cinnamon
1/2 tsp. kosher salt
2 Tbsp. chia seeds
¼ cup coconut oil
Combine all ingredients in an 8 cup heatproof glass bowl.
Set bowl in a 6-quart slow cooker, and add cold water to the slow cooker (not the Pyrex), filling until water comes 3/4 of the way up side of bowl.
Cover and cook on low for 8 hours.

Mrs. Mickles' Crockpot Roast
1/4 cup water
3 lb. chuck roast or other roast
1 oz. pkg. dry ranch seasoning
1 oz. pkg. dry au jus gravy mix
6 Tbsp. unsalted butter
5-6 or more pepperoncini (in a jar)
Add 1/4 cup water into the insert of your slow cooker, and place chuck roast on top.
Sprinkle dry ranch seasoning mix on top of the chuck roast, then sprinkle the dry au jus mix on top. Place butter on top of roast and 5 to 6 pepperoncini around the roast.
Cook on low for eight hours.

Corn Casserole
15 oz. can whole kernel corn, drained
14 oz. can cream-style corn
8 oz. box Jiffy cornbread mix
1 cup sour cream
½ cup melted butter
1 to 1½ cups shredded cheddar cheese.
Preheat oven to 350 degrees. In a large bowl, stir together two cans of corn, Jiffy mix, sour cream and butter. Pour into a grease 9 by 13-inch pan. Bake for 45 minutes.
Top with cheddar cheese. Return to oven for five minutes until cheese is melted. Let stand five minutes before serving.

Two Versions Mushroom Rice
1 can French onion soup
1 can condensed beef broth
Small can mushrooms, drained
1 cup uncooked white or brown rice
One or two 4 oz cans sliced mushrooms, not drained
1/2 cup melted butter
Combine all ingredients in a 2 to 2 ½ quart casserole. Bake uncovered at 350 degrees for 1 hour. Makes 4 to 6 servings.
Variation:
2 cups uncooked rice
2 cans beef broth
2 cans sliced mushrooms, drained
1 Tbsp. Worcestershire Sauce
Combine all ingredients in a 9 by 13-inch casserole dish. Bake covered at 325 degrees for one hour. Uncover and bake 15 minutes longer.

Favorite Buttermilk Pancakes
2 cups all-purpose flour
2 tsp. baking powder
2 tsp. baking soda
3 Tbsp. granulated sugar
1 tsp. kosher salt
2 cups buttermilk, more or less, divided
2 Tbsp. butter, melted and cooled, plus more for the skillet
2 large eggs
1 tsp. vanilla extract
2 Tbsp. sour cream
Whisk together flour, baking powder, baking soda, sugar and salt; set aside. Combine 1 cup of the buttermilk with 2 Tbsp. of melted butter and eggs. Add buttermilk mixture to flour mixture. Gently combine, adding vanilla extract, sour cream and additional buttermilk as needed. Mixture should be fairly thick and lumpy, but pourable; avoid overmixing.
Heat a griddle or nonstick skillet over medium high heat, add additional butter, non-stick spray or cooking oil to pan. Spoon 1/3 cup measure of batter onto pan leaving at least 1/2 inch between each. When pancakes begin to bubble up and edges appear to be dry, turn over to brown the other side. Repeat with remaining butter and batter. Serve immediately with additional butter, warmed syrup, a side of sausage and fruit. Skillet apples or peaches are excellent with these. Makes about 16 depending on the size you make them. Can halve recipe.

BA Smashburger
Vegetable oil
1 lb. ground beef chuck (20% fat)
Kosher salt
4 slices cheese
4 potato rolls or good burger buns
Burger toppings: ketchup, mustard, mayonnaise, shredded iceberg lettuce, dill pickle slices, etc.
Heat a cast iron griddle or heavy skillet over medium to high heat until very hot, about two minutes, then lightly brush with vegetable oil. Cut ground beef into 4 equal portions, leaving meat as is (do not form patties.)
Working in batches if needed, place portions on griddle and smash flat with a spatula to form patties (craggy edges are your friend). Season liberally with salt and cook, undisturbed, until outer edges are brown, about two minutes. Flip patties, season with salt, and place a slice of cheese on top of each patty. Cook until cheese droops and burgers are cooked through.
Grill buns in burger grease. Assemble burgers and serve.
Gabrielle's Salad
Romaine hearts
Cherry tomatoes, halved
Sunflower seeds
Dried cherries
Shaved Parmesan
Croutons
Garlic Expressions Dressing
Combine everything but dressing in a large bowl. When ready to serve, add dressing and toss.

Mary Kathryn's Biscuits
2 cups self-rising flour
1 cup sour cream
2 sticks melted butter
Preheat oven to 375 degrees. In a bowl, combine flour, sour cream and melted butter. Stir gently until combined.
Put ¼ cup mixture into greased muffin tins. Bake for 12 to 15 minutes until lightly golden brown. Makes approximately 12 biscuits. Can use mini muffin tins.

Beef and Barley Vegetable Soup
1 lb. lean ground beef
5 cups water
14 oz. can no salt tomatoes
16 oz. can low sodium cocktail vegetable juice
1/3 cup barley
1/3 cup split dried peas
½ cup chopped onion
1 Tbsp. (2 cubes) beef flavored bouillon
¼ tsp. pepper
¼ tsp. whole dried basil
¼ tsp. whole dried oregano
1 bay leaf
¾ cup chopped celery including leaves
½ cup sliced carrots
Salt to taste
Pinch of sugar
Coat a large Dutch oven pan with cooking spray. Place over medium-high heat until hot. Add ground beef and cook until brown, stirring to crumble. Drain and pat dry with paper towels. Wipe drippings from pan with paper towels.
Return meat to pan; add water and next 10 ingredients. Bring mixture to a boil; cover, reduce heat and simmer 30 minutes.
Stir in celery and carrots; cover and simmer 30 minutes. Remove bay leaf and serve.

Theodosia Solomon's Muscadine Hull Pie
5 cups muscadines
Pie crust with bottom and top layer (can use store bought)
1 cup sugar
1 tsp. flour
1/4 tsp. nutmeg
A little lemon juice
1 Tbsp. melted butter
Sauce:
1 cup sugar
1/2 cup water
1/4 cup butter
1 tsp. nutmeg
Wash muscadines. Preheat oven to 350 degrees
Pop open muscadine hulls, squeezing out the pulp. Separate pulp and hulls into different bowls. Put hulls in a pot on stove and add water, just enough to almost cover them, not using too much, so pie isn't runny.
Add a little lemon juice, 1 cup sugar, 1 tsp. flour, 1/4 tsp. nutmeg. Put lid on pot, cook on low until hulls are soft and tender, about 45 minutes, stirring frequently for even cooking.
Boil pulp in a separate pot (do not add water), about 5 to 10 minutes until mushy. Put pulp in a wire strainer and strain the seeds out of the pulp by pressing with the back of a spoon, so pulp strains through.
Add strained pulp to the cooked hulls. (Can freeze here if desired.) Let filling cool.
Line deep dish pie pan with pie crust, add filling, and add another pie crust to the top. Press edges together, pour on a little melted butter and sprinkle with sugar. Make 3 small slits in center of top crust.
Bake at 350 degrees until crust is browned, around 20 to 30 minutes.
To make sauce: Combine sugar, water, butter, and nutmeg in a pot. Simmer while pie is cooking, until it is a thicker but still runny and sticky consistency. Slice the pie carefully, it often needs to be scooped out with a spoon and served in a bowl. Pour sauce over warm pie.