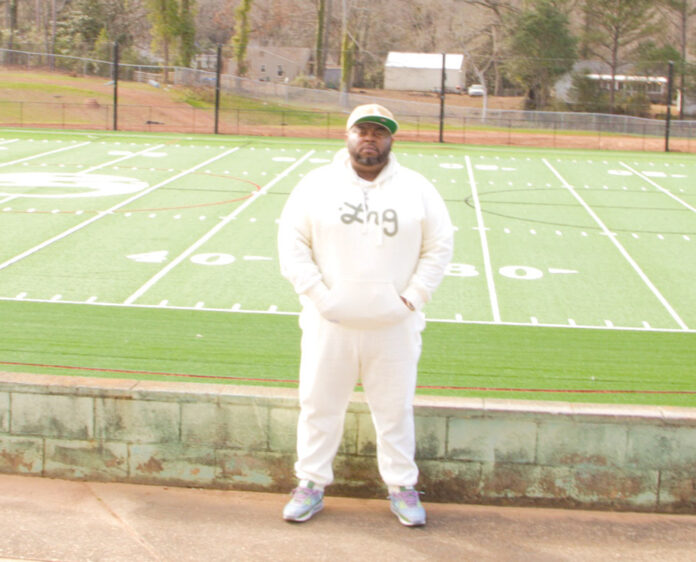 BY NOAH GRIFFITH
FOR THE OBSERVER
OPELIKA —
It all started when Trey Hughley's longtime high school friend and former Dawg Pound President Anthony Bryant called him and invited Hughley and his son to come play for the Opelika Dawg Pound when his son was 8 years old.
Now, his son is in seventh grade and plays middle school football, but Hughley has only gotten more involved with the Dawg Pound.
Hughley has been the 10u coach, 12u coach, athletic director and vice president of the Dawg Pound, and now he is taking over as the president in his fifth year with the youth football league. After Bryant decided to step down to focus on furthering his education and running the Knee High Foundation, he didn't hesitate to ask Hughley to take over.
"I'm very excited [for the future of the Dawg Pound]," Bryant said. "I wouldn't have turned it over to anybody else but Trey — Trey's a great leader. He's a great person overall, so I'm excited about how the Dawg Pound is going forward in its sixth year."
Hughley said he loves working with the kids and seeing how playing with the Dawg Pound propels them onto the next level. You might find him talking to his former players after a Thursday night Opelika Middle School game, and if he can't make it to a game, he texts parents asking for videos of his kids playing.
Hughley said his ultimate goal is to get the kids ready when they go to play at the next level. The Dawg Pound helps prepare kids for school ball by introducing them to travel ball. Consisting of ages 4-13, the league has one team of 25 players that goes to play teams in Phenix City, Russell County and teams in Georgia.
"When you play against teams like Phenix City or Valley (in middle school), they're gonna be more experienced because they've been doing travel ball," Hughley said. "Our kids are so stuck on doing rec ball, so once they get to junior high, they're behind. I'm trying to bridge that gap from being with the rec league going to junior high."
Hughley's staff consists of Pete Vann as vice president, Cilvette Johnson as secretary, Arkeith Dowdell as athletic director, Dorothy Hughley as treasurer, Candy Ivey as head team mom and Tookie James as cheer coordinator. Hughley chose his staff based on performances with the organization last year, except for his mom, Dorothy.
Vann was promoted from being a coach for the 4- and 5-year-old teams who play flag football. Hughley was impressed with his dedication and willingness to help with tasks that he wasn't directly responsible for, so Hughley said it was an "easy choice" to promote Vann to vice president.
"I think I put together a good staff. I got all the pieces together, so 2023 — we ready to roll," Hughley said with a smile.
Growing up playing football in Opelika, Hughley is familiar with the community and what values are important to pass on to the kids. With his slogan "Get outside," Hughley said he values sports as a means of development for kids. He thinks kids are too involved with technology instead of being physically active like he was as a kid.
Playing from rec league football to the college level at Miles College, he also knows the game well. He loves the game for the way it teaches children to be successful in any area of life they go into because it shows kids how to work together for one united purpose: a victory.
Those life lessons are why he said he loves working with children's athletics. Hughley is familiar with the community and wants to help families prosper as opposed to solely focusing on the athletes.
"I'm trying to help the parents instill the same values that they're trying to instill in their kids," Hughley said. "If you got A's and B's required of your kid, that's what I require on this field. I believe in 'yes sir,' 'thank you,' 'no sir.' People just look at you a whole different way (when you say those things)."
But Hughley's vision runs deeper than just football. He recognizes that a lot of his players play basketball, too. A firm believer in playing multiple sports, he said his hope is to make the Dawg Pound a year-round ordeal with the addition of basketball in the coming year.
The Dawg Pound started as a means for his son to play football, but it has turned out to be a platform for Hughley to impact his community. But the impact goes both ways.
"It just amazes me how the Dawg Pound has shaped so many kids' lives," Hughley said. "That's the one thing that brought me back and will keep me with the Dawg Pound — just seeing how many lives it can shape. That's the thank you that I want: Go on and be better."