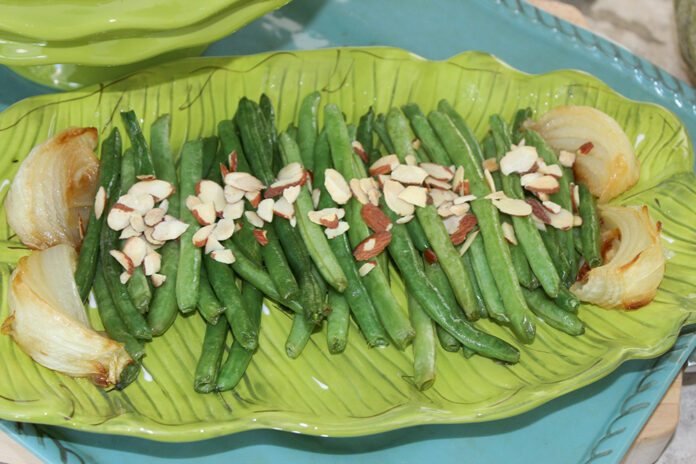 By Ann Cipperly
When I was growing up in Opelika, July was a slow, easy-going month with shelling peas on the front porch or under the Chinaberry tree in the backyard. Both my parents grew up on farms, and they knew how to grow the most delicious vegetables and juicy heirloom tomatoes. Fresh vegetables were the main staple of our lunches and suppers throughout the summer months. With many farmer's markets in our area now, we are able to savor the flavor of fresh vegetables without the work of having a garden.
It is worth finding a place to park on Glenn Street in Opelika on Tuesday afternoons from 3 p.m. until 6 p.m. at the O Grows Open-Air Farmers Market. Tables under the white tents are laden with a summer bounty of squash, tomatoes, peaches, eggplants, new potatoes and much more for creating tasty, nutritious dishes at home.
Along with fresh produce, we pick up sourdough bread, braided garlic bread, whole wheat and blueberry lemon bread from the Serenity Farms tent. They are freshly baked by Anna and Liana Freeman, who have been baking wonderful breads and desserts for years. These breads can make any everyday meal special. They generally have cookies and peach cobbler as well.
If you are interested in cake for dessert, check out Mary Finley's tent with an assortment of cakes available by the slice. Other items available at the market include local honey, jellies and jam.
Located at Town Creek Park in Auburn, City Market offers fresh produce from numerous farmers as well as crafts, among other items. The market is open Saturday mornings from 8 a.m. until 11 a.m. at 1150 S. Gay St.
Also in Auburn, Heritage Ag Farmers Market provides a chance to pick up fresh produce and homemade items on Thursday afternoons from 3 p.m. until 6 p.m. at 580 S. Donahue Dr. on the grounds of the Edward L. Lowder Red Barn. Hosted by the Auburn University College of Agriculture, vendors at the market offer fresh produce, farm meats, jellies and baked goods.
Along with these summer markets, there are two year round markets. Parkway Farmers Market is located at 2180 First Ave. in Opelika. Hours are 9 a.m. until 6 p.m. Monday through Saturday and 10 a.m. until 5 p.m. on Sunday. Along with produce, you will find a good variety of plants, jellies and frozen items.
The year-round Opelika Farmers Market is open Monday through Saturday 7 a.m. until 6 p.m. and is located at 411 S. 10th St. The market carries pecans throughout the year from their pecan farm in Notasulga. Frozen foods, jellies and plants are also available.
Don't forget Wright's Market, our locally-owned grocery store that also carries farm fresh produce.
We look for farmers markets when we are out of town. If you are looking for a road trip, you may be interested in the farmers market on Saturday mornings at Serenbe, Georgia. The time is 9 a.m. until noon Eastern. Along with organic produce from Serenbe Farms, vendors offer meats, prepared food and artisan products.
Serenbe Farms is a certified organic farm located in the Serenbe community. They produce over 300 varieties of heirloom and hybrid vegetables, herbs and flowers. They harvest over 60,000 lbs. of produce a year. The Serenbe Farmer's Market is held on Saturdays through October.
Located in the Chattahoochee Hill Country, the community of Serenbe is nestled in an idyllic setting with an organic farm, restaurants, the General Store with farm produce and gourmet foods and an inn. With only the sound of birds, the frantic hum of Atlanta traffic seems farther than 30 minutes away.
Serenbe founders, Marie and Steve Nygren, were out for a Sunday afternoon drive with their three young daughters when they stumbled upon the 1905 farmhouse. While they had seen an ad for the farm, they had no intention of buying. Once they arrived, they found the setting irresistible.
In 1991, they purchased the farmhouse as a weekend home and began renovation. A barn was converted into a guesthouse, and a lake house was built for Marie's mother, who was the owner of Mary Mac's Tearoom in Atlanta.
Three years later, the Nygrens left their Atlanta restaurants, the Peasant Restaurant Group, and moved into the farmhouse. Marie created the name "Serenbe" by combining "serenity" and "be together."
With so many friends wanting to visit the tranquil community, the Nygrens decided to open their farmhouse as the Inn at Serenbe, serving meals in the dining room. A vegetable and herb garden, along with abundant flowers, were planted around the inn, and the restaurant was named The Farmhouse.
The Farmhouse is a farm-to-table restaurant using local, organic ingredients from their garden and the Serenbe Farm. Tables are covered with white cloths and accented with bright red zinnias in the casually elegant setting. Menu items are seasonal and prepared from scratch.
Breakfast is hearty with free-range eggs, grits and apple wood bacon. Yummy biscuits are even more tempting with Serenbe's own preserves. A fried chicken lunch is served on Saturday and Sunday from noon to 3 p.m. Dinner is served Thursday through Sunday from 5 to 9 p.m.
If you decide to take the road trip, remember the times are Eastern. Call The Farmhouse restaurant at 770-463-2622 before going for reservations. Other restaurants at Serenbe are The Blue Eyed Daisy Bakery and Halsa.
Looking at all the farmers' markets we now have, I think how much my mother would have enjoyed shopping at all of them. I am amazed at all my mother accomplished during summer, as she froze vegetables, canned fresh tomatoes and made fruit jams. She cooked three meals a day, everyday.
I am thankful that I grew up in Opelika and get to live here now. The more travels we take, the more I realize my haven is in Opelika, and I am always glad to open the door at home, especially when I am carrying bags of farm fresh produce and freshly baked bread from the farmers market.
Look over the following recipes for serving fresh vegetables to your family in the coming week from several of our area's good cooks.
Ann Cipperly can be reached at recipes@cipperly.com.
Roasted Green Beans with Vidalia Wedges and Almonds
1 lb. green beans, trimmed
1 Vidalia onion, sliced into wedges
1 to 2 Tbsp. olive oil
½ Tbsp. lemon juice
Kosher salt
½ cup roasted almonds
Preheat oven to 400 degrees. Combine green beans and onion wedges; toss with olive oil and salt. Roast for 15 minutes; check for desired doneness. If needed, roast a few minutes longer. Onions may need a few minutes more to caramelize.
Toss beans with lemon juice and almonds.
Oven Roasted New Potatoes
2 lbs. new potatoes
2 cloves garlic, crushed
1 to 2 Tbsp. extra-virgin olive oil
Kosher salt and pepper
Heat oven to 400 degrees. Spread potatoes on cookie sheet. Scatter garlic over potatoes. Coat lightly with extra-virgin olive oil and season potatoes with salt and pepper. Roast until tender, about 30 to 40 minutes.
Smashed New Potatoes
Lynn Paterson
12 whole new potatoes
Kosher salt and pepper to taste
3 Tbsp. olive oil
Minced rosemary (or other herb) to taste
In a medium saucepan over medium heat, boil potatoes in lightly salted water until fork tender, about 20 minutes. Drain.
Preheat oven to 450 degrees. Place potatoes on a baking sheet. Using a potato masher, gently press down to mash each one. Rotate masher 90 degrees, then mash again. Drizzle potatoes with olive oil. Sprinkle generously with kosher salt, pepper and rosemary. Bake for 20 to 25 minutes or until golden brown and crisp.
Fresh Corn Casserole
Lynn Patterson
8 ears corn, husked, kernels shaved off the cob
1 red bell pepper, seeded and diced
2 fresh jalapenos, seeded and diced (some seeds if you like spicy)
1 stick butter
1 cup heavy cream
Salt and pepper to taste
Preheat oven to 375 degrees. Combine corn, bell pepper and jalapenos in a bowl. Add butter, cream, salt and pepper. Pour into a buttered baking dish. Bake for 25 to 30 minutes or until hot and bubbly. Stir before serving to coat corn in creamy mixture.
Mama's Squash Casserole
Fran Plott
1½ lbs. yellow squash, sliced
1 cup chopped onion
1 egg, beaten
1 Tbsp. sugar
½ stick butter
Breadcrumbs (or Panko or crackers)
½ cup mayonnaise
1½ cups grated cheddar cheese
½ cup chopped pecans
Salt and pepper to taste
Boil squash and onions with salt and drain.
Put cheese and melted butter in a bowl with drained squash on top.
Beat egg and add sugar and mayonnaise, and mix well with the other ingredients.
Put in greased casserole dish. Spread breadcrumbs and pecans on top.
Bake at 350 degrees for 20 to 35 minutes.
Zucchini Pie
Nancy McCrory
9-inch pie shell
1 tomato, sliced
1 lb. zucchini, about 4 medium-sized
½ cup chopped onion
½ cup chopped bell pepper
1 cup mayonnaise
1 cup mozzarella cheese
Place the sliced tomato in the bottom of pie shell. Sauté zucchini, onion and bell pepper in oil until tender. Spread over tomato. Combine mayonnaise and mozzarella cheese; spread over zucchini.
Bake at 350 degrees until cheese topping is golden brown.
Summer Corn and Bacon Risotto
Emma Jane Hunt
The classic Italian dish gets a Southern makeover with fresh, sweet corn on the cob and thick cut bacon.
2 ears sweet corn, husk removed and corn cut off the cob
2 strips thick cut sugar-cured, pepper-crusted bacon, diced
3 cups chicken stock
3/4 cup arborio rice
1/2 onion, diced
1/2 cup fresh shredded Parmigiano Reggiano cheese
Start by rendering down the bacon over medium-low heat. (I recommend using a good enameled cast-iron pan for risotto.) While bacon is cooking, heat stock in another pot. Once the bacon is to your desired crispness, remove and set aside.
In the same pan with bacon drippings, add onion; sauté until slightly translucent.
Then add corn that has been removed from the cob and the rice. Sauté for about 3 minutes, then slowly start adding your liquid.
Add stock a ladle full at a time and stir constantly. The more you stir the creamier the risotto will be. When most of the liquid has absorbed, add another ladle. Keep doing this for about 20 minutes. Then start tasting the risotto. The rice should be slightly al dente; you don't want it to be mushy.
If you need more than 3 cups stock, use more. If you need less, use less. When you've added all the stock, stir in Parmigiano Reggiano and add bacon.
Simple Grilled Vegetables
Emma Jane Hunt
This simple side is a great way to round out any meal and take advantage of the summer's best produce.
1 eggplant
2 zucchini
2 yellow squash
Extra virgin olive oil
4-6 leaves of fresh basil, cut into thin ribbons
Cut all vegetables length-wise into thin slices, about ¼ inch thick. On a well-oiled grill (a grill pan also works great), cook vegetables for 2 to 4 minutes per side. Adjust cooking time for how crisp or soft you like your vegetables.
Place cooked vegetables on a plate and drizzle with extra virgin olive oil and sprinkle with basil.
Parmesan Okra
Julia Pipes
1 lb. fresh okra, cut into 1/2-inch thick slices
2 Tbsp. olive oil
¼ cup Italian-seasoned breadcrumbs
2 tsp. Greek seasoning
¼ cup shredded Parmesan cheese
Sauté okra in hot oil in a large skillet over medium-high heat 5 to 6 minutes or until crisp and tender. Sprinkle with breadcrumbs and seasoning, and cook, stirring often, for 3 minutes. Sprinkle with Parmesan cheese, and serve immediately.
Stella's Refrigerator Zucchini or Cucumber Pickles
Paula Harris
2 cups sugar
1 cup white vinegar
1 tsp. celery seed
2 tsp. salt
Mix above ingredients until sugar is dissolved. Add 8 cups sliced zucchini or cucumbers. Then add the following:
3 large stalks celery, sliced
1 green pepper, sliced
1 cup sliced onions
Makes half a gallon. Refrigerate 24 hours before serving for best flavor.
Southern Squash Croquettes
2 cups yellow squash, finely chopped
1 onion, finely chopped
1 egg, beaten
1 tsp. salt
1 tsp. pepper
½ cup plus 1 Tbsp. all-purpose flour
Vegetable oil
In a large bowl, combine squash, onion, egg, salt and pepper. Mix well. Stir in flour
In a skillet, heat ½ inch oil over medium-high heat. Drop batter by tablespoonful into oil.
Cook about 3 minutes per side or until golden brown, turning once.
Drain croquettes on paper towels. Makes 6 servings.
Roasted Tomatoes
Ann Yeargan
A favorite family dish.
12 plum tomatoes, halved lengthwise, cored and seeds removed
4 Tbsp. extra virgin olive oil
1½ Tbsp. balsamic vinegar
2 large garlic cloves, minced
2 tsp. brown sugar
Kosher salt
Freshly ground pepper
Preheat oven to 450 degrees.
Mix oil and vinegar and pour into a Ziploc bag with tomatoes to coat. Arrange tomatoes on a sheet pan (lined with foil) cut sides up, in a single layer. Sprinkle garlic, sugar, 1½ tsp. kosher salt and ½ tsp. pepper and drizzle with remaining oil and vinegar. Roast for 25 to 30 minutes, until tomatoes are beginning to caramelize. Serve warm or at room temperature.
Note: I put all ingredients into a Ziploc bag and mix well. Then add tomato halves and marinade for about 30 minutes. Place in single layer on foiled lined cookie sheet. Drizzle the marinade over the tomatoes and roast for 25 to 30 minutes. I like mine cooked at least this long until some are browning.