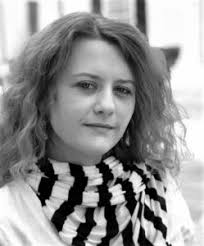 By Sarah West
The miniature violinist by Eugéne Delacroix, conveys an emotional depiction of the Italian composer Nicolo Paganini.
The celebrity virtuoso emerges from the darkness. Both subject and surrounding space are painted with subtle differentiation between them. A highlight falls upon the toe of a shoe. With eyes closed, he plays. Light is awash over his historically pale and thin physique. An emotion-bound unity shared by musician and instrument is evident. A triumph in achievement, surely, for the painter.
This small work evokes my recollections of works by painters who undoubtedly followed in Delacroix's tradition. I stand before this remarkable little portrait and remember the large full-length portraits rendered by Whistler and Eakins at the Met and National Gallery.
I venture further into the museum's special exhibition wing. Two small figures appear upon a path, bundled in winter coats. Wind tumbles the landscape, and dense clouds above. I glance to my right. "Return from School after the Storm by ChaÏm Soutine" 1939. Other works which strike resonant chords with current events both local and global are Henri Rousseau's "Notre Dame" and the early Matisse, "Studio Quai Saint-Michel." Amid times of turbulence, triumph and even tranquility, it is the artists upon whom we can depend to apprise life pictorially.
European Masterworks, an exhibition hosted by the High Museum of Art, features 75 works of painting and sculpture from the collection of Duncan Phillips, known as the Phillips Collection. This current exhibition is open through July 14. To learn more visit www.high.org
Sarah West serves the Opelika Observer as a contributing columnist, with written works of Cultural Arts relevance and prose. She is a preservation, and conservation advocate, activist, and visual artist of American Illustration with a focus on Regional Narrative Painting. She is founder of the Sarah West Gallery of Fine Art, A Center for Cultural Arts, Smiths Station, Alabama's premier fine arts destination. She is the appointed Official Artist to the City of Smiths Station, a Lee County syndicated columnist, the director of her art center's Cultural Arts Outreach Initiative which partners with local schools to make the arts accessible to all. She also serves a chief curator to the City of Smiths Station, City Hall Art Galleries. She is a founding member of the Smith Station Historic Commission. She is a member of the Women's Philanthropy Board- Cary Center, Auburn University College of Human Science. She is an elected member of the Society of Illustrators- NYC. She mentors art students of every age through weekly classes at her studio located in the heart of Smiths Station, Alabama. To learn more about her work and activism visit, www.thesarahwestgalleryoffineart.com.