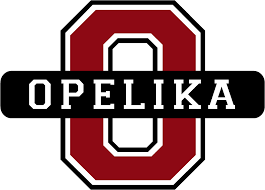 By D. Mark Mitchell
The Opelika High School All-Sports Booster Club plays a crucial role in the school's athletics and their funding.
The ASBC raises funds through the Corporate Sponsor program, football program ad sales, booster passes and a fan bus to watch the girls basketball team in the finals. Total monies raised for the 2018-19 school year was $95,360.
The total for 2018-19, after adding the reserve from 2017-18 ($9,933.00) is $105,293.68.
Each individual sport received a lump sum in August, and a total amount of $39,000 was split among the different sports programs. Golf received the lowest at $1,300 while football received $4,500, the most of any sport.
The Opelika Middle School Athletics department received $6,000 for all sports. The ASBC spent $9,200 printing the football program, $1,300 on the Corporate Sponsor dinner and $18,495 in miscellaneous expenses.
Expenses listed "miscellaneous" include: venue security for football and basketball games and the tailgate tent at Bulldog Stadium among other items.
The All-Sports Booster Club has $22,800 in reserve for the 2019-20 school and athletic year.
Opelika athletics received added funds from the Opelika City Council, with each member allocating $1,000 from their discretionary fund to help offset expenses at the state track meet.
OHS Principal Dr. Farrell Seymore explained the request, saying that it came from a parent of a child on the track team.
Opelika All-Sports Booster Club continues to help provide extras for the student athletes at both Opelika High and Opelika Middle schools.
OHS HIRES GIRLS TRACK / CROSS COUNTRY COACH
Opelika announced the hiring of Jonathan Fischer as head coach of the girls track and field team and cross country teams. Fischer comes to Opelika from Beauregard High, where he served in the same capacity.
He joins his wife Keli who is an assistant principal at Opelika.
ON THE MARK RADIO CHANGES
Starting July 1, the "On the Mark" radio show will move to 1520 AM and 1310 AM weekdays 6 to 9 a.m. The station format will change to FOX Sports which will also bring more local sports programming. Jeff Sasser and I are in our 12th year of co-hosting the show.
Congratulations Mr Brown
Beauregard High School Principal Mr. Richard "Dickie" Brown announced his retirement two weeks ago. He retires after 50 years of service as an educator.
Brown served as Beauregard principal for as long as I can remember. It's a pleasure knowing and working with Brown over the years!
I wish Brown and his wife a wonderful retirement.
D. Mark Mitchell is sports director for iHeart Media, Alabama Dixie Boys State Director and vice president of the A-O Sports Council.