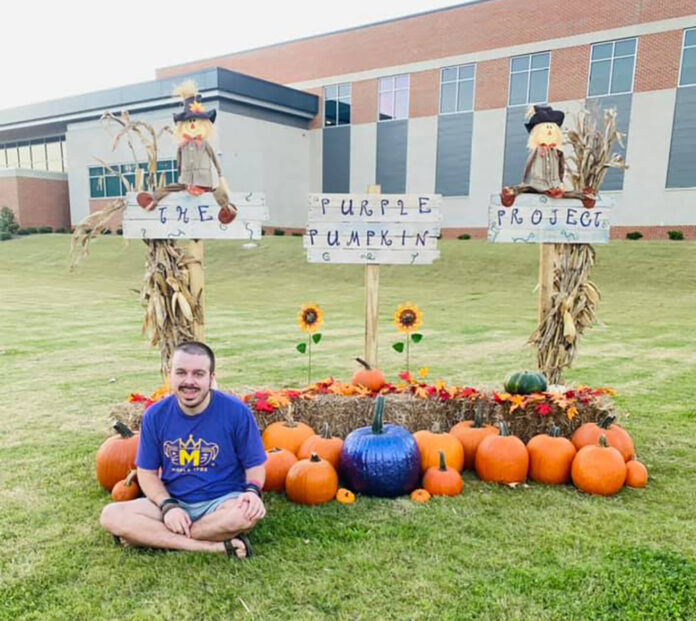 By Will Fairless
Associate Editor
with contribution from Luanne Helms
Have you spotted the Purple Pumpkin Project in front of the Opelika Police Department? Why is the pumpkin purple?
That purple pumpkin was an idea conceived by the family of #OtownJake (Jake Helms and his parents) when they saw the PPP contest being held by the Epilepsy Foundation of Alabama. Jake's project won first prize out of more than 30 submissions to the contest.
The PPP is a nationwide project that raises awareness for individuals living with epilepsy. Jake was diagnosed with epilepsy in 2012. He is one of more than 54,000 people who have epilepsy in the state of Alabama.
This Saturday, Nov. 7, at 4 p.m., there will be a Walk to End Epilepsy at the Lee County Courthouse Square. It is one of many walks being held across the country to raise awareness for epilepsy, from Los Angeles to New York City.
For more information about this walk, to join as a member of Jake's team or to donate, go to fb.me/e/5Dy8bUoLU.
One in 26 people has epilepsy. There are more than 40 different types of seizures, which happen when a brief, strong surge of electrical activity affects all or part of the brain. One in 10 adults will have a seizure at some point in their lifetime.
Seizures can last from a few seconds to a few minutes and can have many symptoms, from the more obvious (convulsions and loss of consciousness) to the less apparent (blank staring and lip picking). There is no cure for epilepsy.
Here are some things one should do when in the presence of someone having a seizure:
• Stay with the person and start timing the seizure
• Keep the person safe; move or guide him/her away from harmful objects
• Turn the person on his/her side if he/she is unconscious
• Keep calm and reassure others who are nearby
• Don't restrain the person having a seizure or otherwise restrict movement
• Loosen tight clothing and put something soft under his/her head
• Be friendly and reassuring as the seizure ends
For more information on seizure first aid, visit the Epilepsy Foundation of Alabama's website (www.epilepsyalabama.org).