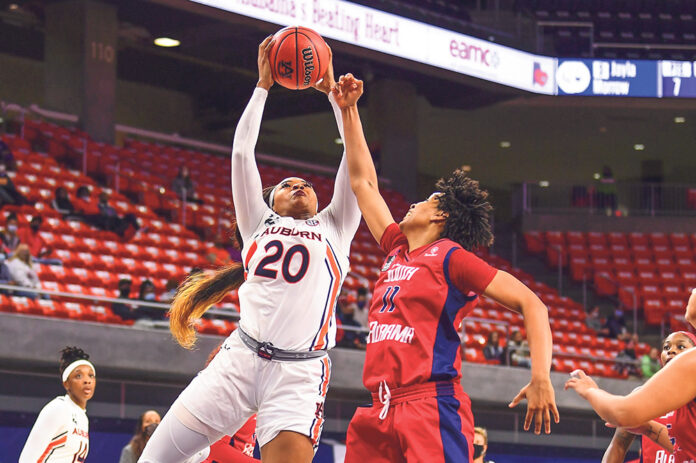 Contributed by
Wesley Todd, AU Athletics
A shorthanded Auburn women's basketball team fought its way back from an early double-digit deficit to earn a 74-66 win over South Alabama Sunday afternoon at Auburn Arena.
Led by 22 points and 15 rebounds from senior Unique Thompson, four players scored in double figures as the Tigers (4-1) trailed by as many as 12 and led by as many as 12 in a game that was truly a tale of two halves.
"We definitely had to stay composed," said Auburn Head Coach Terri Williams-Flournoy. "We had so many people playing different positions. We ended up having to play our walk-ons, who have been practicing extremely hard. When you drop down to only seven (scholarship) players, everybody's got to step up and everybody's got to be ready to play. And everybody's got to do something, whether it's making a shot, getting a defensive rebound, getting a stop — you have to be able to do something to help contribute to a win."
A flurry of 3-pointers to open the game gave South Alabama (3-2) an early lead, and a cold streak by the Tigers to open the second period pushed the Jaguars' lead to as many as 12 points at 24-12 with 6:04 to play in the half. But Auburn knocked down five straight 3-pointers in the final four minutes of the period to cut the halftime deficit to just six at 34-28.
"In the first half … we were second-guessing our shots," Williams-Flournoy said. "So we told them at halftime, 'Just catch and shoot the basketball.' They were not guarding us, and when you second-guess your shots, you're always going to miss."
With the Jaguars still holding the lead as the teams traded buckets the first six minutes of the second half, Auburn turned USA turnovers into points in a 9-0 run that spanned 82 seconds late in the quarter to take a 49-46 lead, its first since it was 2-0 to start the game. The Tigers would never trail again, pushing their lead to as many as 12 points with just over a minute to play.
Thompson's double-double was her fourth of the season and 46th of her career; she's totaled 48 points and 37 rebounds over her last two games. Sophomore Sania Wells added a career-high 11 points, knocking down three 3-pointers and a pair of free throws to go along with a pair of assists.
Sophomore Annie Hughes also poured in 11 points with a career-high three 3-pointers, and junior Kira Lowery added 10 points on the night. Freshman Romi Levy also had a strong performance with 8 points, seven rebounds, three assists and three steals.
Auburn missed its first 11 3-point attempts of the night but made eight of its final 11 to finish at 36%. Overall, Auburn was 23-of-65 (35%) from the field and had a strong night at the free-throw line, going 20-for-26 (77%). The Tigers out-rebounded the Jags 44-37 and turned 21 USA turnovers into 15 points. Meanwhile, the Jags hit their first five 3-point attempts of the night but went just 2-of-14 from long range the rest of the way.
All 10 players who dressed for the Tigers saw action. Redshirt junior Kiyae' White made her first appearance of the season, pulling down three rebounds in limited first-half minutes, and freshman walk-on Carsen McFadden logged nine minutes of playing time, scoring three points and sharing the team lead with three assists.
Antoinette Lewis led four USA players in double figures with 15 points and 10 rebounds. Mahogany Vaught and Devyn Lowe added 13 points apiece.
Auburn hosts back-to-back games versus Stephen F. Austin (Dec. 16) and North Florida (Dec. 17). Both games are 6 p.m. CT starts at Auburn Arena.