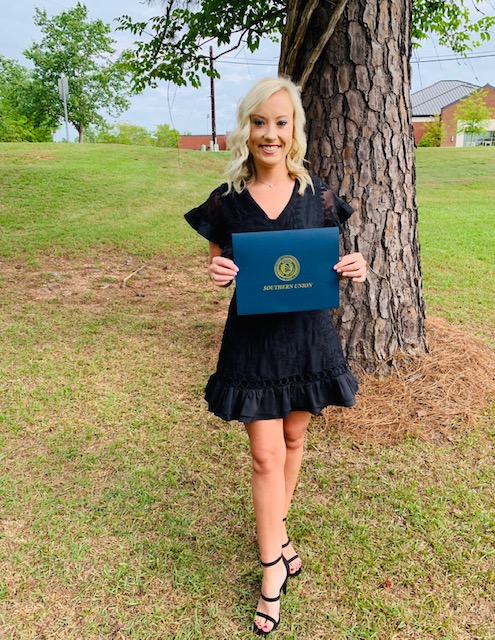 Special to the
Opelika Observer
Southern Union State Community College announced that Woodland native Gabby Gay has been awarded the Nan Gillenwaters Nursing Scholarship. The scholarship is awarded to a second- year nursing student who has displayed academic excellence as well as leadership in the college, community and church.
The scholarship was established in memory of Nan Sims Gillenwaters, a graduate of Southern Union's nursing program by family and friends. Gillenwaters was a nurse for 30- plus years working at Lanier Memorial Hospital in Lanett, Clark-Holder Cancer Center in LaGrange and East Alabama Medical Center in Opelika.
"Nan's attitude and dedication made her an outstanding nurse. She was well respected by doctors and patients alike," said Sam Edge, Gillenwaters' cousin. "She loved to give back to people, so we are so pleased to honor her memory by giving to these students in her name."
For more information about this or any other scholarship opportunity at Southern Union, call the financial aid office at 256-395-2211.
Radiologic
Technology program celebrates benchmark
The Health Sciences Division of Southern Union State Community College recently announced that the 2019 Radiologic Technology Graduating Class celebrated a 100% first attempt pass rate on American Registry of Radiologic Technologists (ARRT) National Registry Exam. The class had 21 graduates, and 11 have already accepted jobs as Registered Radiologic Technologists.
"We are so proud of this accomplishment. Our students work very hard, and this is a reflection of the dedication of our faculty, and the emphasis that is placed on producing well-trained, successful students," said Southern Union's Dean of Health Sciences Rhonda Davis.
Southern Union's Radiologic Technology Program prepares entry level radiographers with the knowledge and skills to competently and safely perform diagnostic radiologic imaging procedures fulfilling the needs of the medical community. Radiologic Technologists specialize in dozens of clinical areas including hospitals, urgent cares, and orthopedic clinics. Employers, state licensing agencies, and federal regulators look at the ARRT credential as an indication that a person has met a recognized national standard for medical imaging, interventional procedures, and radiation therapy professionals.
"We are very excited for this great group of students. Their success on the registry is a testament to the amount of time they devoted to studying and preparing for this milestone." said Program Chair Mary Catherine Herndon and Clinical Coordinator Buddy Glidewell.
Students are admitted into the Radiologic Technology Program each fall. Admission to the program is on a competitive basis. SU's Radiological Technology program is accredited by the Joint Review Committee on Education in Radiologic Technology (JRCERT) and was recently awarded the maximum eight years of accreditation.
For more information on the Radiologic Technology or other health sciences programs offered at Southern Union State Community College, please contact Alyson Skinner at 334-745-6437, ext. 5515.