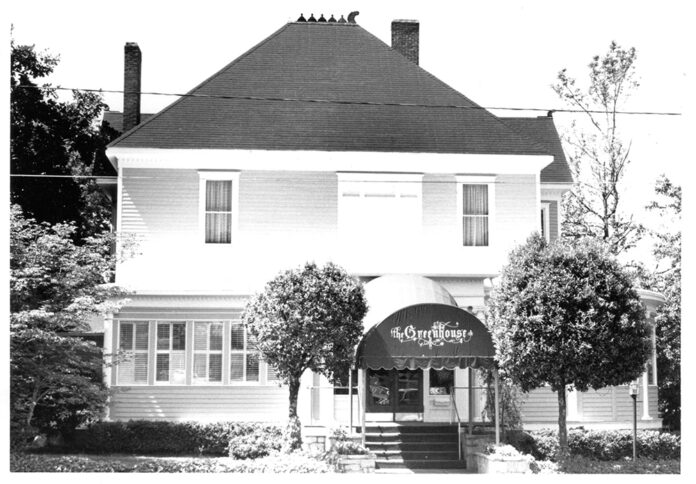 By Ann Cipperly
When The Greenhouse Restaurant opened in January 1979, it not only brought fine cuisine to the area but saved one of Opelika's Victorian houses, adding beauty to the corner of Second Avenue and Ninth Street. The restaurant quickly established itself as one of the best in the area, serving gourmet dishes in an elegant setting.
The land, originally owned by an Indian warrior, changed hands five times during the 19th century before it was purchased by Walter Cullars in 1902. The house that became The Greenhouse was built by Walter and his wife Kate around 1906.
After residing there almost two decades, the Cullars sold the house to Annie Bell Burkhead. She made minor structural changes, including the removal of walls to create the large front room. Upon her death, her daughter Eloise Burkhead Webb inherited the house. Then her son, Wendell B. Webb, inherited the house.
The current Greenhouse owners, Ursula Higgins, Florence Green and Burnie Brown, purchased the house from Webb in 1978. They selected this house because they wanted the restaurant to have a Victorian atmosphere. They restored the house, keeping structural changes to a minimum, saving the feeling of an older house.
The planning stage took a year. There were many problems to overcome, such as getting a liquor license and solving structural problems with the house. The owners subcontracted and did much of the work themselves. The bar was constructed from wood removed from the upstairs.
Ursula managed the food, making menus and working with a chef, while the other two owners assisted with day-to-day operations.
When the restaurant first opened, the menus were written in calligraphy and displayed on wicker fans. The lunch menu included chicken crepes, Ursula's famous chicken salad, spinach salad with an Oriental dressing, gumbo and a scrumptious dessert of meringue shells filled with coffee ice cream and topped with chocolate sauce and toasted almonds. Muffins were always popular.
Dinner featured upscale fare with prime rib, steaks and seafood for an elegant meal.
In 1983, the front porch was enclosed and a canopy installed, which enhanced the appearance while still preserving the flavor of an older house. Flower beds on the side of the house were filled with old fashioned blooms, while two trees flanking the canopy were lovely at night covered in tiny white lights.
The restaurant had four rooms for serving: the porch, the elegant large front room, the garden room with light, airy ambience and the governor's room, which was mainly used for private parties.
In 1983, the restaurant began serving Sunday brunch. The owners said they decided to offer brunch since it was becoming popular across the country. Many of their customers had requested that they open on Sunday.
Along with classic egg dishes, such as eggs benedict and omelets, they offered rib eye steaks, London broil steak, ham in pastry, seafood au gratin, crab crepes, chicken supreme and cheese blintzes. They also served soups and salads with muffins and cheese biscuits.
Special desserts for brunch featured "swan cream puffs on a chocolate lake," chocolate mousse, lemon and strawberry tarts and mocha torte, among others.
When the restaurant celebrated its 10th anniversary, Ursula began opening the porch at 4 p.m. for after-business get-togethers with friends before dinner or for a light meal. The lighter fare included French onion soup, chicken salad plate with fresh fruits, barbecue shrimp, burgers and other dishes.
Bob Richardson played the piano most of the time, and Ursula's daughter Kate, who was in the music department at Auburn University, also played the piano.
At this time, Ursula hired Stephanie Weaver, former pastry chef at the Windows on the World restaurant at the top of the World Trade Center in New York. Stephanie had also worked at two other famous restaurants.
In addition to the regular dessert menu, Stephanie provided a pastry cart laden with her specialty desserts. She also baked the bread and created appetizers with puff pastry, as well as new salads.
Ursula felt change was important. "If you don't keep coming up with new ideas," she said. "You lose your customer base. You have to change." She changed the menu to be half seafood.
After being open for 13 years, Ursula adapted the menu to suit popular trends, but some of her creations remained on the menu. Those remaining included seafood gumbo, chicken salad, fresh seafood dishes, muffins and meringue desserts.
The restaurant received awards annually from Holiday Travel and was one of only two restaurants in the state to receive this award.
Ursula continued to oversee the kitchen and change the menu weekly for lunch and dinner. She was also busy with the restaurant catering special events.
She remembers they only closed once on Saturday night to the public for a wedding reception. The restaurant could seat over a hundred.
While Ursula enjoyed the restaurant business, in 1991 a recession hit the Opelika-Auburn area. Diversified Products and Master Lock closed, and then soon afterward Ampex followed. Employees of those businesses frequently dined at the restaurant with vendors and customers.
When business began to go down, they decided to close the restaurant after 14 years. Many people in Opelika were saddened to see the elegant restaurant close.
Ursula built a kitchen on the back of her house in Auburn and began catering full time. Several years later, she took over The Café at the Jule Collins Smith Museum of Fine Art in Auburn. Ursula ran the Café and all of the catering at the museum.
She served the same popular chicken salad recipe that had been served at The Greenhouse with the addition of sweet pickle. Although the menu changed weekly, the chicken salad was always on the menu.
When Ursula was 79 years old, she sold her catering business to Jenni Sneed, but she did not retire from cooking. She renovated her kitchen to include a large island and returned to her first love of teaching cooking classes. She has been teaching classes for the OLLI program at Auburn University and giving private lessons, as well as entertaining frequently.
Now, at 86 years of age, she is waiting for COVID-19 to end so she can continue her cooking classes.
While Ursula is well known for her expertise in good cooking, she did not become interested in cooking until her late 20s when she was living in New York.
Ursula was born in Baltimore, Maryland, and lived in numerous places around the country. Since her parents traveled so much, they lived in hotels and apartments for six months at a time and mostly dined out. Ursula had no interest in learning how to cook.
She spent her high school, college and graduate school years in Virginia.
When Ursula was living in Manhattan, she became interested in entertaining and began cooking. Later, she became interested in baking as well and worked for a year to perfect French bread and rolls.
After she married and was living in Athens, Georgia, she purchased a special flour in 25 lb. bags at a small gourmet shop. When the shop changed owners and no longer offered the flour, it put her out of the French roll business.
While in Athens, she began catering with a friend and was teaching cooking classes. When Ursula and her husband moved to Chicago, she continued cooking classes and catered for friends.
They moved to Auburn in 1976. Ursula became the hostess at First Baptist Church of Auburn, where she prepared Wednesday night supper for 200 to 300 people. She had never prepared casseroles, so she was serving entrees such as chicken cacciatore and seafood dishes.
She received good feedback and became part of a group of 10 that decided to open a restaurant. Ursula was in the process of opening The Greenhouse restaurant when she and her husband divorced.
"At The Greenhouse you could get a dinner entrée for $12 and people thought that was expensive," Ursula said. "We played classical music in the background. Now when I go out to eat and think back to The Greenhouse, I remember that you could sit at a table and actually hear each other talk. Nothing else really came along that replaced it."
If you missed the delicious dishes served at The Greenhouse, look over the selection of Ursula's recipes served at the beloved restaurant. The house is currently a business owned by the Alsobrook family.
Ann Cipperly can be reached at recipes@cipperly.com.
The Greenhouse Restaurant's Famous Chicken Salad
Ursula now bakes chicken tenders rather than boiling chicken breasts for making this famous salad.
2 ½ lb. chicken tenders
1/4 cup chopped green onions
1 cup diced celery
1 tsp. tarragon
1½ tsp. salt
1 cup Hellman's mayonnaise
Bake chicken tenders in a 350 oven for about 20 minutes or until done. Cool and then chop. Add remaining ingredients. Makes about 3 lb. salad. Serve on lettuce with fresh fruits.
Southwestern Grilled Chicken with Salsa
Chicken breasts, boneless, skinless
Oil
Southwestern Seasoning, recipe follows
Salsa, recipe follows
Toasted pine nuts, optional
Chopped green onions, optional
Place desired number of chicken breasts between two sheets of foil and pound to even thickness. Dip chicken in oil and then in seasoning mixture. Grill over outdoor or stovetop grill until done.
Garnish with a scoop of salsa and top with pine nuts and chopped green onions.
Southwestern Seasonings mix:
¾ cup salt
2 Tbsp. chili powder
2½ Tbsp. cumin
1½ Tbsp. dried orange peel
1½ Tbsp. black pepper
1 Tbsp. paprika
2 Tbsp. onion powder
2 Tbsp. garlic powder
3 Tbsp. Chinese five spice
Mix all ingredients together in a blender. Store in airtight container.
Fresh Salsa:
4 fresh tomatoes, peeled, seeded and diced into ½-inch pieces
1 red onion, chopped
2 (or less to taste) jalapeno chilies, chopped
½ cup cilantro, chopped
½ tsp. salt
4 Tbsp. fresh lime juice
1 Tbsp. olive oil
Combine all ingredients except olive oil. Let ingredients sit one hour and then drain. Add olive oil and serve.
Nutty Gingerbread Muffins
½ cup oil
½ cup sugar
½ cup molasses
2 eggs
Combine in mixer and beat well.
½ cup buttermilk
1 tsp. baking soda
Dissolve and add alternately with flour and spices and nuts to molasses mixture.
2 cups all-purpose flour
2 tsp. ginger
½ tsp. nutmeg
½ tsp. cinnamon
½ cup chopped nuts
Combine ingredients and add alternately with buttermilk to molasses mixture.
Fill paper lined muffin cuts 2/3 full. Bake in 350 oven for 20 minutes or until done.
Oriental Salad
Fresh spinach
Romaine lettuce
Mandarin orange sections, drained
Fresh bean sprouts
Sliced fresh mushrooms
Green onions, chopped
Tear washed and dried spinach and romaine lettuce into pieces. Mix with remaining ingredients. Pour on salad dressing to taste and garnish with salted sunflower seeds, if desired.
Dressings:
½ cup oil
½ tsp. minced garlic
2 Tbsp. white vinegar
1½ Tbsp. soy sauce
Juice of ½ lime
1 Tbsp. honey
1 tsp. prepared mustard
Combine ingredients; blend well.
Blue Cheese Potatoes Au Gratin
3 oz. blue cheese
¼ cup sour cream
¼ cup whipping cream
6 baking potatoes (about 3 lbs.), peeled and thinly sliced
3 cups milk, divided
Salt and pepper to taste
Butter a 3-quart flat baking dish. Overlap a third of the potatoes and sprinkle with salt and pepper.
In a food processor, puree blue cheese, sour cream and whipping cream. Pour half of mixture over potatoes.
Layer another third of the potatoes, sprinkle salt and pepper over potatoes and cover with remaining blue cheese mixture.
Cover with remaining third of potatoes and season with salt and pepper.
Pour 2 ½ cups of milk over all. Bake one hour at 350 degrees on center rack of oven.
Pour remaining ½ cup over all and continue baking until top is golden brown, about 30 minutes.
Let sit 15 minutes before serving.
Grilled Fish with Mango-Chili Salsa
Firm flesh fish such as grouper or amberjack
Marinade:
1 cup pineapple juice
1 cup orange juice
½ cup lime juice
3 Tbsp. soy sauce
2 Tbsp. Chinese 5 spice
¼ cup red wine
2 jalapeno chilies seeded and diced
1 Tbsp. fresh cilantro
3 Tbsp. crackled black pepper
1 Tbsp. dried basil
¼ cup olive oil
Mango-Chili Salsa:
4 mangos, peeled and diced
1 cup fresh mint leaves, blanched in boiling water 1 minute, drained, cool, squeezed dry and finely chopped
¼ cup fresh lime juice
1 tsp. salt
1 tsp. freshly ground black pepper
1 medium red onion, diced
2 fresh green jalapeno chili, seeded and minced
¼ cup peanut oil
2 Tbsp. water
Mix marinade ingredients together. Marinate fish for 30 minutes to overnight.
Grill on gas or charcoal grill over medium coals until golden brown. Serve with Mango Chili Salsa.
To make salsa, mix mangoes, mint leaves, lime juice, salt and pepper in bowl.
Mix onion, chilies, peanut oil and water. Cook covered over very low heat until onion is transparent, about 10 minutes. Do not brown.
Cool and add mangoes. Let marinade one hour before serving.
Crab Crepes Almandine
1 lb. crab meat
2 Tbsp. lemon juice
Spring lemon juice on crab; set aside/
½ lb. mushrooms
1 bunch green onions, chopped
4 Tbsp. butter
Sauté mushrooms and onions in butter. Set aside while making white sauce.
2 cups white sauce (your own recipe or recipe below)*
Heat white sauce and add:
2 oz. Monterey Jack cheese, shredded (stir until melted)
1 cup whipping cream, whipped
Fold whipped cream into white sauce.
1 Tbsp. brandy
Cayenne pepper to taste
Fold in brandy and pepper into sauce; set aside.
Crepes
Parmesan cheese
Toasted almonds
Combine crab, mushrooms and onions and half of the sauce. Salt and pepper to taste.
Fill crepes with crab mixture. Place seam side down in greased baking dish. Top with remaining sauce. Sprinkle Parmesan cheese over top.
Heat in 350 oven until warm, about 15 to 20 minutes. Top with toasted almonds.
*White Sauce:
In a saucepan, melt 4 Tbsp. butter and stir in 4 Tbsp. all-purpose flour, ½ tsp. salt and ¼ tsp. pepper. Cook, stirring until well blended.
Gradually stir in 2 cups milk. Heat to boiling, stirring constantly. Bring to boil and stir minute.
The Greenhouse's Strawberry Cake
1 cup butter, room temperature
2 cups sugar
4 egg yolks
3 cups sifted all-purpose flour
1 tsp. salt
2 ½ tsp. baking powder
1 cup milk
1 tsp. vanilla
½ tsp. almond extract
4 egg whites
Cream butter and sugar until light and fluffy. Add egg yolks one at a time, beating well after each addition.
Combine flour, salt and baking powder. Add to mixture alternately with milk, vanilla and almond extract, beginning and ending with flour.
Beat egg whites until stiff. Fold into the cake mixture. Pour mixture into two buttered and floured 9-inch or 10-inch cake pans. Bake at 350 degrees for 35 minutes or until cake tests done.
Remove from pans. Cover and cool layers overnight. Split the two layers in half to make four layers.
Cream Filling:
1 and a half qts. whipping cream
½ half cup confectioner's sugar
1 tsp. vanilla
2 pints strawberries, reserve 8 for decorations on cake
Beat cream, sugar and vanilla until stiff. Slice strawberries .
Layer whipped cream and strawberries between layers. Frost cake with whipped cream, making a pretty border on top and around bottom.
Fan out the 8 reserved sliced strawberries and place around top of cake. Store cake in refrigerator until ready to serve.
Creamy Sausage Soup
2 lbs. hot pork sausage, crumbled
1 yellow onion, chopped
4 celery ribs, chopped
4 Tbsp. olive oil
2 qts. chicken broth
4 baking potatoes, peeled and diced into 1-inch cubes
1 qt. whipping cream
Salt and pepper to taste
Chopped green onions for garnish
Sauté sausage until brown; drain. Sauté oil and celery in olive oil until transparent.
Add chicken broth and potatoes to onion mixture. Simmer until potatoes are fork tender.
Mash potatoes coarsely. Add drained sausage and whipping cream. Simmer for 10 minutes. Salt and pepper to taste. Garnish with green onions.
Cranberry Muffins
2 cups Bisquick
1/3 cup sugar
1 egg
¾ cup milk
2 Tbsp. oil or melted butter
1 small can whole cranberry sauce
Combine Bisquick, sugar, egg, milk and oil. Mix until all is dampened. Break up cranberry sauce and fold into mixture.
Fill greased muffin cups 2/3 full. Bake at 425 for 20 to 25 minutes.