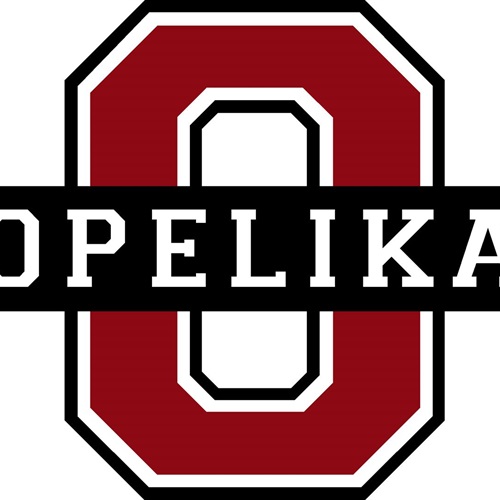 By D. Mark Mitchell
The Opelika High School football team opens the 2019 season on Thursday at Bulldog Stadium against Callaway of LaGrange (1-0). The 7 p.m. kickoff is the first of six home games for the Bulldogs. Although this is OHS's first game, Callaway opened their season last Friday with a 48-7 win over Starr's Mill High school.
Opelika held a scrimmage last Friday and went through pre-game ceremonies like it was a real game.
Erik Speakman (7-5 overall) begins his second season as head coach. Appearing on the "On the Mark" radio show last Friday, he discussed the team's first game.
"The kids are ready to play against someone. Brody Davis will start at quarterback with Malik Finley and Jackson Baites backing him up. Five players, JD Tolbert, Nate Evans, Erik Watts, Jarrell Stinson and Kani Kellum will rotate at running back. The defense and offense is set with the exception of who will rotate as substitutes," Speakman said.
Callaway has two players committed to play for Auburn University, offensive tackle and running back Tank Bigsby. The Cavaliers lost several players from last year's team that beat Opelika in the opening game.
Tickets are $8 each and can be purchased at Bubba's Medicine Shop and Victory Designs. You can listen to Opelika v. Callaway on WKKR 97.7 Kicker FM beginning at 6:30 p.m.
OHS VOLLEYBALL
Opelika High School's volleyball team (junior varsity and varsity) opens the season at Auburn on Aug. 22 at 4:30 p.m. The junior varsity and varsity teams will compete in the tri-meet against Auburn. Robin Roberts, in her third year as head coach, returns six players off of last year's team that won the area's regular season title and tournament championship.
Following is a roster:
Sophomores – Sydney Lowe and Emma McSpadden
Juniors- Meridith Cook, La'Dajah Hughley and Sara Stuckey
Seniors – Gabby Canady, Mia Counts, Kayla Fourtenbary, Readen Gagliano, Molly Randolph and Claire Worth.
The Lady Bulldogs play 12 matches including two tri-meets and one tournament prior to the area tournament on Oct. 21. They travel to Smiths Station to open the season on Aug. 27 and their first home match will be Sept. 5 against Handley.
MAINSTREET GYM
The newly renovated Mainstreet Gym opened last week after several months of work. The OHS volleyball team practiced on the new wood floor, which is now home to two other sports, wrestling and basketball. The Sports Arena will be used for basketball and wrestling practice.
OHS Principal Dr. Farrell Seymore confirmed the news, explaining that the Mainstreet Gym will be used for pep rallies and other events where the student body needs to be housed.
NFHS FOOTBALL RULE CHANGES 2019
The National Federation of High School made a few rule changes beginning in 2019 and beyond. Seven revisions were recommended by the NFHS rules committee.
In an effort to establish more consistent time between downs in high school football, the play clock will start at 40 seconds instead of 25 seconds in many cases during the 2019 season.
The play clock will start at 25 seconds (a) prior to a point-after try following a score, (b) to start a period or overtime period, (c) following an inadvertent whistle, (d) following a charged timeout, (e) following an official time-out and (f) following the stoppage of the play clock by the referee any other reason. In all other cases, 40 seconds will be placed on the play clock and start when the ball is dead by game official.
The NFHS approved all states using instant replay by use of monitor for post-season contests only. The Alabama High School Athletic Association continues in year two of a three year experiment with instant replay, which can be used in the regular season and playoffs.
Two changes were approved in an effort to reduce risk of injury in high school football. First, tripping is now prohibited. A flag will be thrown is a player uses his lower leg or foot to obstruct a runner below the knees.
The horse collar foul was expanded to include the name-plate area, which is directly below the back collar and pulling a player to the ground is now an illegal personal contact foul.
D. Mark Mitchell is sports director for iHeart Media, Alabama Dixie Boys State Director and vice president of the A-O Sports Council.