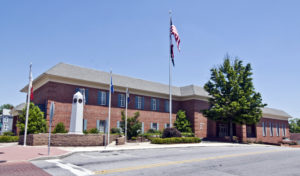 By Michelle Key
Publisher
The Opelika City Council approved a resolution to waive all building and construction permit fees for houses being constructed by the Fuller Center for Housing during last week's council meeting.
The Fuller Center for Housing is a nonprofit organization that seeks to eradicate poverty housing by promoting partnerships with individuals and community groups to build and rehabilitate homes for people in need.
Mayor Gary Fuller also recognized student employees that participated in the city's YES program this summer. A celebration was held on Aug. 2 to honor the students and to present them with backpacks filled with school supplies and more.
In other business, the council:
• approved a street closure request by First Baptist Church for Aug. 14
• approved a street closure request for a United Way event on Aug. 16
• approved a request from B and B Bartending for a special events alcohol retail license
• approved a request from 280 Marathon for a retail wine & beer off premise license
• held public hearings and voted to approve weed abatement assessments for the following locations:
• 411 S. 4th St.
• 504 S. 4th St
• approved a bid for the Anand Street Improvements and Extension for $356,980
• approved a resolution pertaining to expense reports from various departments
• approved a resolution to designate city personal property as surplus and authorized disposal of said property
• approved a resolution for the purchase of cameras for new Opelika Police Department from Vision Security Technologies not to exceed $113,934.91
• approved a refund of building permit fees
• approved the Community Development Block Grant (CDBG) PY2019 Action Plan. The CDBG PY2019 allocation from HUD will be $255,632. This is a 1% reduction from FY2018. There are no new activities proposed and this is the final program year of the Community Development 5-year consolidated plan
• approved a three-year contract extension with Advance Disposal Services Alabama LLC
• approved an agreement pertaining to thesettlement of the David M. Forker charitable remainder Unitrust which will make a final distribution of monies to the city of Opelika. That the monies received by the city from the trust distribution shall be used exclusively for the operation and maintenance of the Opelika Wood Duck Heritage Preserve and Siddique Nature Park
• approved a special appropriation to the Opelika Learning Center to assist in covering the expenses for their positive behavior "Dog Pound Program" for their students for $5,000
• approved a resolution to authorize a higher salary for the Municipal Court Clerk position in the amount of no more than $55,000 which is within the allowable range of pay for this position
• approved City Ordinance 018-19 to amend zoning Ordinance and map to rezone 47.3 acres located in the 1300 block of Fox Run Parkway. This property will be zoned as a planned unit development with a planned construction of nearly 350 units
• approved the mayor's request to reappoint Margaret Mayfield to the Historic Preservation Commission for an additional four-year term
• approved the mayor's request to reappoint Mark Grantham to the Historic Preservation Commission for an additional four-year term.
Before the meeting was adjourned, the mayor reminded everyone that the 'Character Trait' for the month of August is 'Committment.' The City of Opelika became an official "City of Character" on April 3, 2007. The Opelika Character Council is a team of concerned citizens with a commitment of promoting monthly character traits throughout the schools and the city of Opelika.
City council meetings are held on the first and third Tuesday nights of every month with meetings starting at 7 p.m. Meetings including the work session meetings are open to the public and agendas and minutes of the meetings can be found on the city's website www. opelika-al.gov.
The next scheduled city council meeting will be held on Aug. 20. Meetings are held at City Hall, which is located at 204 S. 7th St.