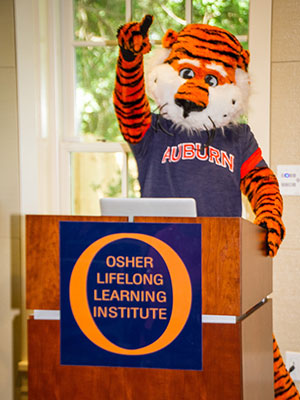 Special to the
Opelika Observer
The Osher Lifelong Learning Institute at Auburn University (OLLI at Auburn) will host its Fall Term 2018 General Membership Meeting on Sept. 18 from 9 a.m. to noon (information fair 9 a.m. to 9:45 a.m.) at the Auburn Church of Christ, located at 712 S. College St. in Auburn. OLLI members, guests and friends are all invited to learn more about OLLI at Auburn course offerings, social engagements and initiatives.
Auburn University President Dr. Steven Leath will bring greetings during this OLLI at Auburn General Membership meeting prior to our special presentation by William Johnson entitled "The Helen Keller You Never Saw." Bill Johnson is a native of Montgomery, Alabama, graduated from Lanier High School, started college at Georgia Tech, and eventually graduated from the University of Alabama. Four years later, he returned to law school at the University of Alabama where he met Inge Prytz, who was completing a master's degree in Comparative Law. After graduation, they married in Denmark, lived in Copenhagen, returned to Tuscaloosa and finally settled in Tuscumbia in 1973.
Since old lawyers never die—just lose their appeal—Bill is tapering off his practice before all is lost. Inge is a retired state and federal juwdge. Their daughter and her family live in Florence; both sons are lawyers in Birmingham with their families.
Bill's grandmother, Mildred Keller Tyson, was Helen Keller's younger sister who is depicted briefly as an infant in "The Miracle Worker." Helen Keller frequently visited "Sister Mildred" in Montgomery until shortly before her death in 1968. Therefore, from childhood onward Bill saw her in Montgomery, in Tuscumbia, and at her home in Connecticut. Although there are dozens of books about and by Helen Keller, Bill has a personal perspective of Helen Keller's lifetime and her legacy, "The Helen Keller You Never Saw."
The general membership meeting and information fair will highlight membership benefits, programming and registration information to individuals interested in membership as well as engagement for current members. Additionally, several organizations, clubs, and programs will be available to offer vital information on the resources and services offered throughout the community and the Auburn University campus.
OLLI at Auburn offers academic not for credit programs for adults aged 50 years or older through program sites at Auburn University, AUM in Montgomery, Alabama, and the Chambers County Public Library in Valley, Alabama.
OLLI at Auburn is a program of the Office of the Vice President for University Outreach at Auburn University. OLLI administrative offices and select classes are located at the historic Sunny Slope property at 1031 S. College St. in Auburn.
For more information regarding this event or if you would like to assist the organization as a volunteer faculty member, volunteer service assistant, or sponsor, contact Ileeia A. Cobb, Ph.D., OLLI Director, by calling 334-844-3105, emailing olli@auburn.edu, or visit www.olliatauburn.org.