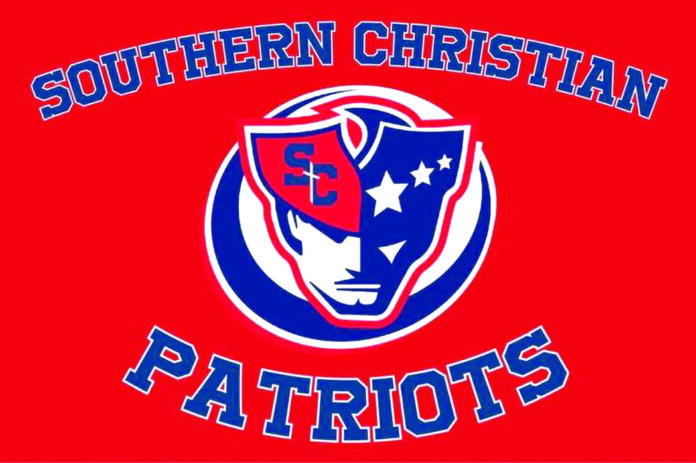 BY WIL CREWS
SPORTSCREWS@OPELIKAOBSERVER.COM
LEE COUNTY —
The Southern Christian Patriots were galvanized last Friday night as the feeling of two straight losses had left a sour taste in their mouths.
"Defeat has a way of motivating," said Jason Scott, head coach of the Southern Christian Patriots.
Facing the Evangel Christian Academy Lions (Montgomery), the Patriots used all of the weapons in their repertoire to defeat the Lions, 48-14.
The Patriots jumped on their opponent from the game's start, outscoring the Lions 27-8 in the first half. A 14-0 third quarter in favor of SCA practically put the game out of reach, and the two teams traded scores in the final period to conclude the contest.
In total, Southern Christian ran 65 plays on its way to 24 first downs, holding its opponent to 50 plays and just 18 first downs. The Patriots also played a clean game, amassing just six penalties for 22 yards, compared to Evangel's 11 penalties for 49 yards.
Junior do-it-all player Josiah Frick once again led the Patriots on offense. Completing four of his eight passing attempts, Frick threw for 108 yards, two touchdowns. Freshman Jackson Dooley was the hottest Patriot quarterback on the night, however, completing seven of his eight passes for 56 yards and two touchdowns. When Dooley was in the game as quarterback, it was often Frick who lined up next to him in the backfield. Frick finished the night with 12 carries for an additional 48 yards. Freshman Jagger Scott scored the Patriots' lone rushing touchdown of the night, and led the team on defense with 13 tackles.
The Patriots pass catcher saw much success on the night. In total, six different players caught a pass. No one was more involved than freshman Elijah Bailey, however. The wideout caught 11 passes for 46 yards and one touchdown; he also finished second on the team with 11 tackles. The second leading receiver was Jagger, who hauled in three passes for 70 yards and one touchdown. Frick and sophomore Auron Tanguma caught the other two passing TD's.
The Patriots racked up 278 all-purpose yards on the night in what was definitively one of their best offensive performances of the season. The defense was not to be outdone, however, as the Patriots' defensive line wreaked havoc on the Lions, forcing and recovering four fumbles.
With the program now in its third year, the win means more than usual for SCA, as it set a program-high record for total wins in a season. The Patriots are 2-3 and turn their focus to the next matchup, an away, region game against the undefeated Evangel Christian Lightning (Alabaster) on Friday, Oct. 14.