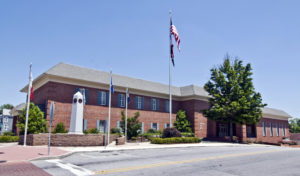 Special to the Opelika Observer
Twenty-one local governments have passed resolutions expressing their support for legislation calling for uniform child care licensing and inspection standards for all child care facilities in Alabama.
Currently, nearly half of all child care centers in Alabama are operating exempt of the Alabama Department of Human Resources (DHR) licensing.  The Alabama Legislature authorizes DHR to oversee health and safety checks for child care programs operating in the state. Yet Alabama remains one of seven states that allows broad based exemptions from child care licensing and inspections, leaving the state's most vulnerable population of young children unprotected. Local governments from around the state are urging lawmakers to pass legislation to ensure clear, consistent licensing standards.
The Alabama League of Municipalities applauds its members around Alabama that have adopted resolutions in support of licensing and inspection for all child care centers.
"As a local leader, protecting the public is a part of my job that I take very seriously and what better population to protect than our precious children," said Gary Fuller, mayor of Opelika.  We have centers caring for children every day without any regulatory oversight. I see firsthand the needs of families in my city and their children deserve to spend time in quality, safe care while they are away from their parents."
The complete list of municipalities in Alabama that support uniform regulation and inspection for all child care providers are: Mobile, Gadsden, Jasper, Winfield, Pell City, Boaz, Foley, Tarrant, Grove Hill, Opelika, Lineville, Athens, Sylvania, Collinsville, Clanton, Center Point, Level Plains, Daleville, Ozark, Southside, and Jacksonville.
VOICES for Alabama's Children, the state's longest standing child advocacy organization, is leading the push for uniform licensing and inspection by DHR for all child care programs operating in the state of Alabama.
"Licensing and inspection is about minimizing unsafe and harmful care to children being served in child care businesses," said Melanie Bridgeforth, Executive Director, VOICES for Alabama's Children. "We would never imagine our loved ones being cared for in a hospital or nursing home that is not regulated and inspected. Yet we not only imagine it, we maintain a system that operates this way for young children who are unable to speak and fend for themselves."
According to the 2017 Alabama Kids Count Data Book, the number of licensed child care centers in Alabama has seen a rapid decline, shrinking from 4,269 in 2000 to 1,743 in 2017.  During the same time period, the number of uninspected centers has risen more than 50 percent, from 628 to 956. If left unchecked, using actual data through 2016, it is estimated that by 2025, license-exempt centers could make up 70 percent of child care in Alabama.
"I believe we should take the responsible approach when it comes to protecting our kids," said Mayor Fuller.  "For the health and safety of all children, consistent standards for child care businesses are just common sense."