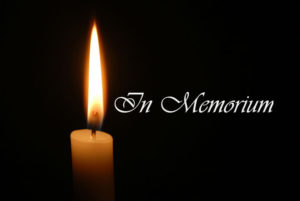 Sue Y. Godwin
Mrs. Sue Y. Godwin, 92, passed Oct. 18, 2019 at Bethany House Hospice in Auburn. The family received friends and family Oct. 21 , 5 to 7 p.m. at the Jeffcoat-Trant Funeral Home in Opelika. Her funeral service will be Nov. 2 in her hometown of Dunnellon Florida, followed by internment at the Fellowship Baptist Church Cemetery in Fellowship Florida.
Mrs. Godwin was born to William David Young and Annie Estelle Folks of Romeo, Florida on Dec. 13, 1926 and is the youngest of 9 children. She graduated from Dunnellon High School and attended Florida State College for Women for 2 years. Later she studied teaching at East Tennessee State College and received a degree. In 1946, Sue married Marvin E. Godwin of Pensacola, Florida. She has been a member of the First Baptist Church of Opelika since 1981, which is when she and Marvin moved to Opelika, due to his appointment as store manager of the old Walmart on Columbus Parkway.
Sue loved spending time with family, her church community, teaching Sunday school, playing chicken-scratch, eating lunch with friends, taking trips, family reunions, telling stories of her childhood and spending time talking with her good friends Casandra, Priscilla, Joyce and Suzanne. She lived in 14 different cities across the U.S. as Marvin's career progressed managing McCroys "five and dime" stores. She retired about 15 years ago from Auburn University where she worked in the Bursar's Office.
Sue Godwin is survived by her three sons and their wives: Allen and Jody Godwin of Brenham, Texas, Robert and Elizabeth Godwin of Kansas City Missouri, and Kenneth and Susan Godwin of Powell, Tennessee; 8 grand children: Samuel Godwin, James Godwin, Daniel Godwin, Casey Godwin, Andrew Godwin, Josiah Godwin, Jessica Godwin Ford, Abigail Godwin, Casandra Thomas; 11 great grand children;and her sister Frances Young Ulm. She was proceeded in death by her parents, husband Marvin E Godwin, sisters Virginia Young Pedrick, Alma Young Tubbs, Esther Young Preston, Melvene Young Johnson, Wilma Young Combs, Annie Rae Young Edison, and Janet Young Knapp, and a great grandson Abel Ford.
The family requests that in lieu of flowers, donations be made to the First Baptist Church of Opelika.