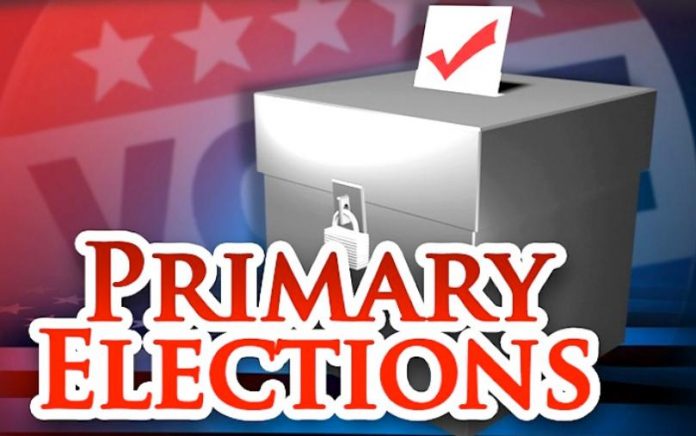 By Morgan Bryce
Associate Editor
Opelika native Mallory Hagan soundly defeated opponent Dr. Adia Winfrey in the race for the U.S. 3rd Congressional District Seat in the Lee County primaries last night.
Jeremy Gray and Todd Rauch made their names known in their respective races with solid results for both of them.
Richard LaGrand also placed well in his race for the Lee County Commission District 5 seat. However, none of the three candidates garnered enough votes to win outright. All three of these candidates will face a run-off on July 17.
Gray, a Democratic candidate in House District 83, received enough votes to surge ahead of Patsy Jones in Lee County but not enough in Russell County for the victory. Gray and Jones will face each other in the run-off next month.
Rauch was one of three Republican candidates vying to become the next state representative for Alabama's 38th District. He earned 51.14 percent of the vote in Lee County to top Bryan Murphy and Debbie Wood but will face Wood in the run-off.
LaGrand developed an easy lead in the Lee County Commission's District 5 race, coming in ahead of Kami Billingslea, Elizabeth Burton and Bishop A.L. Dowdell with 43.39 percent of the total vote but he and Dowdell will go head-to-head in the run-off.
At press time gubernatorial Democratic candidate Walt Maddox recieved the nomination and will face incumbent Republican Kay Ivey in the general election in November.
Following is a list of results for Lee County that were available as of 11 p.m. last night, broken down by party and office:
Governor
Democrat
Walt Maddox 45.75%
Sue Bell Cobb 37.83%
James C. Field Jr. 6.59%
Anthony White 3.73%
Doug 'New Blue' Smith 3.49%
Christopher A. Countryman 2.58%
Republican:
Kay Ivey 66.16%
Tommy Battle 18.71%
Scott Dawson 12.01%
Bill Hightower 2.38%
Michael McAllister .71%
Lieutenant Governor
Republican
Twinkle Andreass Cavanaugh 45.66%
Will Ainsworth 32.34%
Rusty Glover 21.98%
Attorney General:
Democrat
Chris Christie – 46.44%
Joseph Siegelman – 53.55%
Republican
Troy King 26.88%
Steve Marshall 26.26%
Alice Martin 23.54%
Chess Bedsloe 23.29%
State Representative District 38
Todd Rauch 51.14%
Debbie Hamby Wood 35.12%
Bryan Murphy 13.72%
State Representative District 82
Pebblin Walker Warren 50.62%
Johnny Ford – 29.92%
Terrence K. Johnson – 19.44%
State Representive District 83
Jeremy Gray 49.28%
Patsy Jones 29.8%
John Andrew Harris 19.39%
Ronnie Reed 1.51%
Republican Public Service Commission Place No. 1
Jim Bonner 57.47%
Jeremy H. Oden 42.52%
Republican Public Service Commission Place No. 2
Chris Beeker Jr. 66.34%
Robin Litaker 33.65%
State Board of Education District No 2
Tracie West 60.03%
John Taylor 20.42%
Melanie Hill 15.42%
Sybil Little 4.11%
Commissioner of Agriculture and Industries
Gerald Dial 47.36%
Rick Pate 32.08%
Cecil Murphy 11.59%
Tracy Crane 8.59%
Secretary of State:
Democrat
Heather Milam 65.45%
Lula Albert 34.54%
Republican
John H. Merrill 67.9%
Michael Johnson 32.09%
State Treasurer
Republican
John McMillen 61.24%
David L. Black 19.98%
Stephen D. Evans 18.77%
State Auditor
Republican
Jim Zeigler 56.47%
Stan Cooke 30.21%
Elliot Lipinsky 13.30%
State Democratic Executive Committee (Female)
Jasponica Florence 73.48%
Judy T. LaRue 26.51%
State Senator District 13
Republican
Randy Price 71.91%
Mike Sparks 18.30%
Tim Sprayberry 9.77%
Chief Justice Supreme Court
Republican
Tom Parker 62.47%
Lyn Stuart 37.52%
Associate Justice of the Supreme Court, Place No. 1
Republican
Brad Mendheim 44%
Debra Jones 34.94%
Sarah Hicks Stewart 21.04%
Associate Justice of the Supreme Court, Place No. 4
Republican
Jay Mitchell 76.45%
John Bahakel 23.54%
Court of Civil Appeals Judge, Place No. 1
Republican
Christy Olinger Edwards 42.44%
Michelle Manley Thomason 33.45%
Pat Thetford 24.10%
Court of Civil Appeals, Place No. 2
Chad Hanson 53.29%
Terri Willingham Thomas 46.70%
Court of Criminal Appeals Judge Place No. 1
Republican
Richard Minor 67.14%
Riggs Walker 32.85%
Court of Criminal Appeals Judge Place No. 2
Republican
Chris McCool 41.16%
Rich Anderson 37.9%
Dennis O'Dell 20.9%
Court of Criminal Appeals Judge Place No. 3
Republican
Bill Cole 60.79%
Donna Beaulieu 39.20%
Lee County Commission – District 5
Richard LaGrand Sr 43.39%
Bishop Arthur L. Dowdell Sr., 28.87%
Elizabeth Burton 20.03%
Kami Billingslea 7.69%
Lee County Coroner
Bill Harris 68.77%
Wes Goodson 31.22%
For additional results, visit sos.alabama.gov.