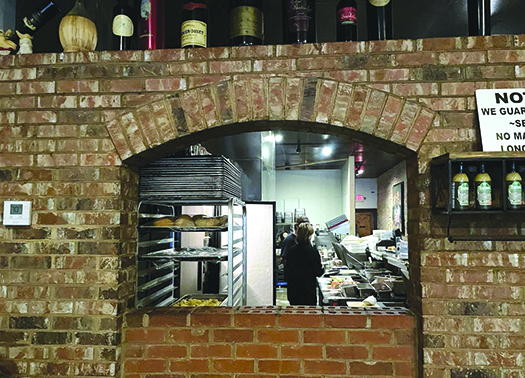 Amelia has been my dear friend since we started Avondale kindergarten together in Alexander City ("Eleck" City to the locals) back in September of 1968. She turned the big 6-0 this past Nov. 3. Amelia is one month and 16 days older than I am; this fact has brought me much joy over the years. However, Leigh Ann, our mutual dear friend, doesn't celebrate her birthday until July. Therefore, she is probably laughing at both of us.
Since Amelia still chooses to work (I don't understand her, but I love her anyway.), we had to celebrate with her on Dec. 2, almost a full month late. As the birthday girl, Amelia got to choose where we had lunch.
She had spent the night in LaGrange, Georgia, with her daughter Emma, who is the archivist in charge of records at the Troup County Historical Society and Archives. Therefore, she asked Leigh Ann and me to come to LaGrange to celebrate her belated birthday.
I offered to drive Scarlett, my new Nissan Rogue, which I mentioned in an earlier column. I picked up Leigh Ann, and we journeyed up I-85. This was my first time driving Scarlett out of state. I really need to learn how to set my cruise control because I tend to have a lead foot. Also, Scarlett rides so smoothly, I'm speeding before I know it.
Although we've had Scarlett since late September, she has less than 1,000 miles on her. As I believe I mentioned previously, my husband Mike said, "Scarlett is an expensive garage ornament." I wouldn't go that far. I'm just particular about where Scarlett is allowed to travel. I don't want her around too many other cars; she could get bumped in a full parking lot. Therefore, when Leigh Ann and I arrived at Emma's house, I requested that we drive Amelia's car to the restaurant. After all, I didn't want to park Scarlett on the street by other cars. Mike laughs whenever we buy a new car because he says that I insist on parking it in the middle of nowhere.
However, I digress. I was very happy with Amelia's choice of restaurant: Venucci's at 129 Main St. in LaGrange. As I've mentioned before, Italian food is my second favorite, coming just behind Southern cooking. Venucci's serves wonderful Italian food; it was one of my favorite restaurants when we lived in LaGrange.
Chef Tulla White, the owner of Venucci's, is a well-respected culinary arts professional in the area and owns another restaurant across the street. I love the cozy atmosphere of Venucci's, as well as the distressed brick wall of the building's interior.
Paola and Amanda shared the duty of being our servers. Both were sweet, helpful and patient.
The warm bread served with olive oil was a really delicious way to begin our lunch. Also, our salads were served with three outstanding house-made dressings: white balsamic, dark balsamic and tricolor peppercorn ranch.
For her entrée, Amelia chose the shrimp Alfredo, which was sautéed shrimp over fettuccine with a creamy Alfredo sauce. Leigh Ann selected the Papagalo: "Tulla's Favorite," which was a spicy tomato sauce and creamy Alfredo tossed with Cajun sausage, lightly battered chicken tenders, jalapeno peppers and linguine pasta. Last, I ordered the chicken marsala, which consisted of lightly battered chicken tossed in sweet & dry Lombardo marsala wine mushroom sauce over fettuccine.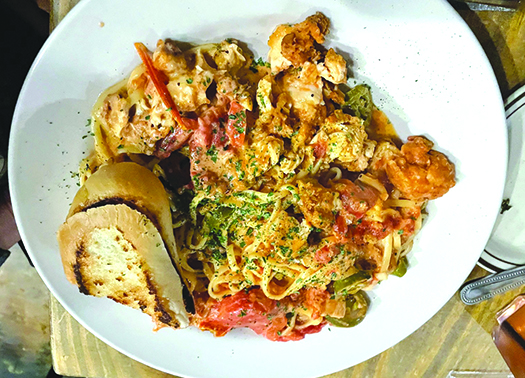 Boy, it was great to be back at Venucci's. The food was really amazing. To top off our great meals, we split a slice of Oreo cheesecake. It was slap-your-grandma-twice delicious. All desserts at Venucci's are made in-house by the restaurant's pastry chef. Believe me, I could tell.
Venucci's serves a variety of salads, sandwiches, wraps and Not the Norm Burgers. Besides our tasty pasta dishes, Venucci's also serves diners blackened shrimp and Andouille, shrimp and scallops Fra Diavolo, chicken Fra Diavolo, chicken fettuccine Alfredo and chicken tortellini carbonara. Trust me, run and do not walk to Venucci's.
Amelia, this review was for you. May God bless you with many more happy birthdays. Love you bunches.
Venucci's is open on Sunday from 11 a.m. to 2 p.m.; Monday through Friday from 11 a.m. to 2 p.m. and from 5 to 9:30 p.m.; on Saturday from 5 to 9:30 p.m. *Please note: all times are Eastern.
Venucci's makes the grade with an A+ from this retired English teacher. Remember, "Pooh-sized" people NEVER lie about food. Enjoy!
Stacey Patton Wallace, who retired from teaching language arts for 30 years, is a professional diner. Her column, "Making the Grade," will appear each week in The Observer. Stacey may be reached at retiredlangartsteacher2020@gmail.com.