By Stacey Patton Wallace
When I was a teacher in LaGrange, Georgia, I had a 25 to 30 minute lunch period. In that brief time span, I had to: 1. take my students to lunch; 2. go to the restroom; 3. heat my lunch in a microwave shared by multiple teachers; 4. make sure that my students weren't throwing food or harming anyone or anything; 5. scarf down my food in the remaining 10 minutes.
The lunch hour is a luxury that teachers don't get to experience, needless to say. Therefore, I, like most teachers, really relished "professional learning days." On those special days, students were at home, while teachers went to a lot of pointless, boring meetings, wishing that they could be getting ready for the school year, the next nine weeks or summer vacation. However, on those days, we had an hour-and-a-half lunch break, and we could actually go out and eat at a restaurant like normal people; that was a very BIG deal.
  Now, as I've often mentioned, I am a fried chicken freak. Also, I'm more of a hamburger person than a hot dog one. However, sometimes I crave a great hot dog, and my favorite place in LaGrange to eat them is … Charlie Joseph's at 2238 West Point Road.  Charlie Joseph's is about five miles from our former school, so it was a favorite place to have lunch on "professional learning days." In fact, even my niece Cpt. Brittney Patton LOVED Charlie Joseph's, and she is extremely picky about what she eats.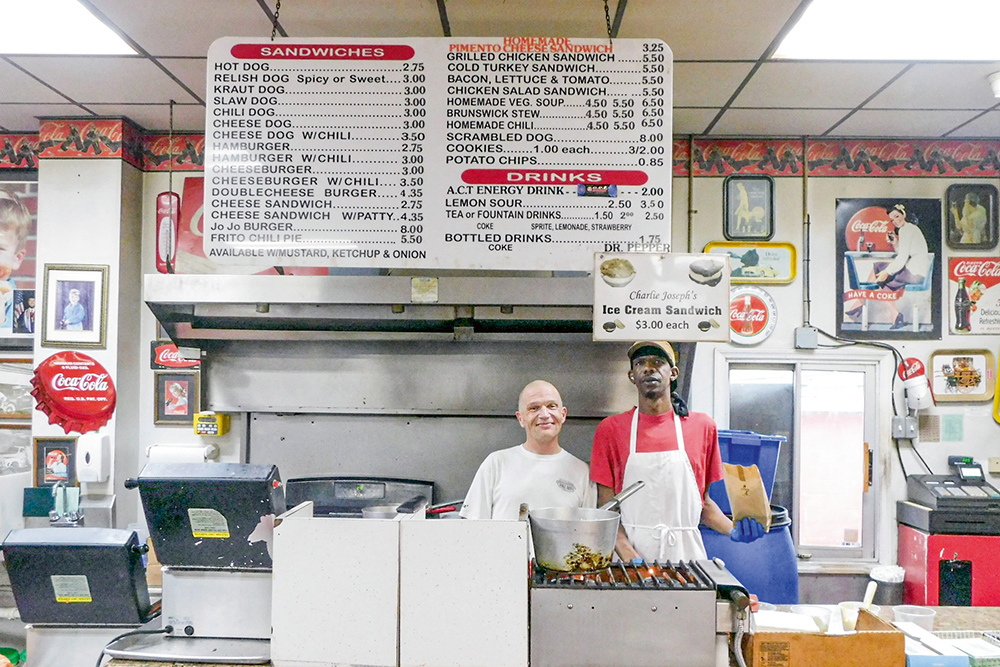 The first Charlie Joseph's was opened in downtown LaGrange in 1920 by, you guessed it, Charlie Joseph. In 1992, a second restaurant was opened. Joey Keeth, Charlie Joseph's great grandson and Joseph "JoJo" Keeth, Joey's son, now operate the second location. Steven, Keeth's other son, runs the original restaurant.
Charlie Joseph's is an icon in LaGrange, much like Mrs. Story's Dairy Bar in Opelika and Buck's in Alexander City ("Eleck" City to the locals.). Recently, I had a doctor's appointment in LaGrange, so Mike and I decided a trip to Charlie Joseph's was in order.
As regulars at Charlie Joseph's when we taught, Mike and I knew to get there by 11:30 a.m. eastern for lunch if you wanted a seat. By 12 noon, it would be standing room only. Thankfully, we arrived at 1:30 p.m. central, when the crowd had dispersed.
When we walked in, a young woman called out, "Hey, Mr. Wallace!" We smiled at each other because we haven't been called Mr. or Mrs. Wallace since we retired in 2020; it was nice to hear.
The "Cheers" theme song is quite correct: "Sometimes you want to go where everybody knows your name…"
The young woman was Kenzie, one of Mike's former students. Our waitress Kimberly was also a student of Mike's about 21 years ago. It's so great to see former students, because as someone once said, "Education is the only profession in which you don't get to see the finished product." Therefore, it's always fun to see former students doing well.
Not surprisingly, Kimberly was so sweet, patient and helpful. Mike ordered a slaw dog with barbecue chips, while I ordered a chili cheese dog all the way, which means with mustard, ketchup and tiny, diced onions; I also ordered barbecue chips.
One of the many reasons that Charlie Joseph's makes my favorite hot dog in all of LaGrange, Georgia, is because of the way those perfectly diced onions stay on my hot dog and don't fall everywhere. It's the small things in life that make you happy.
As usual, our food was AMAZING. To my credit, I refrained from ordering a chocolate chip cookie, even though I do love them. Unfortunately, Charlie Joseph's currently doesn't have their eight-ounce glass bottled Coca-Cola products because of supply chain issues. That was sad, because people my age and older KNOW that Coke just tastes better in an old-fashioned glass bottle instead of a plastic bottle or Styrofoam cup.
When you dine in Charlie Joseph's, you will enjoy the cozy, family-owned restaurant. Also, I love the plethora of Coca-Cola memorabilia and family photos that cover the walls. There are also collections of model cars on display, and if you are a NASCAR fan, a huge cut-out of Dale Earnhardt, Sr. adorns a wall.
Besides our mouth-watering hot dogs, which were expertly cooked by Travis, Charlie Joseph's also offers diners: hamburgers, Frito chili pies, homemade pimento cheese sandwiches, grilled chicken or cold turkey sandwiches, BLT's, chicken salad sandwiches and homemade vegetable soup, Brunswick stew and chili. If you are in LaGrange, Georgia, run and do not walk to Charlie Joseph's. Believe me, it is REALLY worth the trip.
Charlie Joseph's is closed on Sunday; open Monday through Friday from 10 a.m. to 6 p.m. eastern (9 a.m. to 5 p.m. central); open Saturday from 10 a.m. to 4 p.m. eastern (9 a.m. to 3 p.m. central).
Charlie Joseph's makes the grade with an A+ from this retired English teacher. Remember, "Pooh-sized" people NEVER lie about food. Enjoy!
Stacey Patton Wallace, who retired from teaching language arts for 30 years, is a professional diner. Her column, "Making the Grade," will appear each week in the Observer. Stacey may be reached at retiredlangartsteacher2020@gmail.com