By STACEY
PATTON WALLACE
By the time this column is published on May 12, the Good Lord willing, another Mother's Day will have come and gone. If you are a mom, I hope you had an amazing day because you certainly deserved it. My Mama, Barbara Patton (again, not the former mayor of Opelika), was a patient at East Alabama Medical Center for two weeks from April 19 until May 2. This was her second hospital stay since late February.
I want to thank EAMC's wonderful doctors (Drs. Green, Carter, Radcliffe and King), nurses (Denise, Brittney, Christy, Donja, Thomas and Justice), techs (Kayla and Brittany) and countless others whom I didn't get to meet. These wonderful medical professionals took great care of Mama. Also, they really helped ease my fears and anxieties. Mama means the world to me, and these wonderful health care providers are my heroes. Thank you again, and may God bless all of you. It's such a blessing to have a wonderful hospital just four miles from my home.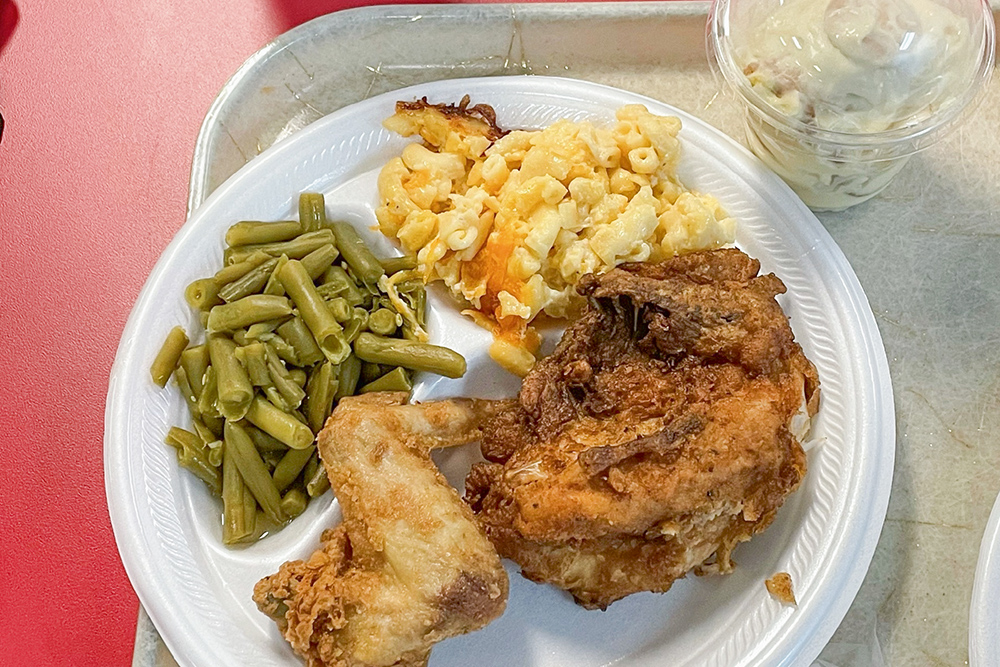 As I've mentioned before, my Mama is an amazing cook, and I really miss her fabulous meals.
I, as I've also said before, can cook, but I don't want to do so, just as my husband Mike doesn't like to wash dishes when I prepare a meal. We basically love to eat, but we prefer others to cook and clean up for us. Therefore eating out, taking pictures and writing about it is the perfect setup for Mike and me.
Since I don't get to eat Mama's cooking anymore, I search for restaurants that serve real Southern cooking, my very favorite food. Therefore, when I read about Madison's Place Café in The Observer, I was happy to give it a try.
Recently, Mike and I went to Madison's Place Café at 1220 Fox Run Ave. in the USA Town Center in Opelika. We were seeking a terrific Southern dinner (lunch). Believe me, we were NOT disappointed.
Mike ordered the hamburger steak (one of Tuesday's specials), rice with brown gravy and sweet potatoes. I chose the on-the-bone fried chicken (surprise, surprise), with green beans and mac 'n' cheese. I'm very happy to report that Madison's Place Café serves delicious fried chicken and veggie meals every day that they are open.
Oh, my two times. Everything was wonderful. In fact, even though Mike doesn't usually eat dinner (lunch), he inhaled his food; his plate was completely empty before I was finished; he even took a picture as evidence. Mike said, "That was so good, I'd come back again next week."
We also treated ourselves to banana pudding. Needless to say, our cups were scraped clean. Run and do not walk to Madison's Place Café.
Besides Mike's delicious hamburger steak, the restaurant also offers diners pig's feet on Tuesday; both meals come with two or three sides. Wednesday's specials include liver and onions or turkey wings with sides. Thursday's specials include a fried pork chop or beef tips with sides. On Friday, the restaurant serves Swai fish or tilapia with sides. Sunday's specials include turkey wings, ox tails or pig's feet meals with sides.
Besides our delicious banana pudding, other delectable desserts include red velvet, strawberry and pound cakes, peach cobbler, sweet potato pie, lemon pie and grape salad.
Mama, this review was for you. Again, Happy Mother's Day! Mike and I love you to the moon and back, as our dear friend Dottie Meacham says.
Madison's Place Café is open on Sunday from 11 a.m. to 4 p.m.; closed on Monday; open Tuesday through Friday from 11 a.m. to 4 p.m.; closed on Saturday.
Madison's Place Café makes the grade with an A+ from this retired English teacher. Remember, "Pooh-sized" people NEVER lie about food. Enjoy!
Stacey Patton Wallace, who retired from teaching language arts for 30 years, is a professional diner. Her column, "Making the Grade," will appear each week in The Observer. Stacey may be reached at retiredlangartsteacher2020@gmail.com