By Wil Crews
sportscrews@opelikaobserver.com
Thirteen-year-old Skylan Holstick has been busy building his football resume.
The 5-foot-9-inch, 264-pound Opelika Middle School student plays defensive tackle for the travel football team Ross Elite Longhorns, based out of Georgia.
"I usually play both sides [of offense and defense] but I always prefer defense," Holstick said in a recent media interview. "I love [defensive tackle]. The physicality mostly."
Holstick and the Longhorns competed in the youth national championships in Miami the week of Dec. 6 through 11, vying for the title of the No. 1 13U football team in the nation.
While the Longhorns came up short, Holstick performances on the team — and his A+ performance in the classroom — earned him his second straight invitation to the Bret Cooper Junior Academic All American Bowl.
Bret Cooper Football is unique in that it holds the only game in the country that is has academic and character-related requirements.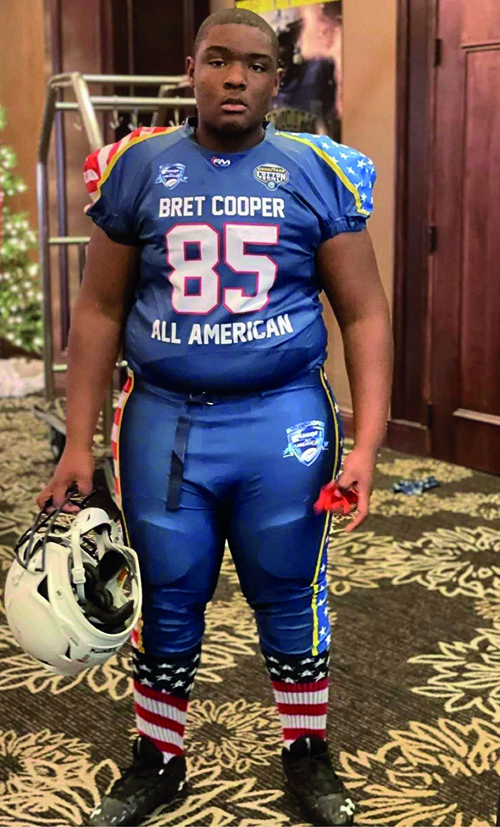 "Your ability to hit your opponents as hard as you hit the books will let you showcase your talents along with the very top student athletes across the country and internationally," a Bret Cooper Football press release said.
To be selected, student-athletes must have a 3.0 GPA. Holstick is well beyond that mark and has stated his ambition to become a doctor one day.
"I just always thought that being a doctor was such a noble job to do and for helping people in general," he said.
The prestigious, week-long Junior Academic All American Bowl was held in Dallas, Texas, and featured 5-star hotel accommodations, media nights, tickets to the Goodyear Cotton Bowl Classic, an NFL-style symposium, an awards banquet gala, meet-and-greets, individual competitions, a bowl game and more.
During the week, Holstick was awarded with the "Big Sexy" award, given to outstanding linemen.
The last day, Jan. 2., Holstick's team won the 13U Bret Cooper All American Bowl 13-6.
"I want to shout out my mom," Holstick said in an interview. "She is always working hard to be able to let me do stuff like this."
Bret Cooper Football has produced the most college, D-1 and NFL football players in the last 10 years of football history. It nationally recognized as the clear leader and trusted advisor by the top colleges in the country regarding their national combines and games.
Some notable Bret Cooper Alumni are Washington Football Team defensive end Chase Young, Arizona Cardinals wide receiver Christian Kirk, Pittsburgh Steeler backup quarterback Dwayne Haskins and others. Holstick may be next on the list.