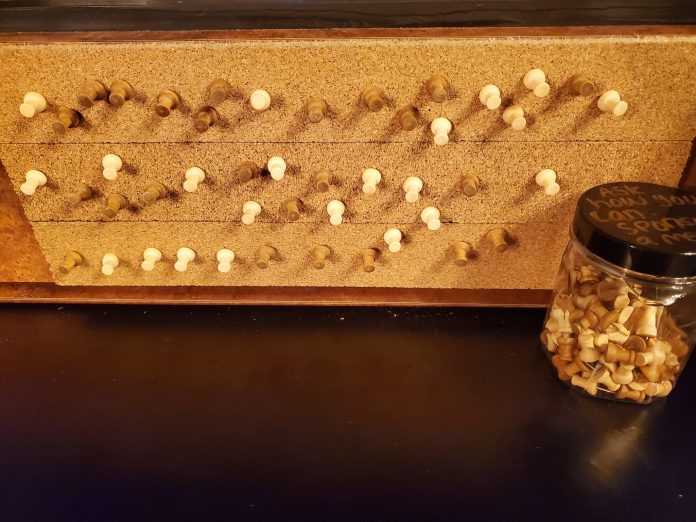 By Morgan Bryce
Editor
From the time he opened the doors to Good Karma last fall, Sunny Merchant knew he wanted to find a way to give back to the community, a pay-it-forward system utilizing pins on a corkboard that allows people to pay for part or all of a person's meal in need. In the midst of the COVID-19 pandemic that has swept the world, including the United States, the need for this initiative is more important than ever.
"There's no questions asked. Anyone who takes a pin will receive a free rice bowl and a drink," Merchant said.
Seeing a similar concept in New York inspired Merchant to launch his pay-it-forward model when he opened his doors at 1409 S. College St. in November. The full cost of a pin is $10, but he added that customers are welcome to donate what they can to keep the board going.
Good Karma was started as a food truck on Auburn University's campus before expanding to a physical storefront. Merchant, an Auburn native, said he has enjoyed educating the university's student body and community as a whole on the bright, flavorful pallet of Indian cuisine.
"Indian food for the most part is kind of heavy, but it's full of flavor and (recognizable) items that most people already like to eat," Merchant said.
Merchant's parents run Philly Connection in Auburn, which also consists of a food truck and physical storefront.
Popular dishes at Good Karma include Chicken Tikka Misala as well as the curry and wrap options that Merchant offers.
"When people come to Good Karma, they'll hopefully enjoy the music, atmosphere and the food. I want them to have a great experience," Merchant said.
Because of the state order issued by Gov. Kay Ivey last week, Good Karma and many other eateries in the Auburn-Opelika area and across Alabama have had to revert to curbside pickup. Customers can place their order via foodbooking.com or by calling 334-246-3144. The restaurant's hours of operation are 11 a.m. to 9 p.m. Monday through Saturday.