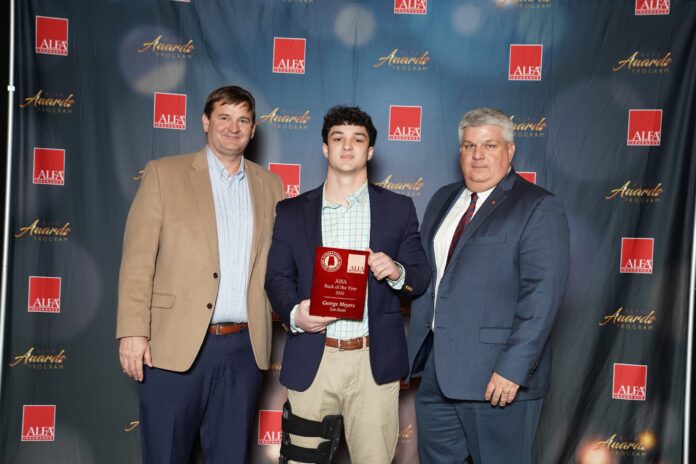 By Wil Crews
sportscrews@opelikaobserver.com
AUBURN —
Lee-Scott senior running back George Meyers was announced by the Alabama Sports Writers Association (ASWA) as the Alabama Independent Association's (AISA) "Back of the Year" at the Mr. Football banquet in Montgomery Thursday.
Meyers thanked his family, coaches and teammates upon accepting the award.
"I wouldn't be the man or the football player I am today with them [my family]," Meyers said in his acceptance speech. "I just wanted to thank the coaches throughout my life who have helped me with my my football career, especially under coach Daniel. Lastly, I would just like to thank my teammates. I just want them to known that my success that I had on the field this year was not for coaches to see, not for people in the stands to know my name but just for them to know I had their back because I know they had mine 100% of the way."
Meyers and the Warriors — under third year head coach Buster Daniel — completed a perfect, 12-0 season in 2022 on their way to the AISA 3A football State Championship. Meyers rushed for 46 yards and two touchdowns in the state championship win over rival Glenwood.
2022 was Lee-Scott Academy's first 12-win season since 1998 and the fourth state title in the school's history.
Meyers accounted for over 900 rush yards and 20 touchdowns in his senior season.
On a Lee-Scott offense that averaged 43.1 points per game, Meyers was the key engineer of long scoring drives, averaging over 8 yards per carry.
The ASWA Mr. Football Banquet is presented by ALFA Insurance and the Alabama High School Athletic Directors and Coaches Association.