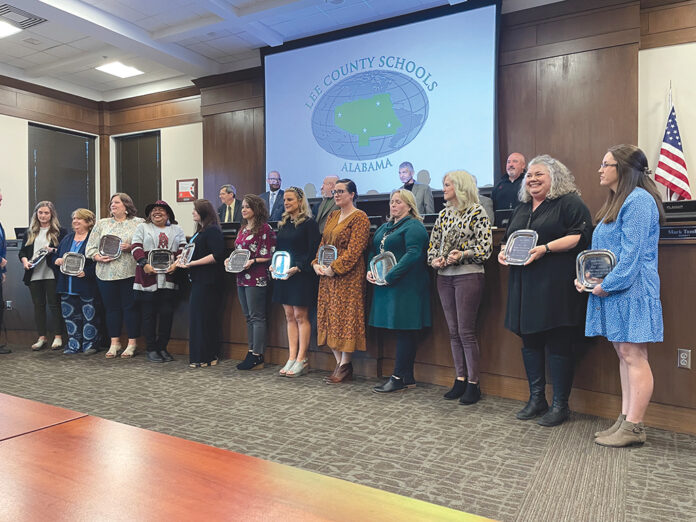 BY KENDYL HOLLINGSWORTH
KENDYL@
OPELIKAOBSERVER.COM
LEE COUNTY —
It was a night of honors as Lee County Schools named its Teachers of the Year and recognized Beauregard's state champions in bowling.
Jason Wright, assistant superintendent of secondary education, presented the Teacher of the Year awards for secondary school teachers. Honorees included:
• Debra Hightower – Sanford Middle School
• Laura McCoy – Smiths Station Junior High
• Amy Overton – Smiths Station Freshman Center
• Lacy Hackney – Smiths Station High School
• Britian Murphy – Beauregard High School
• April Harrell – Beulah High School
• Laura Ramkorun – Loachapoka High School
Brad Hunter, assistant superintendent of elementary education, presented awards to the Teachers of the Year from the elementary schools. Those honorees included:
• Mallory Stewart – Beauregard Elementary School
• Cherry McConnell – Beulah Elementary School
• Michele Rogers – East Elementary School
• LaSharra Henderson – Loachapoka Elementary School
• Elizabeth McAdory – South Elementary School
• Megan Johnson – Wacoochee Elementary School and
• Allison Rankin – West Elementary School.
Finally, two teachers earned further recognition as the school system's recommendations for the Alabama Teacher of the Year award. Hackney of Smiths Station High will be recommended in the secondary category, and Johnson of Wacoochee will be recommended in the elementary category.
"May I just say, on behalf of the board, I know that our teachers a lot of times don't think we appreciate them, but trust me — we appreciate everything y'all do," District 5 Board President Ralph Henderson told the teachers. "It's such an honor for us as a board to be able to honor you tonight. Please leave here tonight knowing that we love you, and we support you, and we thank you for the jobs you do."
Superintendent James E. "Mac" McCoy echoed Henderson's sentiments.
"Teaching has become a true calling of a profession, especially since COVID," McCoy said to the teachers. "The hurdles, the darts and the rocks that have been put in front of you and thrown at you, you have overcome and dodged. From the bottom of my heart, I truly thank you, and I appreciate you for the job you do in representing Lee County and representing this board of education. It's an honor for me to be able to work with people like you because without you, we would not be here."
Honorees were accompanied by their respective principals as they accepted a personalized, engraved silver plate. Hightower and Murphy were unable to attend the meeting.
The board also had another group to celebrate: the Beauregard High School girls bowling team.
The Lady Hornet bowlers outscored the Scottsboro High School Wildcats in January to earn the title of state champions at the 2023 AHSAA Bowling State Championship, held at The Alley Bowling Center in Gadsden, Alabama.
The team also defeated Marbury High School and Southside-Gadsden High School on its way to the championship match.
"We're very proud of you," McCoy said. "It's an honor for you to be here tonight."
Later in the meeting, Lee County CSFO Ken Roberts gave a financial report for January 2023.
Roberts said the school system has collected about 40% of the revenue for the year, which is typical for this time of year. Total expenditures also amount to about 35% of the budget.
Compared to last year, revenues are about 3% ahead of last year but is expected to increase. Expenses are also up about 9%, according to Roberts, and the majority of that goes to personnel because of the rising cost of living and the need to adjust pay accordingly.
Local revenue in particular is up 1.6% and will eventually increase.
"It's less than we expected, but we expect to catch up," Roberts said.
While necessary, Roberts said the cost of living adjustment put some "pressure" on the General Fund, and the state does not cover all of the additional costs.
"Cost of living adjustment raises are good in terms of our staff, the wellbeing of the community — things of that nature — but it does have a little bit of a negative effect on our General Fund," he explained. "… When there is a cost of living adjustment, there is a commitment of local funds to fund … personnel, contracts — things of that nature."
The board approved the report.
In public comments, Ronnie Kilpatrick returned to ask if anything was being done about a situation at Smiths Station High School in which he said students are displaying animal-like behavior. He also cited the Protection of Pupil Rights Amendment in arguing that parents should be notified of any clubs or activities that may influence their children, or that their children take part in. Kilpatrick also expressed frustration about a gay pride flag allegedly on display in the school's parking lot.
"I was told that as long as it didn't offend anybody, it could stay there," he said. "Well, I've been offended the whole entire school year. My daughter's been offended. A lot of kids I know have been offended."
In other business, the board approved various out-of-state and overnight field trips, as well as Human Resources recommendations and three student expulsion cases.
The next regular meeting of the Lee County Board of Education is scheduled for Tuesday, April 11, at 6 p.m. in the central office, located at 2410 Society Hill Road in Opelika. To view meeting minutes and agendas, visit simbli.eboardsolutions.com/index.aspx?S=36031072.