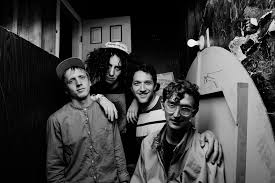 By Savannah Vicker
For the Opelika
Observer
The up-and-coming indie surf/garage rock band 'Lady Legs' will perform at Opelika's Bottling Plant Event Center July 27.
Organized by Cottonseed Studios, the show will kick off with performance by the band "Bobby RocknRoll," who are known for their upbeat "glad rock" sounds.
Composed by four inseparable friends, Lady Legs has stayed true to their poppy garage rock sounds since their formation in 2012.
Starting with concerts in and around the Auburn University campus, they have expanded their fanbase to Birmingham and are fresh off an appearance at Sloss Fest.
The band consists of four members: singer/guitarist John Sims; vocalist/guiatarist Grant Galtney; vocalist/drummer Ellis Bernstein and vocalist/bassist Seth Brown, an Opelika native.
Their newest album, "Holy Heatwave," consists of 11 recorded songs that mirror sounds from Mac DeMarco and gain inspiration from indie rock bands such as 'The Strokes.'
Doors will open at 8 p.m. and the show will start at 9 p.m. For more information and ticketing options, visit www.bottlingplanteventcenter.com/event/lady-legs-concert/.
The Bottling Plant Event Center is located at 614 N. Railroad Ave.