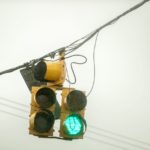 By Michelle Key – Editor
 
Tropical Storm Irma entered southwestern Georgia earlier today bringing its rain bands and tropical storm force winds over Lee County knocking down trees and power lines resulting in power outages to thousands.
Opelika Power Services suspended repair services at 6:00 pm and will resume Tuesday morning. Just over 500 OPS customers are without power and will most likely be in the dark overnight.
The 6:00 pm Lee County Emergency Management Agency Bulletin
Strong winds have brought trees down across Lee county, with measured wind gusts up to 40-45 mph. As Irma continues to move toward Central Alabama this evening, the pressure gradient will tighten across the area. Wind gusts up to 50-55 mph will be possible, especially in the higher elevations of east Central Alabama, through this evening.
Irma will gradually weaken, through the early morning hours Tuesday, as the center of Irma moves into north Alabama. Rainfall coverage will begin to end from south to north as dry air wraps around the west and south side of the system.
Opelika officials requested residents remain in their safe place overnight and off the roads as they remain dangerous with debris.
Send us your storm photos! Email them to michelle@opelikaobserver.com