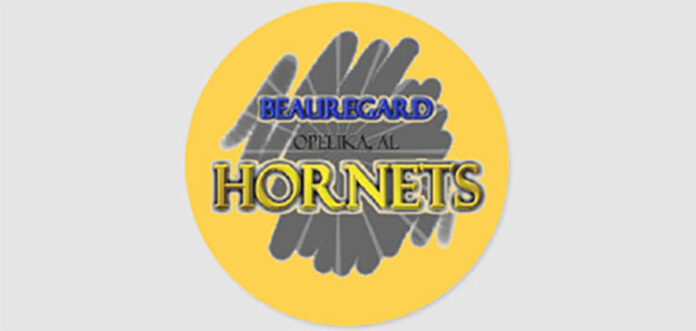 By Wil Crews
SportsCrews@
OpelikaObserver.com
The Beauregard Varsity softball team entered the AHSAA 5A Region 05 area tournament last weekend as underdogs.
They exited without turning the ever-present dream of first-place glory into reality, but with a 1-2 record and their heads held high, knowing they left it all on the field.
The No. 4 seed Beauregard played its first game against the No. 1 seed Tallassee. Ace Madison "Mac" McDonald was on the mound for the Hornets, instilling belief in her teammates behind her.
Going into the bottom of the sixth inning, the Hornets led the favorited Tigers 6-4.
"We actually had them on the ropes," said head coach Scott Meadows.
Two fielding errors in the inning allowed four Tallassee base runners to cross the plate. The Hornets watched as a game they felt in control of turned on its head because of a couple of sloppy plays. With just three outs remaining to tie up the ball game, Tallassee made its first pitching change, a move that apparently flustered the Hornets. Three up, then three down. Tigers win. The Hornets were suddenly in a hole, with one more loss removing them from the tournament.
"You take those two plays out from our side and we had a really good opportunity to upset them," Meadows said.
Despite the loss, there were some positives from the game. After all, the Hornets were able to plate six runs against the No. 1 seed's No. 1 pitcher. Katie Wilkerson went 2-for-3 with a double and Caroline Willis went 2-for-4 to lead the hitters. Mac went six innings, striking out four and scattering 10 hits over the course of her outing.
"She pitched a good game," Meadows said of McDonald. "It was just that one inning, which seems to be the story of the season. When we had good pitching and games were tight, if we didn't make those one or two errors that cost us, we would usually be in it or win it."
Following the loss, Beauregard had to wait through two long games until they played again that night.
The Hornets were now up against Pike Road – a team they split the regular season series with, 1-1. Although they came out "a little sluggish," as Meadows put it, the Hornets posted a glut of runs late in the game to defeat Pike Road 16-4. Down 4-2 after four innings, Meadows spoke to his team.
"I kept telling them, if y'all just start hitting the ball … because we have seen that pitcher for a third time … if y'all will get on her, y'all can win this ball game."
The Hornets responded by putting up 12 runs in the fifth to go up 14-4. Wilkerson was solid at the plate again, going 2-for-3 with three walks and three RBI's. Mac was on the mound again and to little surprise, pitched well, going five innings and allowing only three earned runs. Her 2-for-3 hitting performance only aided her cause. The junior, Willis, went 2-for-4, and ninth grader Berkley Wilson broke the fifth inning open with her grand slam.
"She's going to be one we will be counting on next year," Meadows said on Wilson.
Beauregard had survived another day and had a date with the No. 2 seed Brew Tech coming up.
"You can look at it either way … a game to get you to regionals, or a game to end the season," Meadows said.
Expecting to see Brew Tech's No. 1 pitcher, who pitched the Hornets "away, away, away" the last time the two teams met, Beauregard put Mac on the mound for the third successive game.
"It was a pitcher's duel," Meadows said.
Brew Tech's pitcher switched up the scouting report and pitched all around the plate this time, flustering the Hornets, while Mac was solid herself.
Beauregard's best opportunity in the game came with the score at 1-1 with a runner on third and just one out in the fifth inning. A ground ball back to the pitcher for out two and another easy force out left the Hornet base runner stranded.
Both teams were held to just three hits. The difference in the game was Brew Tech had a solo and two-run home run, and the Hornets were eliminated with a 3-1 loss.
"They just had two quality hits," Meadows said. "We had a chance."
Beauregard finishes its season with a 15-20 record and five seniors are set to depart from the team.
Despite not finishing how they wanted, Meadows is proud of how his team finished.
"I think, you know, we had problems earlier in the year. We didn't show up like we wanted to play every game and we didn't always come to practice ready to get better. But I think the last probably three weeks of the season it changed. We practiced better. We showed up ready to compete more."