By Ann Cipperly
for the observer
OPELIKA —
Inspired by the newest installment of Downton Abbey in theaters this past weekend, Dani Nelson and Leif Espelund, owners of the Heritage House, offered a glimpse into the elegant life of the era with a celebratory British afternoon tea called "Teatime."
As guests arrived, Nelson served a choice of a citrus punch or a gin-laced beverage offered from a small punch bowl with balls of ice with a flower frozen in each, which were made by Kitty Greene. Guests sipped the beverages as they took photos by the 1930 Ford Model A parked in front of the inn or relaxed in rocking chairs on the side porch.
At "Teatime," Nelson invited everyone in as Mary Slaton was playing piano music, featuring tunes from the era of Downton Abbey. Tables were covered with white tablecloths and arranged for two or four. Each table was adorned with vases of flowers, gorgeous vintage china and a tiered tray featuring scrumptious savories and sweets for enjoying with tea. Some attending opted to bring a bottle of champagne for a festive addition.
On the bottom tier, two kinds of petite sandwiches were served that were prepared with Anna Claire and Matthew Stinson's signature sourdough bread, including cucumber and dill spread and smoked salmon with capers.
The middle tier featured a classic English scone with clotted cream and raspberry jam and a tasty cheddar and chives scone.
Crowning the top tier were splendid small Victoria sponge cakes filled with strawberry and cream and decadent chocolate marshmallow tea cakes. Desserts were handmade by Laurie Kirkpatrick of LK Small Batch Baking, whose cakes are featured at Side Track Coffee.
A china pot filled with Earl Grey tea graced every table. Herbal selections were available by request.
Nourish Blooms displayed an assortment of beautiful floral designs.
Following the tea, a professional photographer took photos of guests at the antique car.
"Teatime was a true delight to bring to the community, and we hope that everyone had as much fun attending as we had putting it together," Nelson said.
HISTORY OF THE HERITAGE HOUSE
Located at the entrance of the Northside Historic District, the Heritage House has stood as an Opelika landmark since 1912-1913 when William Cole "W.C." Davis built the mansion as a gift to his bride. His parents, Mariah Cole and William Easley Davis, were given the lot in 1890 when W.C. was born.
The Davises were living on Geneva Street in Opelika when Mariah's aunt and uncle, Prussia and Brady Preston, gifted the property on the corner of Second Ave. and Chambers St., later changed to 8th Street.
When W.C. decided to build a house for his bride on the lot in 1911, he hired contractor B.E. Hudson to build the two-story home on the site for $12,500, as reported in an article in the Opelika Daily News on Sept. 8, 1911, about the beautiful home being built. A wooden house on the lot was torn down.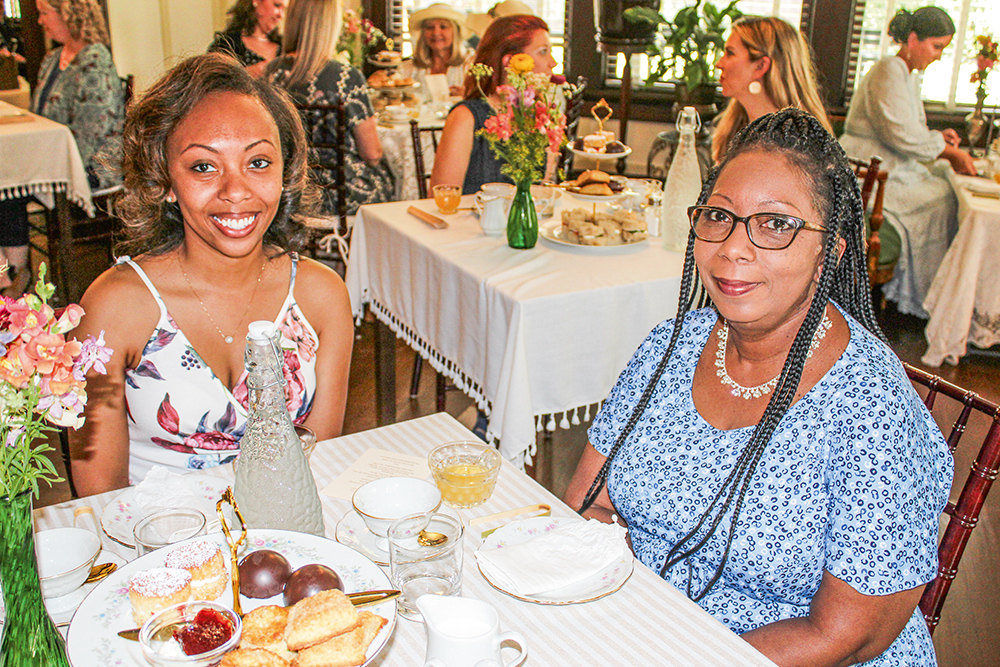 An Ashlar block stone foundation, bluff brick veneer, Spanish tile roof and porch floors with mosaic tiles were highlights of the newly built house. Six large colonial columns were arranged in circular form on the front with two open-air living rooms or sleeping porches.
In addition to having a farm outside Opelika, W.C. ran a farm supply store located in back of Hagedorn's in downtown Opelika. He had a love for reading, poetry, arts and performing arts. He passed away in 1965.
In 1971, Ruth Crook and her sister Virginia Magee, who operated the Odds and Ends antique shop on South Railroad, purchased the house. They changed the name of their antique business to Heritage House, which they operated until retiring in 1989.
In 1993, Barbara Patton purchased the house with her son, Richard. They converted the house into an inn, opening in 1994 as the Heritage House Bed and Breakfast. After Barbara was elected the first woman mayor for Opelika, she sold the house in 2004 to Carole and Steve Harrison.
The Harrisons closed the business in 2008 when they began having grandchildren. In November 2015, Haley Wilder and her mother, Virginia Haley, purchased the house. After repairs and painting, they opened in April 2016. The inn closed again as the owners pursued other interests.
New Chapter in Ownership
In June 2020, Nelson and Espelund opened the Heritage House as a luxurious bed and breakfast inn, as well as an event and wedding venue. Nelson, who is from Alexander City, lived in various places working with AmeriCorps for nine years before she moved to Seattle, Washington, where she met Espelund.
In Seattle, Nelson operated an event venue, while Espelund, who is from Oregon, worked for a marketing firm. After they were married, Nelson and Espelund successfully operated an Airbnb for three years. They began thinking about having their own business to combine their experiences with Nelson's event experience and his marketing.
When Espelund and Nelson purchased the house, it was almost completely empty. They searched for antique and fine furnishings. A baby grand piano from the 1920s is the focus of the music room with a semi-round sofa in front of the fireplace.
On the other side of the staircase, the parlor is furnished with two sitting areas. They can adjust the seating for weddings and events.
A long dining table occupied the dining room for decades. Now, the dining space has several small tables covered with linens for an elegant look. For large events, the tables can be pushed together to create one long table.
Breakfast is served in the dining room. Nelson and Espelund work together to prepare breakfasts.
The inn offers five guest rooms with each one providing a king-size bed with a high-end Sterns and Foster mattress, a 55-inch smart television, a seating area and a private bath. The Carriage Suite downstairs is decorated in a train theme since Opelika is known as a railroad town.
The other bedrooms upstairs include the Garden Suite, which is ideal for a bride and her bridesmaids and has a spacious seating area. The smallest room is the Traveler with a worldly theme, while the Seaside Room focuses on beach décor.
Other seating options upstairs include a sunroom and parlor with a small refrigerator and microwave, as well as stations for beverages and snacks. A large hutch is filled with self-serve complimentary items.
"We are not just trying to have a business, we live here and want to support the community and be involved," Nelson said. We want to work on community events. Having come through a rough couple of years for the entire planet, we're definitely seeing an upswing in travelers staying with us for family visits and to attend events both big and small in Opelika.
"We've enjoyed jumping into community efforts like the Opelika Songwriters Festival, Empty Bowls Preview Party and had the honor of hosting the Opelika Chamber's first ever Minority Business Council mixer. We're very excited for the number of events that clients are booking with us, from weddings to showers to retirement parties. Everyone who experiences this place can feel how special it is.
"We have a few upcoming public events that we're still putting the logistical shine on before we go public with them, but we'd love for people to stay tuned through social media to join us for the fun."