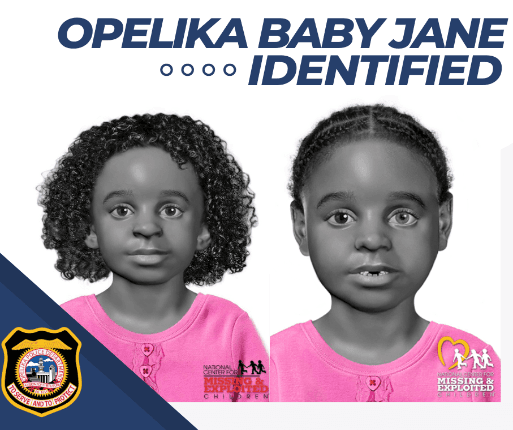 BY HANNAH LESTER AND
KENDYL HOLLINGSWORTH
EDITOR@
OPELIKAOBSERVER.COM
OPELIKA —
Eleven years ago, the Opelika Police Department discovered the skeletal remains of a little girl — an unknown little girl. But now, just a few days shy of the anniversary of her body's discovery, she has been identified.
Opelika Baby Jane Doe's name is Amore Joveah Wiggins.
Amore was found on Jan. 28, 2012, at the Brookhaven Trailer Park at 1775 Hurst St. in Opelika. Her skull rested in the yard while the rest of her bones were back toward the woods.
Officers found a pink shirt and a bit of her hair during the search, which were sent to the FBI Laboratory in Quantico, Virginia.
But it has been a long, hard search to identify Amore since then.
"The report [from Quantico] stated that the remains were of a black female likely between 4 and 7 years of age who became affectionately known to the community as Babe Jane Doe," said a news release from the Opelika Police Department on Jan. 19, 2023.
The autopsy revealed Amore had suffered over 15 fractures from blunt force trauma to her body before her death.
"In addition, the Medical Examiner suggested that Jane Doe may have been malnourished and blind in her left eye due to a fracture in her eye socket," the release said.
The examiners believed Amore may have been killed between the summer of 2010 to 2011.
"Since that day, Baby Jane has been a part of our OPD family," said Opelika Police Chief Shane Healey during a press conference on Jan. 19, 2023.
Over the last 10 years, several methods of discovery were utilized and the OPD did not give up the search for Amore's identity.
Healey recognized Sgt. Alfred White and the other detectives of the OPD for their work on the case.
"Fortunately, science and DNA has developed over the years and successfully helped us identify Baby Jane's parents," Healey said.
OPD formed a partnership last January with Othram Labs.
"In January of 2022, DNA was further extracted in attempts to retrieve DNA suitable for genealogy testing," the release said. "Othram Labs successfully extracted DNA from the scalp, and Astrea Labs from the hair. A comprehensive genealogical profile was built from Othram's DNA extract, and the profile was uploaded to a DNA database.
"Once uploaded, an experienced genealogist who works closely with the National Center for Missing & Exploited Children (NCMEC) was assigned the case. Dr. Barbara Rae-Venter with Firebird Forensics Group used the genealogical profile to identify relatives and develop investigative leads."
Kristen Mittelman, chief development officer at Othram, said a detective from OPD on the case spoke with Othram's case manager.
"The detective said that many, many labs and people had tried to work this case, and unfortunately were not able to work with this DNA," she said. " … They were very difficult skeletal remains to actually create a profile from, especially the kind of profile that you need to do genealogy."
However, Othram uses a technique called Forensic-Grade Genome Sequencing, which is unique, Mittelman said, and what Othram does is focus solely on genome identification.
"Because this is all we do, we have run more evidence than anyone else on Earth using these types of methods, and we do it all in-house," she said. "So every time we run a case successfully, we use it as a truth set to sort of guide us and help us figure out what we can do in other cases that have intractable evidence, which is exactly what was the case in this — with Opelika Jane Doe."
Othram was able to construct a profile for Amore using her family tree with the markers on her profile.
"We actually turned the profile over to Barbara Rae-Venter," Mittelman said. "She's an extremely well-known genealogist that actually worked on the Golden State Killer case. She volunteered her time on this case, and she worked through the genealogy fees and was able to identify not one, but both of the parents for Opelika Jane Doe. When she did, the law enforcement agent went out and collected DNA, sent the DNA back to Othram."
All of this new information led to the sought-after results — the identification of Amore's parents.
Amore's father, Lamar Vickerstaff Jr., is an Opelika native who was stationed in Mayport, Jacksonville with the Navy at the time of his identification in December 2022.
"In December of 2022, Opelika Detectives traveled to the Naval Station Mayport in Jacksonville, Florida, where Mr. Vickerstaff is currently stationed, to notify him of his daughter's death," the release said. "During the meeting Mr. Vickerstaff did not provide investigators with any information on the identity of Jane Doe."
Investigators then notified and questioned Lamar's wife, Ruth Vickerstaff — not Amore's biological mother — who said she had no information on Amore's identity.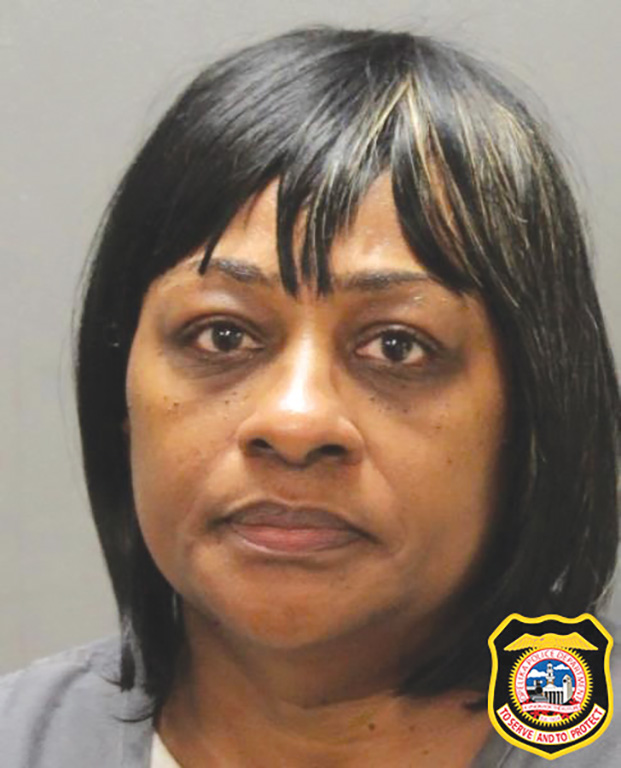 Later in December, investigators determined Amore's mother was Sherry Wiggins, who resides in Maryland.
Sherry said she gave birth to Amore in January 2006 but that Lamar and Ruth received legal and physical custody of the child in 2009, and Sherry lost visitation rights.
"Detectives reached out to the school boards and pediatric clinics in several states where Lamar and Ruth Vickerstaff resided and determined that Amore was never enrolled in school nor was she reported as a missing person," the release said.
Lamar and Ruth were arrested on Jan. 17, 2023, in Jacksonville, Florida. Lamar was charged with felony murder and Ruth with failure to report a missing child.
"This little girl — obviously, she endured terrible neglect and abuse prior to her death, and just based on all of the anthropology reports that were done on the skeletal remains … it's obvious that she had been harmed and that she needed her name back, and she needed justice and there was just no leads in this case," Mittelman said. "No one had reported her missing. Even after we knew her name, she was not reported missing. Law enforcement launched an investigation that led them to realize that her father had gotten custody of her, and her mother was, I believe, still paying child support and believed her daughter was still alive. She had lost visitation and didn't know what had happened to her, and it seems as though the father and his wife have been arrested for this crime. …
"When people share this story today, people will start to realize that it's not always hopeless, and there is always a reason to keep going if there's DNA and law enforcement is willing. … I also believe that her story should be told. For 10 years now — more than 10 years — she was voiceless, and she would have never gotten her name back. She wasn't even a missing person. No one even knew this had happened to her, and that's horrible, so one way to help is share these victims' stories and let people know what's possible."
In helping to solve current and future cases, Othram encourages people to enter their own DNA into the database (DNASolves).
"That helps with the genealogy because if you knew you're missing someone, that's a good reason to enter it in there," Mittelman said. "There would be a quick match, and we wouldn't have to wait the month that it takes to work through the family trees to figure out who the person is. You just download your Ancestry or 23andMe profile, and you upload it to DNASolves, and it honestly takes just less than a couple minutes, and you don't even have to take another test or anything. You just take that data and upload it to help solve the next case in your area or help identify the next victim. It's pretty incredible."
Othram also takes donations to help fund the research and work.
"Even $1 is helpful," Mittelman said. "It costs about $7,500 to solve one of these cases, and often, there's no federal funding available, so we do a lot of them … based on philanthropy and just the general public helping us crowdfund the next solve until the federal government starts to realize that this technology is powerful and needs to be funded at the same level as traditional forensic DNA testing. …
"It's pretty cool — the science behind it is super powerful, but what's even more amazing is that now there's a predictable way to solve these cases that were previously hopeless."
For more on Amore's case and Othram's work, visit www./dnasolves.com/articles/opelika-jane-doe/.
Anyone with information on Lamar and Ruth Vickerstaff should call the OPD Detective Division at 334-705-5220 or the Secret Witness Hotline at 334-745-8665. The Opelika Police Mobile App also has a place for tips.
"Our hearts go out to Sherry Wiggins, who was a tremendous help in solving the case and helping bring justice to her baby girl," Healey said.
The chief said the case remains open.
"In fact, just yesterday (Jan. 18) we executed a search warrant at a trailer near where her remains were found in conjunction with the FBI's evidence response team, still trying to gather further information and evidence related to this case," he said.
Healey commended Rae-Venter, the NCMEC, Othram Labs, Astrea Labs, the FBI, OPD detectives, The Jacksonville Florida's Sheriff's Office, NCIS, The Lee County District Attorney's Office and the Baltimore County Police Department in Maryland.
"I also want to make a special mention of the late Lee County Coroner Bill Harris, who, until his death in June of last year, continuously worked toward identifying Baby Jane," Healey said. "I have no doubt he is celebrating with Amore today. …
"The level of dedication to this case, I have never seen in my entire career. To see a group of men and women come together searching for a name — many of us said that we did not want to leave our time at this police department until we had her name. And now we do: Amore Wiggins."