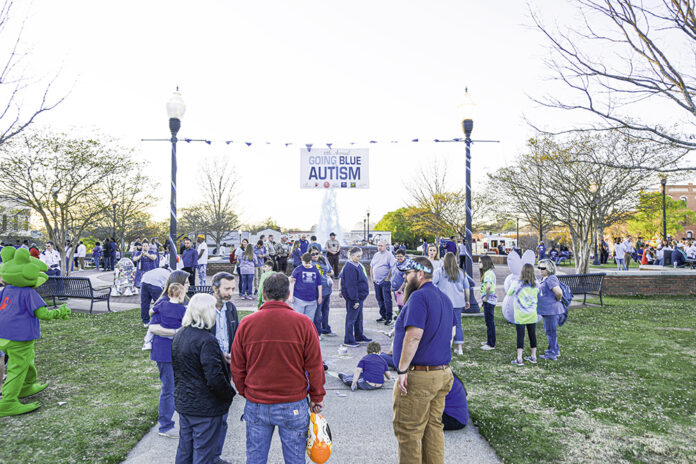 East Alabama Event Raises Autism Awareness
BY WIL CREWS
SPORTSCREWS@OPELIKAOBSERVER.COM
OPELIKA —
East Alabama's 12th annual Going Blue for Autism event is slated for this Saturday, April 1, from 6 to 8 p.m. at Courthouse Square in downtown Opelika. The city of Opelika will declare April Autism Awareness Month with a proclamation to begin the festivities.
"The purpose of the event is to bring awareness and acceptance of autism in our community and throughout the state," said Event Organizer Luanne Helms.
Helms is an Opelika native whose son, Jake, has autism. Helms said one of the reasons she continues to lead the setup of this yearly event is because of her personal connection to people living with disabilities.
"Autism is a passion for me," she said. "At this point I call myself a veteran autism parent. I like to do these events to show other families that it is going to be okay and to love on them."
Essentially a nighttime block party, the Going Blue for Autism event will feature food trucks, first responder meet-and-greets, people in costumes, DJ's, inflatable games, a train, a car show, local resources for special needs families and much more. The months of planning put in by Helms have her excited about the scale and possibilities of this year's event, she said.
"This year is — I'm hoping — going to be one of our best events yet," Helms said. "I've been planning this for about three months. I am super excited."
Helms added that the event's longevity would not be possible without community support.
"We have an awesome community that have come behind me and said 'yes we will support it and want to be a part of it.' That's how I have made it happen. Yes, I may be the one who has put in the footwork and all those details but if it weren't for the community, it wouldn't happen. I am so thankful to the many sponsors who made this event possible."
Another reason that gives the annual Going Blue for Autism event meaning is the chance to build a connection between law enforcement and those with disabilities. Helms calls herself an "autism safe specialist," and believes wholeheartedly in the importance of a connection between first responders and those who live with Autism.
"I feel it's important to bring families and individuals with autism together with first responders because those living with Autism are seven times more likely to have contact with responders than their peers," she said. "We will also be offering Safety ID kits with CDs done on site for anyone who might benefit."
Lastly, Helms stressed that this event is not exclusive to those with autism, and encourages families or friends of people with any type of disability to turn out.
"Even if it's not autism families, most of the events I do, all individuals with special needs are invited," she said. "This event is specifically meant to be inclusive. The community can't learn about people who maybe have differing abilities without being around them. So, it's kind of a little bit of everything. We welcome all families with any differing abilities, this event is to promote inclusion for all, and the entire community is welcome."
For more information about Going Blue for Autism, visit the Facebook page "12th Annual Going Blue for Autism–East Alabama 2023."