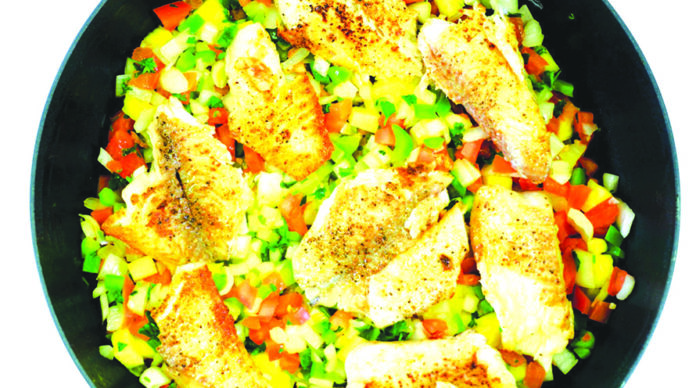 CONTRIBUTED BY ACES
AUBURN —
Take a trip to a private island for dinner tonight. Live Well Alabama's Island Tilapia is your guide to a mouthwatering entrée that will make it seem like a beach and palm tree is in sight.
TIPS
Tilapia is a high-protein, low-calorie white fish with a mild flavor that even picky eaters can enjoy. If using canned pineapple, choose fruit canned in water or 100% juice and drain well. Serve over brown rice for more fiber.
INGREDIENTS
1 pound tilapia
Creole seasoning to taste
Salt and pepper to taste
2 tablespoons olive oil
½ bunch fresh parsley, chopped
1 large green bell pepper, diced
1 large yellow onion, diced
1 ½ cups tomatoes, diced
3/4 cup pineapple, diced
1 ½ teaspoons garlic, minced
1 bay leaf
DIRECTIONS
Season tilapia with Creole seasoning, salt, and pepper.
In a large pan, heat oil over medium-high heat. Add fish and cook until it is tender and flakes with a fork, about 4 minutes per side. Remove fish from pan and set aside.
To the same pan, add parsley, bell pepper, and onions. Cook until vegetables are tender.
Stir in remaining ingredients. Reduce heat to medium. Cook and stir occasionally for 8 to 10 minutes or until liquid is thick. Salt and pepper to taste. Add cooked tilapia to the pan until warmed.
Remove bay leaf and serve.
Eating healthy doesn't have to be difficult or expensive. Live Well Alabama provides numerous recipes that are simple and budget-friendly.
For more information about Live Well Alabama and to find more recipes, visit www.LiveWellAlabama.com.
Also, check out more Live Well Alabama tips and recipes on Facebook, Twitter, Instagram and Pinterest.
LIVE WELL ALABAMA
Live Well Alabama is a Supplemental Nutrition Assistance Program-Education (SNAP-Ed) initiative developed by the Alabama Cooperative Extension System at Auburn University. This initiative reaches residents across the state with research-based education.
ABOUT ALABAMA COOPERATIVE EXTENSION SYSTEM
Alabama Extension is the primary outreach organization for the land grant mission of Alabama A&M and Auburn Universities. Its educational programs grow from these two land grant university campuses to serve the people of Alabama. Science-based educational programs are delivered that enable people to improve their quality of life and economic well-being.