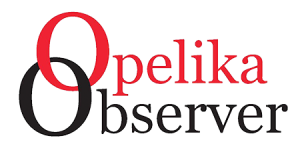 By Will Fairless
Associate Editor
Paul Dunbar moved to Opelika at the beginning of this year to become the new kids pastor at First Baptist.
He didn't come from elsewhere in Alabama, nor did he move from another state in the Southeast; he and his wife drove 1,200 miles from Artesia, New Mexico, with their four daughters and two dogs. "My wife drives a 12-passenger transit van," Dunbar said. "We've gotta keep them spaced out to where they can't hit each other all the time."
Dunbar was an Army kid who moved around among several states and countries before settling in San Angelo, Texas. That moving around has proved a valuable experience, as he offered sage commentary on the regional differences among chicken fingers, chicken tenders and chicken strips: "At the end of the day, they're all the same thing: strips of chicken fried."
He played college football at Angelo State University then coached football for a few years, which explains why he has the names of each of the First Baptist staff members on magnets, arranged like a depth chart on a white board in his office.
Dunbar went from being a high school coach and teacher to doing full-time ministry when he was 30. "[My wife and I] felt the lord moving in our life and we realized that he was moving us somewhere. My wife has always had an affinity for the South," he said. "She found this job, I applied, and sure enough, we fell in love with each other. God just called us to the wonderful big swamp, Opelika."
Dunbar is officially the pastor for children from first through sixth grades, but he's overseeing the ministry to those younger than that as an interim pre-kindergarten pastor while First Baptist looks for a permanent one.
He said that God has been preparing him to work with kids his whole life, from coaching youth sports at 16 to earning a degree in education at all levels. His goal at First Baptist is to get the kids of the church to have a relationship with Jesus.
"Our mission statement here—it's been my personal mission statement—is to partner with parents to help kids come to know Christ," Dunbar said. "We want to partner with parents so kids come to know Jesus, so kids come to grow with Jesus and then kids are able to go and share Jesus."
He first arrived in Opelika in February and was here without the rest of his family for more than a month. After they finally arrived in March, his children only got four days in school before shutdowns due to COVID-19. "On paper, it looks terrible, but it has just been amazing," Dunbar said.
He was forced to think outside of the box to introduce himself to the First Baptist community and begin his ministry with the kids. He and the rest of the staff began making four to five videos a week to be shared on First Baptist's Facebook and YouTube pages (the following is a link to the First Baptist Church Opelika Kids webpage, at which links to those Facebook and Youtube pages can be found: www.fbcopelika.com/kids)
"We did Zoom meetings with kids, we did drive by packet pickup, we did a virtual Vacation Bible Study where we had 2,500 people from around the world participating," Dunbar said.
Now that things have started to open back up, Dunbar is able to minister to kids in many more ways. He places an emphasis on keeping kids connected with their parents with regard to their relationships with God.
He and Dr. Jeff Meyers, who is the senior pastor at the church, preach the same message to the kids and adults, although separately and with Dunbar's adjusted to be suitable for his audience. He hopes that this encourages families to talk about what they heard on Sunday.
Dunbar's weeks are packed with events for kids and with planning them (for which he shuffles the names on his depth chart); in addition to Sunday school with more than 300 kids, he has weekly programs on Wednesdays, he tries to serve breakfast to teachers at some local schools every Monday, and he's currently helping organize a live nativity scene for Dec. 16.
Of Opelika, Dunbar speaks very highly. "Man, this is a wonderful place," he said. "Every time we drive, my wife goes, 'I can't believe we live here.' If you google where we came from, visually, it wasn't very pretty. Here, it's green, and there are hills, and it rains a lot. It's been amazing."
The trip to the nearest Chick-fil-A to Artesia took two hours, and the city itself is 30 years younger than First Baptist. "You don't know you're in a rural place until you leave a rural place," Dunbar said.
The Dunbars have explored the Opelika-Auburn area, making notable stops at Chewacla, Cheaha and Lake Martin. Niffer's is Dunbar's go-to burger spot, and he essentially has a weekly appointment at Breezeway because, as he said, "It's right around the corner, it's greasy," and perhaps most importantly, "their chicken fingers are good."