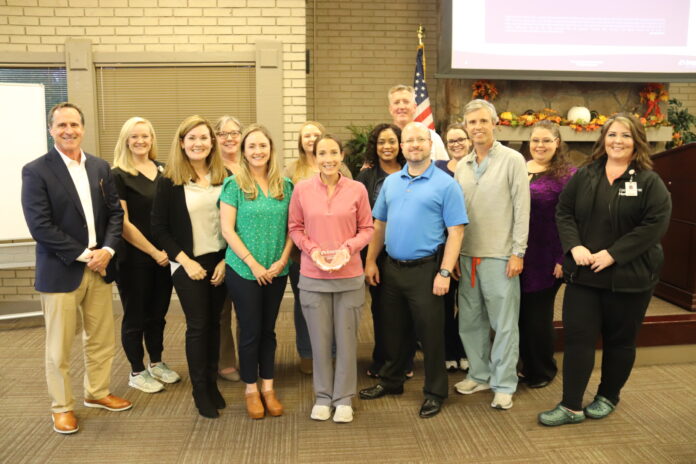 CONTRIBUTED BY EAST ALABAMA HEALTH
OPELIKA —
East Alabama Health continues to rake in various honors and awards this year, the latest of which bring about special recognition for its cardiac unit and sleep program.
EAMC RECEIVES FIVE CARDIAC AND VASCULAR AWARDS
East Alabama Medical Center (EAMC) is one of America's 50 Best Hospitals for cardiac surgery, according to new research released by Healthgrades, the leading marketplace connecting doctors and patients. The information from Healthgrades also indicates EAMC is the only hospital in Alabama to be among the top 5% of hospitals nationwide for cardiac surgery.
Additionally, EAMC was a recipient of the Healthgrades 2023 Cardiac Surgery Excellence Award, is a Five-Star Recipient for Coronary Bypass Surgery and a Five-Star Recipient for Carotid Procedures.
"To be ranked among the top 50 hospitals in the nation for cardiac surgery, as well as earning other heart and vascular awards, just shows the level of skill and dedication our cardiac team members have," said Laura Grill, president and CEO of East Alabama Health, also referred to as EAMC. "It is an honor to be recognized as a leader in cardiac and vascular surgery. It's a reminder of the commitment we have to our patients. We hope it offers them the peace of mind that comes with knowing they are in good hands while at EAMC. These awards are a reflection of our mission to provide 'high-quality, compassionate health care.'"
Healthgrades evaluates hospital performance using a formula that takes the typical patient risks and outcomes from more than 45 million Medicare claims for nearly 4,500 hospitals nationwide, as well as patient survey data from the Centers for Medicare and Medicaid Services to predict the patient outcome for each hospital. Hospitals are then given a star rating based on their actual patient outcomes in comparison to the predicted outcome.
Healthgrades evaluated patient mortality and complication rates for 31 of the most common conditions and procedures at nearly 4,500 hospitals across the country to identify the top-performing hospitals for specialty care. This year's analysis revealed significant variation in patient outcomes between America's 50 Best Hospitals for Cardiac Surgery and hospitals that did not receive this distinction. From 2019 to 2021, patients treated at hospitals receiving the America's 50 Best Hospitals for Cardiac Surgery Award have, on average, a 56% lower risk of dying than if they were treated in hospitals that did not receive the award. Additionally, patients treated at hospitals which did not receive the award are, on average, nearly 2.3 times more likely to die than if they were treated at hospitals that did receive the award.*
Cardiac surgeons practicing at EAMC perform approximately 350 to 400 procedures each year.
Healthgrades is the second organization to recognize EAMC's cardiac services. In February, EAMC earned designation by Blue Cross Blue Shield of Alabama as a Blue Distinction Center+ for Cardiac Care. Blue Distinction Centers are nationally designated providers that have proven to deliver quality care with safe practices that lead to better health outcomes for patients.
"We commend East Alabama Medical Center for their ongoing commitment to providing high-quality care to patients undergoing cardiac and vascular procedures," said Dr. Brad Bowman, chief medical officer and head of Data Science at Healthgrades. "Consumers can feel confident that America's 50 Best Hospitals for Cardiac Surgery have demonstrated their ability to deliver consistently exceptional outcomes."
Consumers can visit healthgrades.com to learn more about how Healthgrades measures hospital quality and access a patient-friendly overview of the complete methodology at b2b.healthgrades.com/insights/blog/how-healthgrades-determines-the-nations-top-performers-in-specialty-care/.
*Statistics are based on Healthgrades analysis of MedPAR data for years 2019 through 2021 and represent three-year estimates for Medicare patients only. For appendectomy and bariatric surgery, Healthgrades used inpatient data from 16 states that provide all-payer data for years 2019 through 2021. View the complete 2023 Specialty Excellence Awards and Ratings Methodology at www.healthgrades.com/quality/ratings-awards/methodology/specialty-excellence-awards-americas-best-hospitals-for-specialty-care-awards-methodology.
EAH SLEEP PROGRAM EARNS CARE TEAM AWARD
In health care, working collaboratively as a team is critical to providing patients with the best care possible. The understanding of that importance by a team of providers at EAMC has earned the hospital the Inspire Institute's Care Team of Excellence Award.
The Inspire Care Team of Excellence Award is given to hospital programs that collaborate across the disciplines of sleep medicine and otorhinolaryngology — or the study of diseases of the ear, nose and throat — to deliver excellent patient outcomes in cases of treatment-resistant obstructive sleep apnea.
"The Inspire hypoglossal nerve stimulator is a significant step forward in the treatment of obstructive sleep apnea for properly selected patients," said Dr. William Blythe, an otorhinolaryngologist with East Alabama Ear, Nose and Throat (ENT). "The surgeons and practitioners at East Alabama ENT have been honored to be a part of the multi-disciplinary team that provides this therapy to needful patients."
Patients are cared for by an EAMC team that is made up of ear, nose and throat specialists; sleep medicine specialists; nurses; sleep technologists; and support staff. The team's goal is to provide patients with a better quality of life by offering the Inspire Medical Systems' novel implanted sleep apnea treatment device.
"Developing our Inspire program has been a game-changer for our patients with moderate-to-severe obstructive sleep apnea who haven't been able to tolerate CPAP or BiPAP therapy," said Dr. Christopher Hope, medical director of the Sleep Disorders Center at EAMC. "It's been really satisfying to see so many patients do well now who were struggling before. It's also quite humbling for our team to be recognized as one of the best in the country."
EAMC was one of the first four in the nation to receive this recognition and remains one of only seven centers in the nation — out of 950 clinical locations — to earn the designation.
Since 2019, EAMC has cared for 145 Inspire patients, guiding them from initial consultation to implant procedure through post-operative management. The team has seen notable improvement in key metrics that are used to measure post-procedure impact on the severity of the patient's disorder, as well as the patient's quality of life.
Across the program, markers of disease severity — such as the apnea-hypopnea index — have improved from a pre-implant average of 36.2 breathing events per hour to an average of just 7.9 events per hour. Likewise, participants' average Epworth Sleepiness Scale scores dropped from an abnormal level of 12 before implantation to the normal range of 7 after treatment.
"The care team at EAMC is exceptional," said Ashley Hester, territory manager for Inspire Medical Systems. "Every member of the team is highly involved and genuinely invested in the patient's health."
ABOUT EAST ALABAMA HEALTH
East Alabama Health encompasses East Alabama Medical Center in Opelika, EAMC-Lanier in Valley, the Spencer Cancer Center in Opelika, the Auburn Medical Pavilion and a host of other key medical clinic and practices that help provide a continuum of care to patients throughout an 11-county area. EAMC is a 314-bed regional referral hospital with a 26-bed Skilled Nursing Facility, while EAMC-Lanier provides inpatient services as well as a nursing home, an acute rehab unit, senior behavioral health and an ambulatory surgery center. East Alabama Health employs about 3,500 employees and is the second largest employer in the region, trailing only Auburn University. For more information, visit www.eastalabamahealth.org.